Maria Angeles Sandoval
Maria Angeles Sandoval was the wife of Real Madrid club president Florentino Perez. The 69-year-old Spanish is known for giving back worldwide prestige to Real Madrid.
An engineer and businessman, Florentino Pérez was named the club's president in July 2000 after beating Lorenzo Sanz. Under his management there have been 26 trophies won between the football and basketball sides, including the club's ninth and tenth European Cups. He has restructured Madrid's finances, turning it into the world's richest club, and has carried out a profound transformation at all levels, with Real Madrid now the "world's most valuable sports team" according to Forbes magazine.
He gained reelection in 2004, stepping down voluntarily two years later. Perez essentially invented Real Madrid's modern business model, signing major stars like David Beckham and Zinedine Zidane in his first tenure as president, between 2000 and 2006, boosting commercial revenues and making the team number one in terms of worldwide sales.
He returned to the presidency in 2009 and began a second period in charge marked in sporting terms by signings such as Cristiano Ronaldo, Benzema, Bale, James Rodríguez and Kroos.
In the 2011-12 season, the team claimed the La Liga title with a record-breaking 100 points and 121 goals, while in the 2013-14 campaign Real Madrid were once again crowned kings of Europe when they sealed La Décima.
Florentino's Real Madrid outpaced Manchester United to become the world's most valuable soccer club in 2013.
Florentino has also been president and CEO of Grupo ACS since 1997. He owns a 12.5% stake in the global construction company. The businessman splits his time between Spain's largest construction company, Grupo ACS (Actividades de Construccion y Servicios) and his duties as Real Madrid's main man. According to Forbes he is worth about $1.84 billion.
He has also brought the club's first Club World Cup, a European Super Cup, two Copas del Rey and a Spanish Super Cup in football, and a European Cup, a Intercontinental Cup, two Endesa Leagues, four Copas del Rey and three Spanish Super Cups in basketball.
All the success in the world couldn't have prepared Perez for the sudden death of his beloved wife, Maria Angeles Sandoval.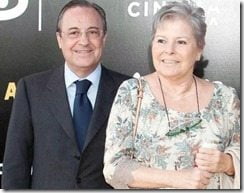 María Ángeles Sandoval, better known as Pitina, was diagnosed with cancer several years ago and successfully beat it. Just days before her death she had been celebrating the winning of the La Liga championship title alongside the rest of the Real Madrid fans. She was always an avid Real Madrid supporter.
The late María Ángeles "Pitina" Sandoval Montero passed on May 22, 2012 of a heart attack at age 62. She is survived by her husband and their three adult children. Maria Angeles Sandoval was the mother of one daughter of the same name, María Ángeles Pérez Sandoval; and two sons, Eduardo Pérez Sandoval and Florentino Pérez Sandoval.
María Ángeles Sandoval and her husband were married for 42-years.