Mariam Bluiett
Mariam Bluiett is the proud and loving mother of college basketball player, Trevon Bluiett –whom perhaps you've heard from his game for the Xavier Musketeers.
Mariam welcomed her baller player son on November 4, 1994; in Indianapolis, Indiana. What's really cool about this mother-son relationship is that Mariam not only can cheer for her Tevon, she can also take him on a game at any moment.
Her son is a former Indianapolis Park Tudor standout and currently a junior Shooting guard with the Xavier Musketeers. While at Park Tudor he averaged 35.7 ppg. and 11.4 rpg. as a senior, he finished his career with 2,568 points, which broke the school record and is good for sixth on the all-time state scoring list.
His time at Xavier has been equally astounding. During the 2015-16 season he was listed on the 2016 Naismith Trophy Men's College Player of the Year Watch List and Naismith Basketball Hall of Fame selected him among 10 watch list finalists for the 2016 Julius Erving Small Forward of the Year Award.
Trevon might want to thank his mom for his playing-genes. Read below to see what were talking about.
Born Mariam Denise Carr, she and husband Reynardo Bluiett are also the parents of Trevon's three other siblings: Ashtyn, Juwaan and Brody. According to CBS, she met her husband in the late 1980s at Camp Lejeune, in Jacksonville, North Carolina.
In fact, both Mariam and Reynardo are former athletes.
While Mariam Bluiett was on the All-Marine Basketball Team; her husband was on All-Marine Football Team. During an interview the now wife and mom of four revealed she ended up at Camp Lejeune after, she said, a recruiter "lied to me."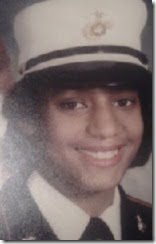 Basically saying she took the Marines on, primarily, for a chance to play hoops and to earn money while doing it.
You see, Mariam who was a good high school player out of Detroit, had lost her scholarship offer from Eastern Michigan due to a knee injury.
However duty called first and though she did played for about one season, most of her time on the Marines included constantly roaming the dehydrated ground in Saudi Arabia, delivering myriad goods and supplies to American troops; she even served in Operation Desert Storm.
While Mariam just wanted a chance to keep playing the sport, her husband also revealed in the same interview he just wanted to get away from his environment.
After finding each other, they got engaged in 1992 and left the Marines the following year.
Following their nuptials, the couple settled down in Indiana and her husband became an Indianapolis travel basketball coach who is also a barber.
Mariam Bluiett found a job with the United States Postal Service and has been working as a mail carrier for the last two decades.
As if being a former All-Marine basketball player, a wife and mom isn't cool enough, Mariam Bluiett is also active on social media.
You can follow Mariam on Twitter here.