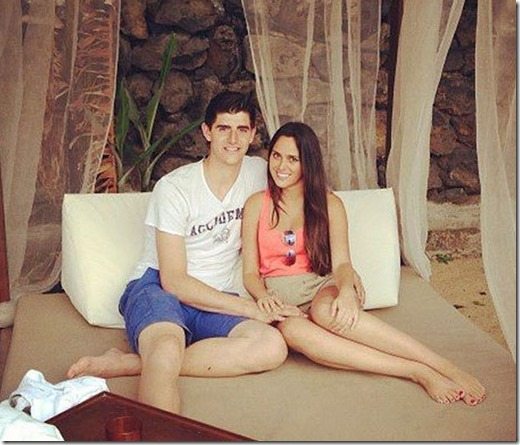 Meet Marta Dominguez the girlfriend of Belgian goalkeeper Thibaut Courtois, her soccer player boyfriend currently plays for Chelsea and the Belgium national football team.
You would think lovely Marta is also from Belgium but you would be wrong; Marta was born in Tenerife, Spain and attended school in Lanzarote. the brown eyed, dark hair girl is super private, according to media reports she doesn't have an Instagram or Twitter account and her Facebook profile is private. (The picture above is her profile photo)
It would appear the relationship is fairly new, but they have been living together for some time; she hasn't given any interviews just yet so how did we know they are an item?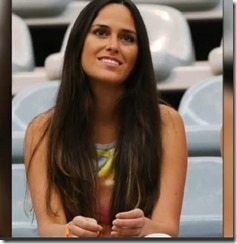 That's easy, she was the girl whom the 22-year-old kissed during the last game of Atletico against Barca, the goalkeeper, exultant and happy, jumped into the stands after the final whistle of the 1-1 and planted a kiss to the then unknown brunette.
Marta is a student at Universidad Autonoma and works in a mall north of the capital, particularly as a clerk at the clothing store Hollister.
The couple is private alright but they cant help to show some PDA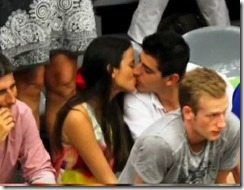 The relationship has been well accepted by Courtois' siblings, she is friends with Thibaut's brother Gaetan Courtois and also with his sister who is a professional volleyball player. Marta has also met her boyfriend's dad, Thierry Courtois and the Courtois' have paid respects visiting Marta in Tenerife.
But when you are dating a successful athlete like her boyfriend –who at 17 made his top-flight debut with Genk and it quickly became clear he possesses all the tools that make up the perfect goalkeeper –it's kind of hard to keep things down low for long and that's what has happened with the couple –who in our opinion are adorable –just a couple of articles have been circling about her and the negativity already started.
According to foreign media, the lovebirds have already had to face cheating rumors on his part. A girl named Jennifer Sanchez said during a TV appearance she and Thibaut had had an affair while living with Marta. But classy Marta has decided not to pay attention to the alleged relationship her man and Sanchez had and instead has decided to move to Chelsea to be with him, leaving behind her job and everything she knows so far.
This goes to show the trust she has put in Thibaut and their relationship!
Previously to her job at Hollister she worked as a waitress at a nightclub where the couple allegedly met over a year ago. She left that job at her boyfriends request and she soon moved in. Now not minding the affair claims she will follow him into his new adventure.
What do you think of Marta's decision to move?
Read: Thibaut Courtois Girlfriend Mishel Gerzig