Marta Karolyi
Marta Karolyi and her husband Bela Karolyi are one of the greatest gymnastics coaches in the world, under their wing gymnast such as Mary Lou Retton, Betty Okino, Kerri Strug, Teodora Ungureanu, Phoebe Mills, Nadia Comăneci, Kim Zmeskal, and Dominique Moceanu left their mark in everyone's hearts.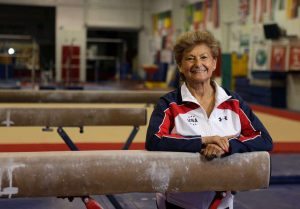 Marta was born Márta Erőss on August 29, 1942 in Odorheiu Secuiesc, Romania. Marta was a gymnast since the age of 13 is the daughter of a bank vice president and a schoolteacher.
Mrs. Karolyi was a high school gymnast and continued all the way through college, she attended at the Romania College of Physical Education.
It was in college that she met her husband who was in his senior year of college and coach of the gymnastics team.
Marta and Bela married in 1963 after they graduated, and had one daughter, Andrea Karolyi.
 Andrea, also known as Andrea Karolyi Wise graduated from Baylor in 1997 she is Team USA's nutritionist.
The Karolyis started their coaching career at an elementary school and then they created a national school for gymnastics. Their name was recognized followed Nadia Comaneci's success. Nadia was six-years-old when Marta and her husband started to coach her.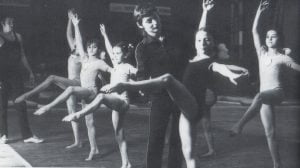 Although Bela was the face of the Karolyi Team, Marta's coaching skills did not pass unnoticed.
"She was always the one who was taking care of the everyday schedules, and I was promoting them in front of the audience," Bela Karolyi said. "She is now on her own, and she gets the credit for what has happened. And I am so pleased."

Said Retton: "Twenty-five years ago, in my day, Martha was everything. Bela was the showman and  promoter, but he would have been a lost puppy without Martha.

"He was in there motivating us, but Martha was the one who had the schedule. She knew that she would be on balance beam for 45 minutes and then would do conditioning. She has been the rock, and that is why they have worked together so well."
Marta Karolyi was the coach and choreographer of their gymnastics team; soon Romanian- Hungarian choreographer Geza Pozsar joined the team.
All three were given asylum in the United States after they defected during the gymnastics tour in the American territory.
Once in the US, Marta and Bela settle in Houston, Texas where they started their gym. They have trained several gymnast in nine Olympic champions, sixteen European medalists and fifteen world champions.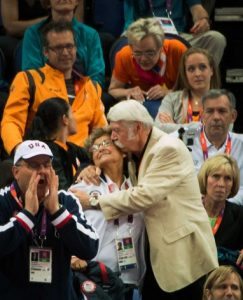 They retired after the 1996 Olympics. Marta became U.S National Team Coordinator in 2001. Some of her responsibilities are  selecting athletes for competitions, suggesting skills and routine compositions as well as determining apparatus lineups.