This lovely lady is Millie Gay, she is the stunning and wonderful wife of NFL player Matt Gay, the placekicker currently playing for the Los Angeles Rams. He previously played for the Indianapolis Colts, the Tampa Bay Buccaneers, and college football for the Utah Utes at the University of Utah.
Matt Gay Parents
6'0 Matt Gay was born on March 15, 1994, I'm Orem, Utah; he is the youngest of eight children born to Suzy and John Gay.
His mom Suzy Gay born Susan Driggs on August 29, 1957, in Scottsdale, graduated from BYU; his father John Gay, born on April 15, 1964, graduated in 1979, with a degree in computer science from BYU; he is a software engineer at the LDS Church, before that he was a senior software engineer at Fonix from 2006 to 2007, held the same position at Novell, WordPerfect and Eyring Research Institute from 1978 to 1987.
Matt Gay Siblings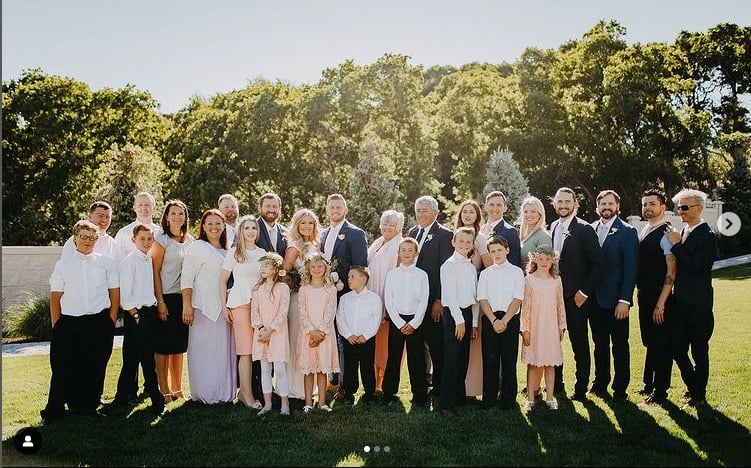 As noted Matt Gay has seven older siblings, two sisters and five brothers. We couldn't find all of them, so far we found his brother Todd who attended Northern Arizona University, Steven a photographer and 4-year medical student, Ricky, Jimmy, David, and sisters Aubrey and Pamela.
Matt Gay Soccer
In addition to football, Matt played soccer for two seasons at Utah Valley University and Orem High School before that. Matt earned first-team honors his sophomore and senior year of high school.
At Utah Valley, he earned second-team NSCAA All-West Region honors, he recorded eight goals, five assists,  in 33 games with 18 starts.
Matt Gay College
Matt transferred to the University of Utah in 2017, he recorded 30 field goals; won the Lou Groza Award as the nation's top kicker, named first-team Associated Press, FWAA and Sporting News and second-team Walter Camp and AFCA and first-team All-American by Sports Illustrated,  recipient of the Vlade Award as the nation's most accurate kicker.
In 2018, he recorded 26 field goals in 14 games, 82 kickoffs with a 63.5 average, and 58 touchbacks. He was selected first-team All-Pac-12, Second-team All-American by the FWAA, and a semifinalist for the Lou Groza Award.
Matt Gay NFL Career
On April 27, 2019, the Tampa Bay Buccaneers selected Matt Gay in the fifth round (145th overall) during the 2019 NFL draft.
On May 9, 2019, Matt signed his rookie contract with Tampa Bay
He made his NFL debut on September 8, 2019, against the San Francisco 49ers.
On September 5, 2020, the Tampa Bay Buccaneers waived Matt Gay.
Matt signed with the Indianapolis Colts on September 15, 2020, and was assigned to their practice squad.
The Colts waived him on November 6 and re-signed him to the practice squad on November 7th.
On November 17, 2020, the Los Angeles Rams signed him off the Colts' practice squad.
Matt Gay made his debut with the Rams on November 23, 202o, Week 11 against the Tampa Bay Buccaneers.
Matt Gay Net Worth
As of 2022, Matt Gay's net worth has been estimated at $1 million. 
Matt Gay Contract & Salary
Matt Gay signed a two-year, $1,525,000 contract with the Los Angeles Rams on November 17, 2020. His annual salary is $762, 500.
Matt signed a four-year, $2.84 million with the Tampa Bay Buccaneers on May 9, 2019.
Matt Gay Wife
Matt Gay's amazing and beautiful wife is Millie Gay, mother of his two gorgeous boys.
 Millie Gay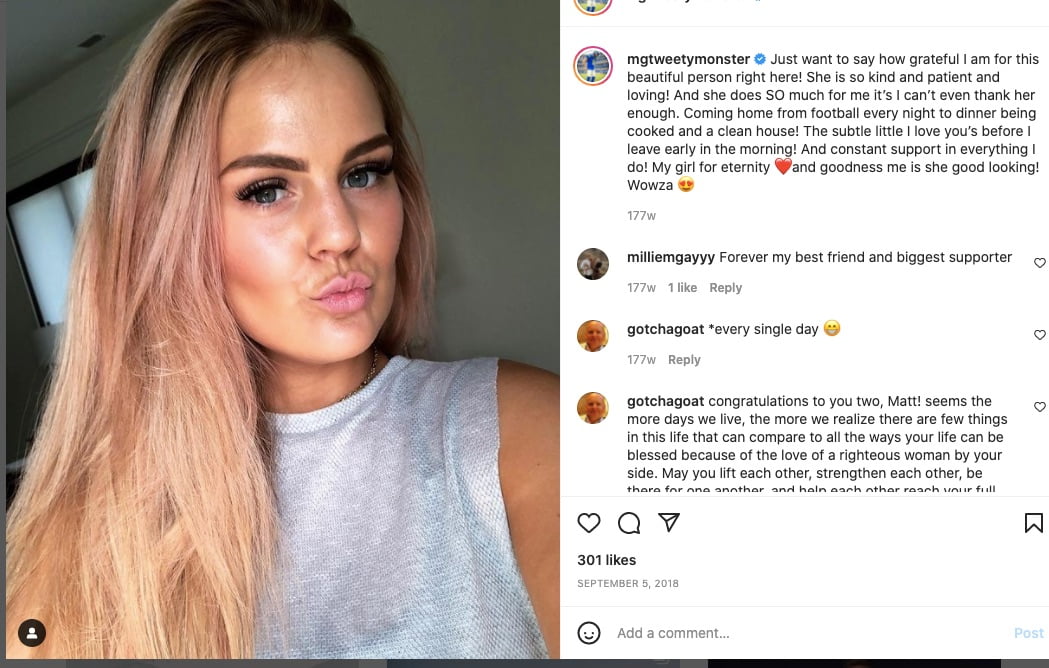 Millie Gay was born Camilla Rose Munday on January 5, 1996, in the UK, one of six children born to Chris and Louise Munday.Like her husband, Millie Gay is a member of the Church of Jesus Christ of Latter-day Saints.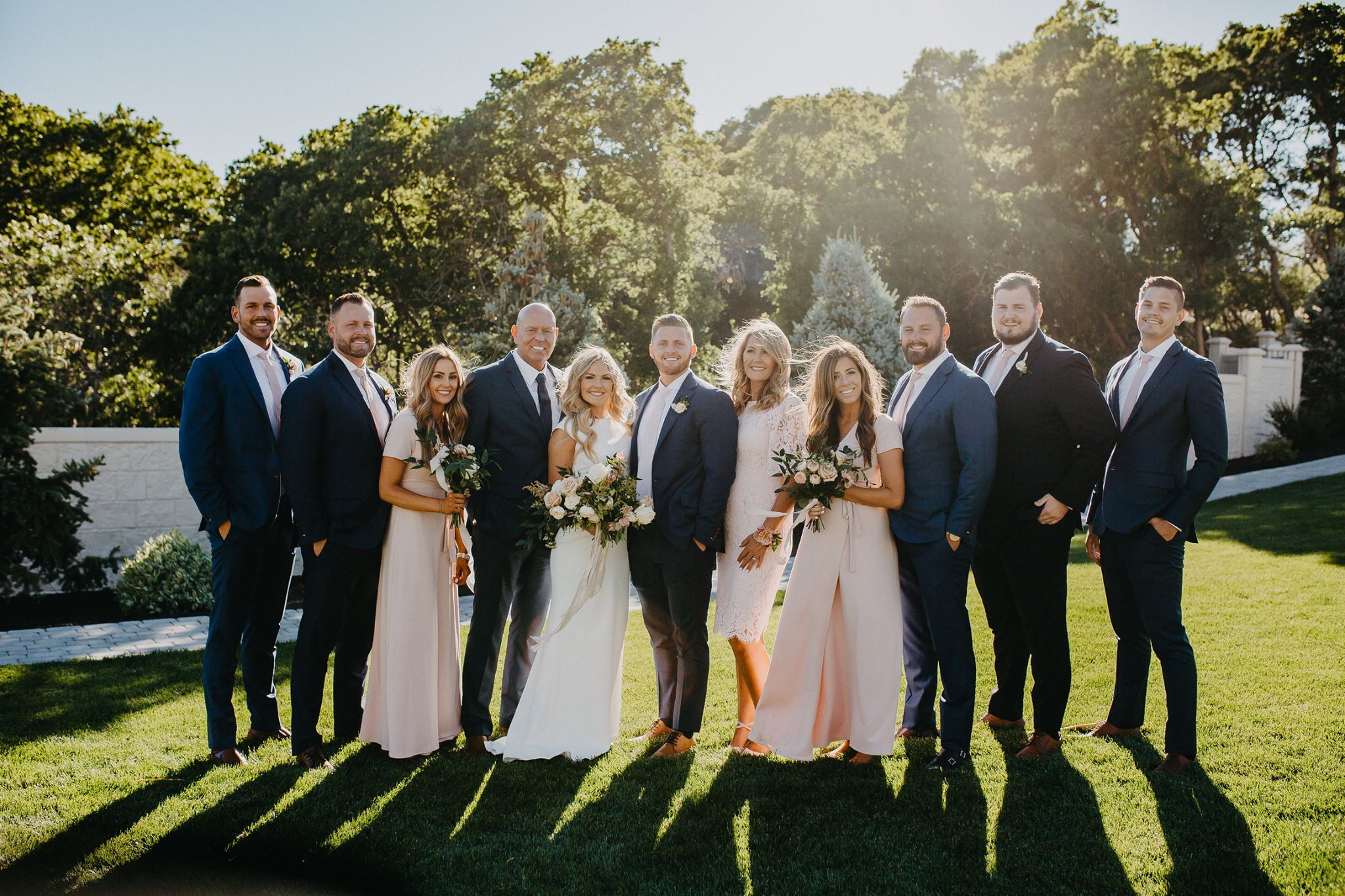 Millie Gaay has five brothers, Samuel the director of business development for the Luxtone Group; Jared is a gifted singer and consultant at Munday Management, Benjamin is the principal at Happy Foods in Utah, Josh Munday the national manager at 2020 Companies; Chris is senior vice-president at 2020 Companies; all of her brothers graduated from Utah Valley University.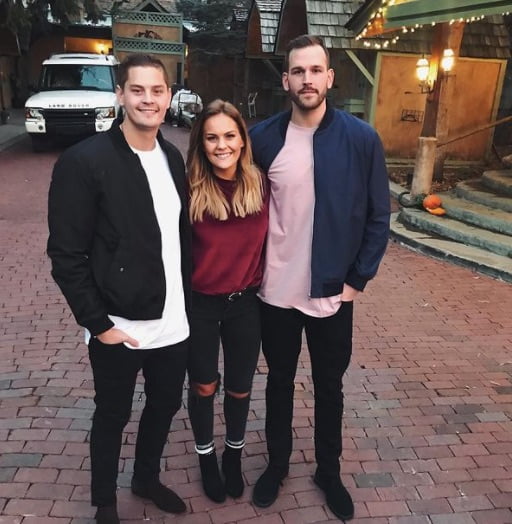 Samuel is married to famous TikToker Camille Munday; Josh was a contestant in season 25 of The Bachelorette and ex-husband of Maquel Cooper, a contestant on season 22.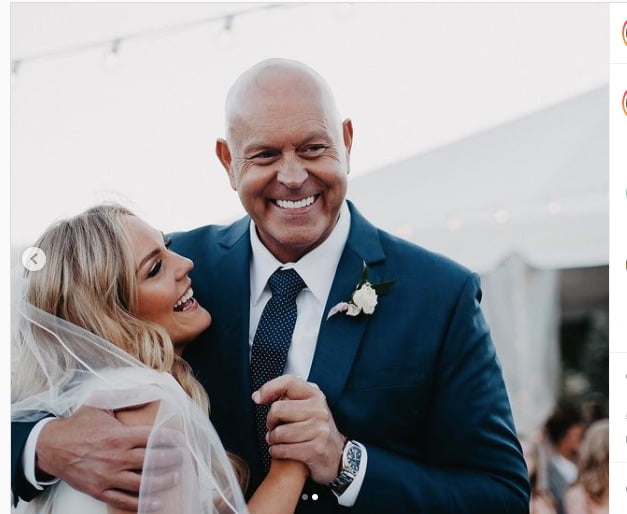 Millie Gay's parents are Christopher Brian Munday and Louise (Coupar) Munday, both born in the United Kingdom. Mr. Munday born in Woking, Surrey is the CEO of 2020 Companies, previously served as president of the Washington Kennewick Mission, president of the England Birmingham Mission, former mission president's counselor, stake president and counselor, high councilor, bishop, and full-time missionary in La Reunion and former CEO, president, and managing director in the apparel and paper industries.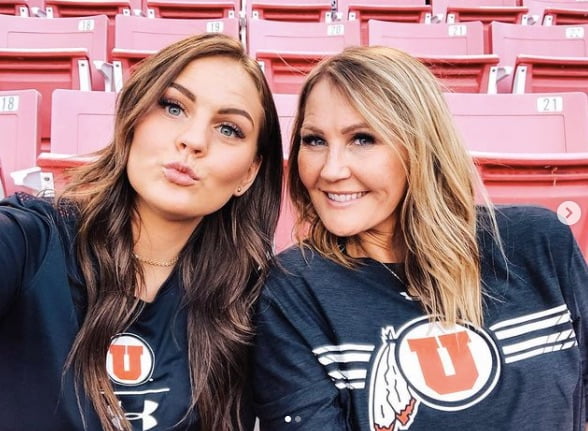 Her momma Louise Munday born in Gravesend, UK, is the former Young Women president and Relief Society and Primary president's counselor.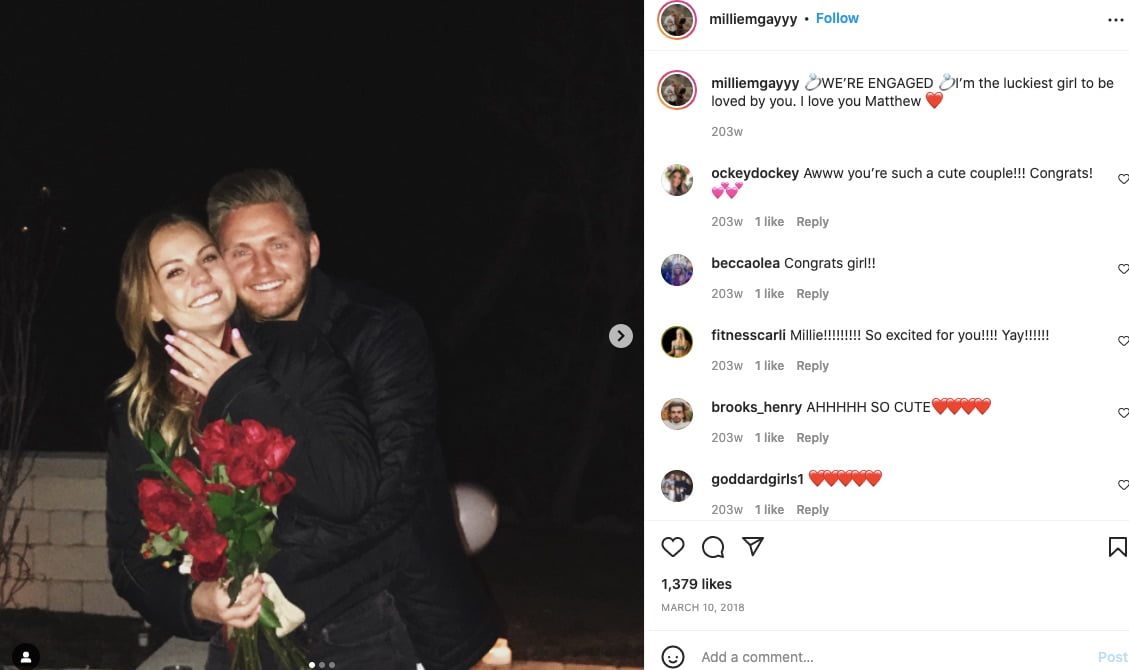 Millie and Matt met in college; they became engaged on March 10, 2018; they got married on June 30, 2018.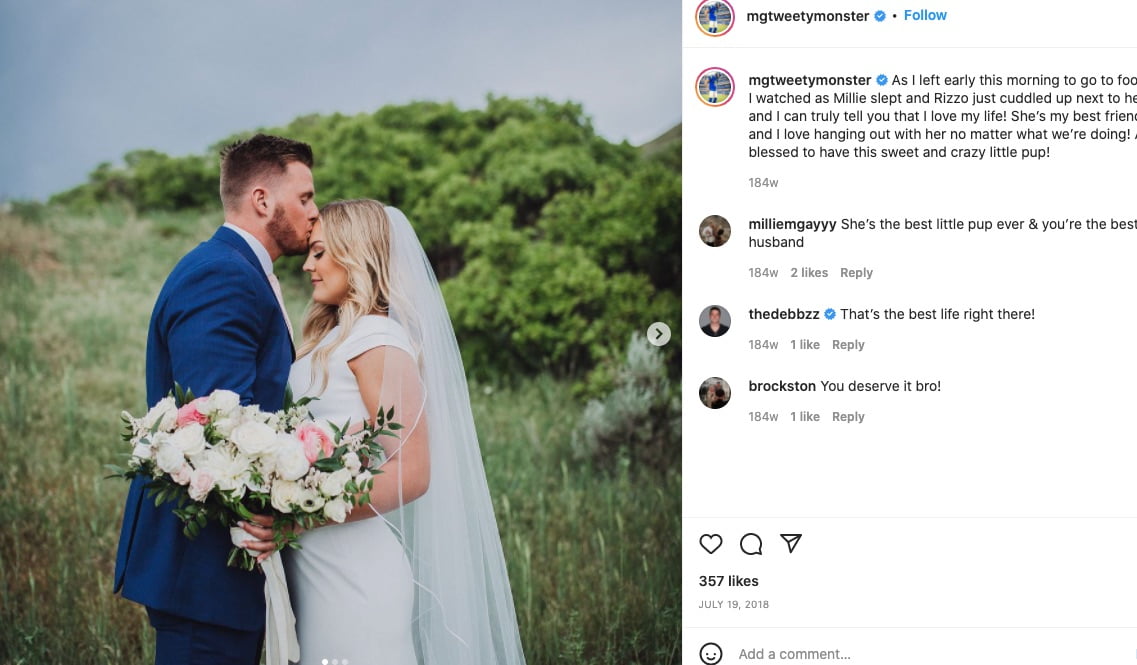 They have since welcomed two beautiful boys, Oliver James Gay, born on September 02, 2019, and Oaks Matthew Gay born on June 17, 2021.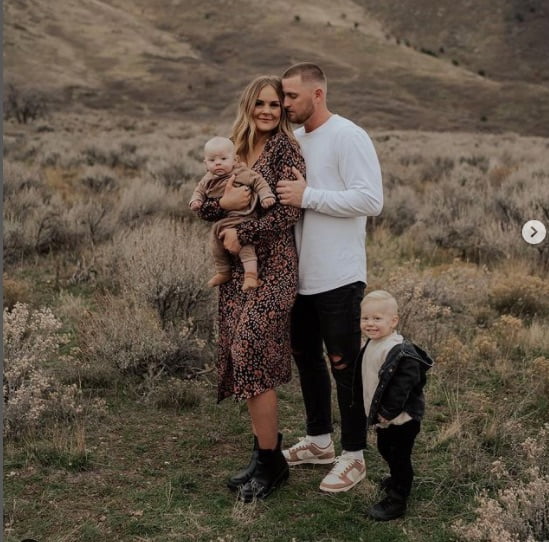 Lovely Millie Gay studied esthetics (and looks like she attended Pleasant Grove High School before that) her work is amazing; she specializes in lashes, eye browns, facias, body waxing, check her work here.