Meet Margie Ramsey! She is the amazing mother of NFL player Jalen Ramsey; the five-time Pro Bowel is a defensive back for the Los Angeles Rams who previously played for the Jacksonville Jaguars and college football for the Seminoles at Florida State from 2013 to 2015.
Jalen Ramsey College
Jalen Ramsey played at Florida State from 2013 to 2015; before that, he played at Ensworth High School, where he excelled in the track team, establishing personal records in the triple jump, high jump, and shot put.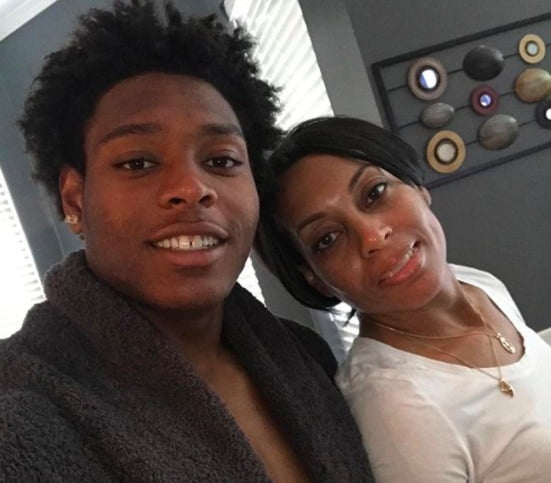 With the Seminoles, Jalen recorded 49 tackles in 14 games his freshman year; 80 tackles, two interceptions, 12 passes defended, two sacks, and three forced fumbles in 14 games his sophomore year and 52 tackles,  one sack, nine passes defended, in 13 games his junior year.
Jalen Ramsey NFL Career
On April 28, 2016, Jalen Ramsey was selected in the first round (5th overall) during the 2016 NFL draft by the Jacksonville Jaguars.
He suffered a slight meniscus tear during training camp on May 19, 2016.
On May 22, 2016, Ramsey signed his rookie contract with the Jaguars.
Jalen underwent surgery on his meniscus on May 24, 2016.
He made his NFL debut against the Green Bay Packers on September 11, 2016.
The Jacksonville Jaguars picked up the fifth-year option on his contract on April 25,  2019.
The Jaguars traded him to the Los Angeles Rams on October 15, 2019.
Jalen Ramsey made his debut with the Rams on October 20, 2019, against the Atlanta Falcons.
He signed a contract extension with the Rams on September 9, 2020.
He changed the number of his jersey to #5 on June 13, 2021.
Jalen Ramsey NFL Stats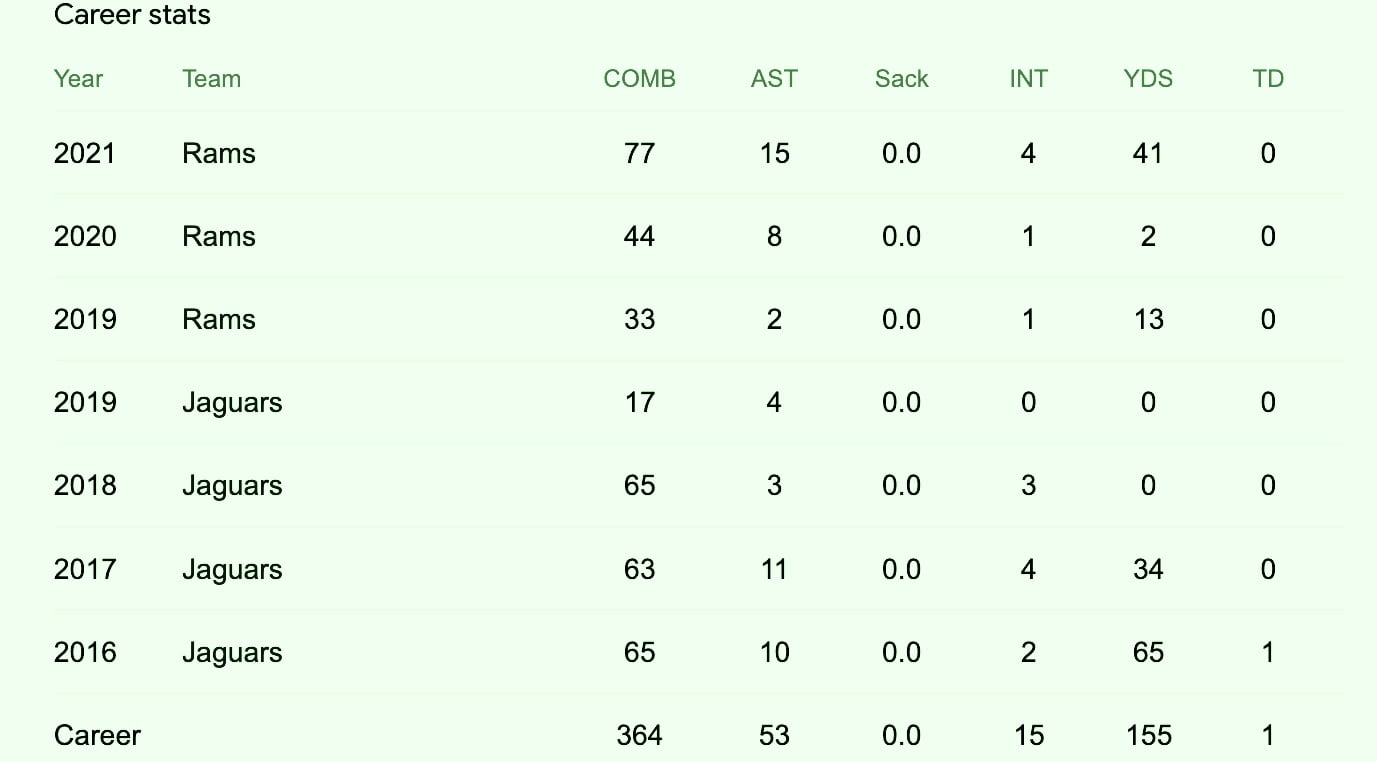 Jalen Ramsey Net Worth
according to Celebrity Net Worth, Jalen Ramsey's net worth has been estimated at $21 million. His current contract with the Rams made Ramsey the highest-paid defensive back in the NFL. In addition tt o his salary, Jalen Ramsey earns $1.5 million from his endorsement deals with Snickers, Rally Rd., Activision Blizzard. BioSteel, Grubhub, Chicken Fingers, ad Raising Cane's
Jalen Ramsey  Contract & Salary
On September 9, 2020, Jalen Ramsey signed a five-year, $100 million contract with the Rams. The deal included a $25 million signing bonus, $71 200,000 guaranteed and an annual salary of $$20 million.
In 2016, Jalen signed a four-year, $23,351,000 contract with the Jacksonville Jaguars; the contract included a signing bonus of $15,182,546, guaranteed after signing $22,901,000 and a salary of $22,901,000.
Jalen Ramsey Jersey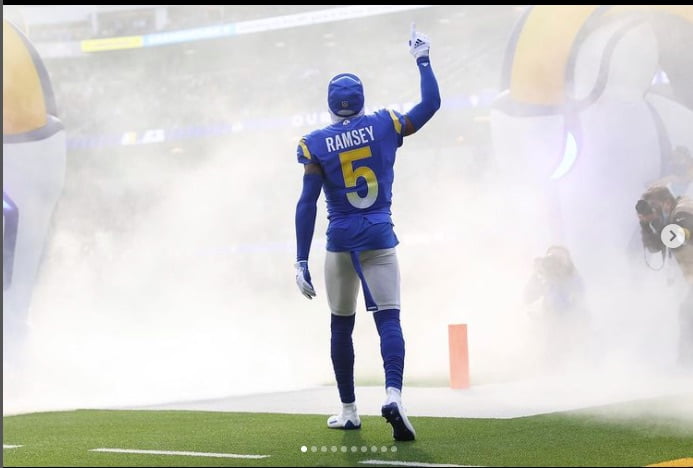 Los Angeles Rams fans looking for Jalen Ramsey's#5 jersey, you can get yours at the NFL Shop, Fanatics, and the Rams Fan Shop.
Jalen Ramsey Parents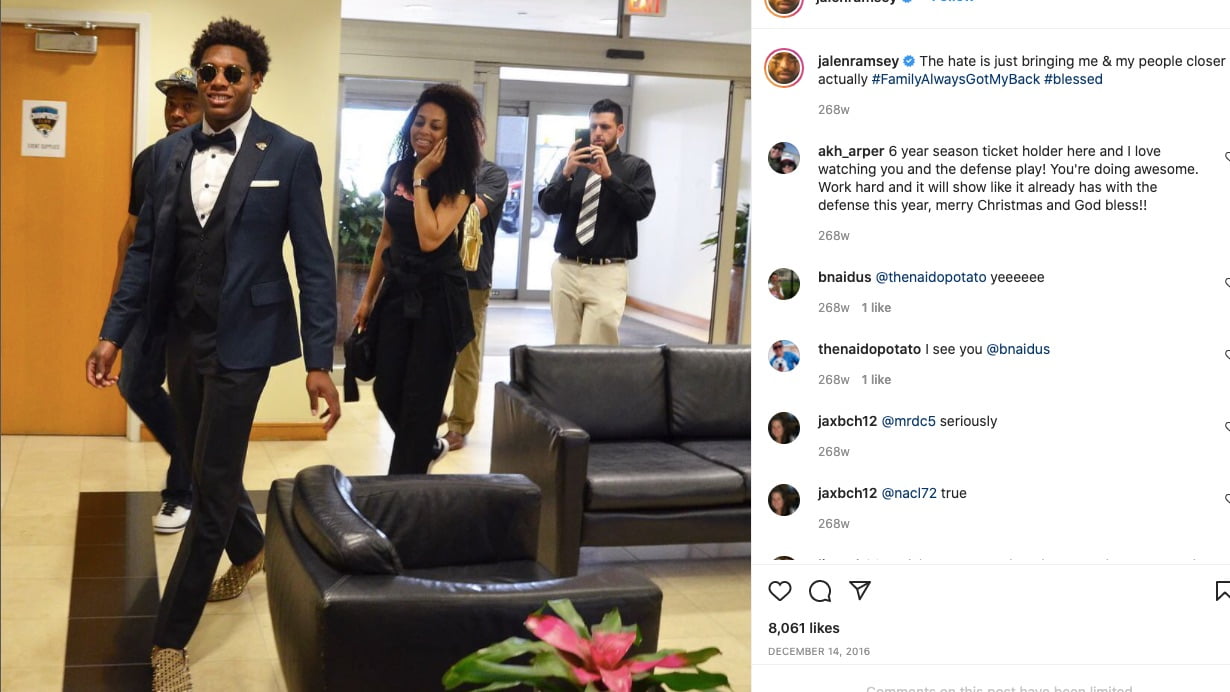 Jalen Ramsey's parents are Lamont and Margie Ramsey, also proud parents of Jalen's older brother Jamal Ramsey.
Jalen Ramsey  Father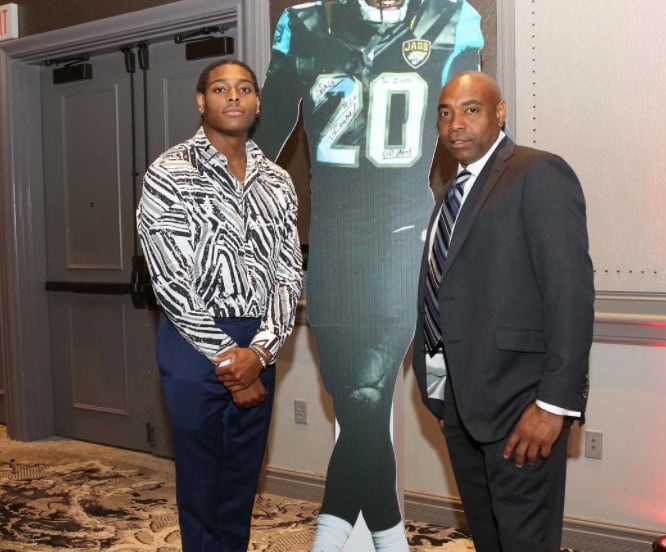 Lamont Ramsey
Jalen's dad, Lamont Ramsey, was born William Lamont Ramsey on October 19, 1970. Mr. Ramsey attended Glencliff Comp High School. He is a firefighter and engineer at Nashville Fire as well as a trainer at the Ramsey Performance Training, who also trained his son. Lamont Ramsey is a trained EMT, with a Bachelor's degree in health sciences.
Jalen Ramsey Mother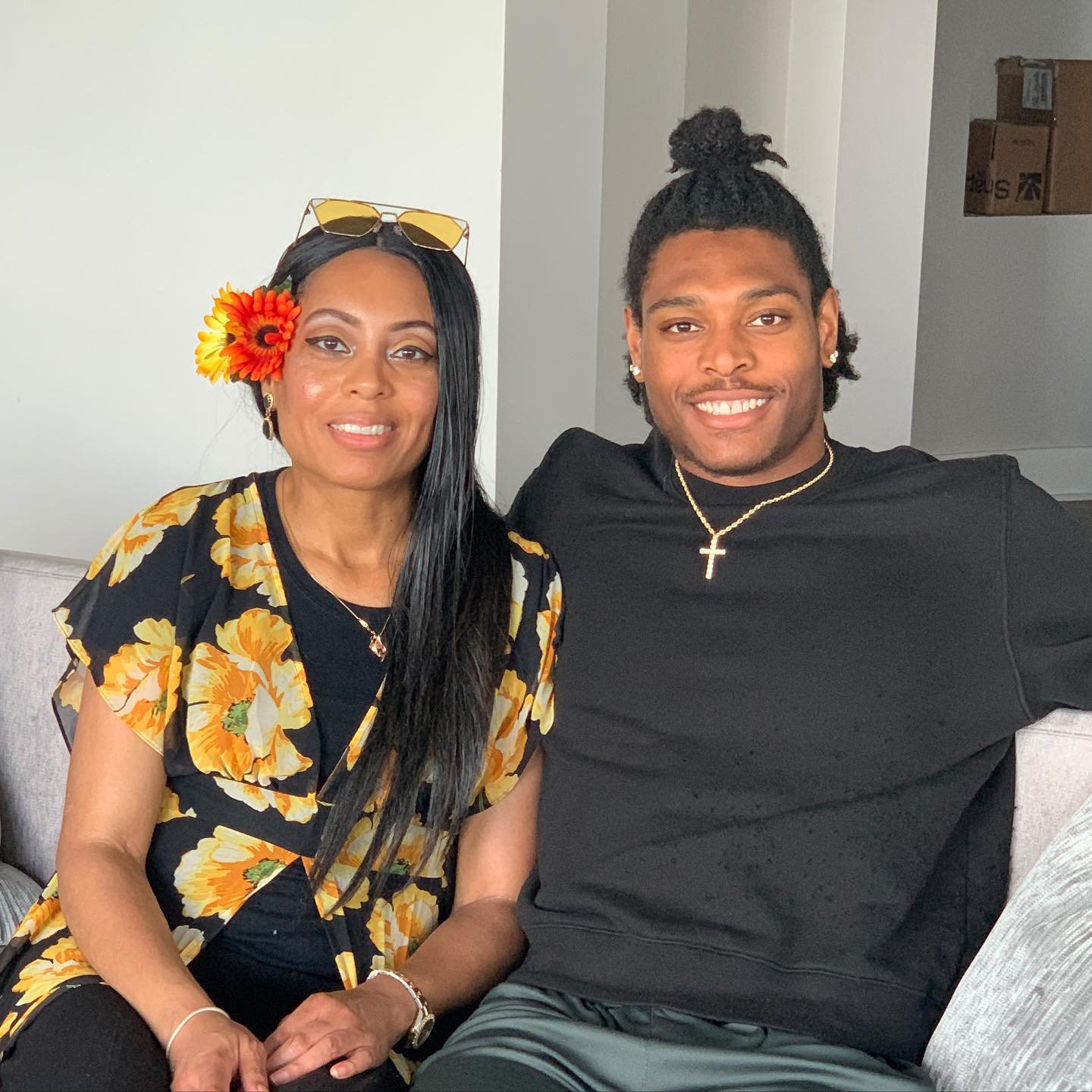 Margie Ramsey

Mrs. Margie Ramsey was born Margienetta E. Tidwell on October 12, 1970;  Margie Ramsey has been blessed with two sons and six grandchildren. Back in February 2018, Jalen surprised his mom Margie with a new Land Rover.
"Happy Valentine's Day, mom," Ramsey said in the video. "Through all these years, 23 years, you've always been by my side. You've always done everything for me, along with dad, so it was only right to make one of your dreams come true. I hope you enjoy your dream car, you deserve it. You have plenty of space for all your grandkids that you have right now, and are about to have. I love you."
Jalen Ramsey Brother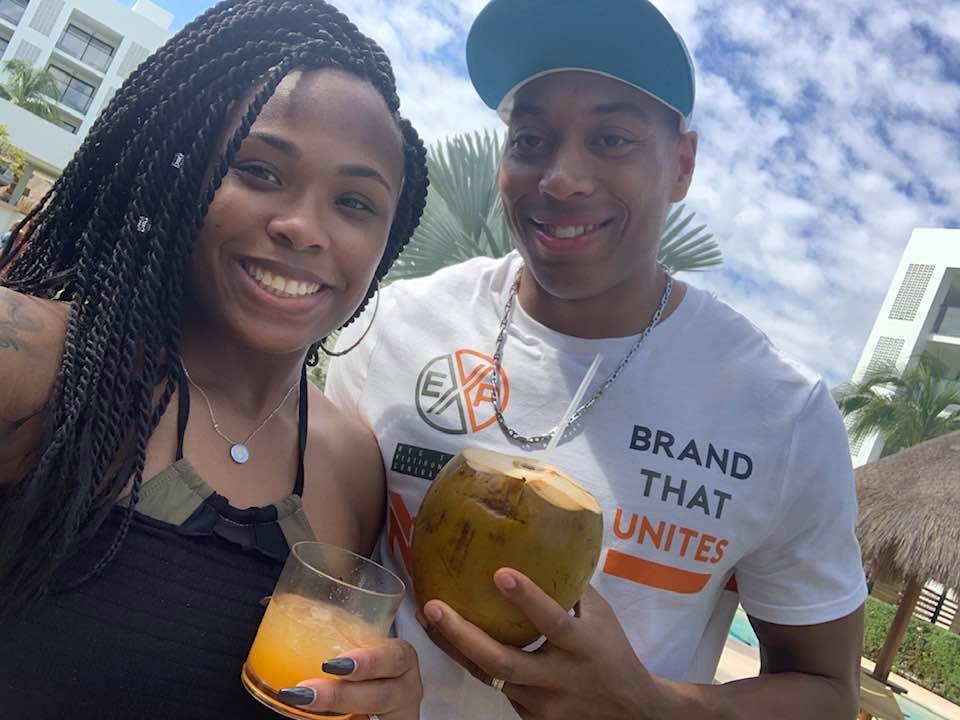 Jamal Ramsey
Jamal Ramsey brother is Jamal Ramsey; he was born on July 24, 1991, in Smyrna, Tennessee. Jamal played football (QB) at Battle Ground Academy and later at Middle Tennesee State University and Tennessee State University.
Jamal Ramsey graduated in 2010 from Middle Tennessee with a degree in exercise science and, in 2013, from Tennessee State with a Bachelor of Science in Human Performance and Sport Science.
Jamal was a paid intern and physical therapist assistant at Southern Bone and Joint Institute; he later served as head coach at Battle Ground Academy. From May 2012, he was a manufacturing team member at Yates Services; since January 2012, Jamal has been an assistant football coach and agility specialist at Ramsey Performance Training and a technician at Nissan North America in Tennessee, where he lives with his beautiful wife Briana Ramsey and their four gorgeous children Jeremy, Brielle, Kahmille, and Kyran.
Jalen Ramsey Girlfriend
It looks like Jalen Ramsey is still dating his baby mama Salaina Cisneros, mother of his youngest daughter. We first found out about Salaina in October 2020, when they posed for Halloween.
Salaina was seen carrying their baby in her arms in a video posted by Barstool Sports last July.
Salaina Cisneros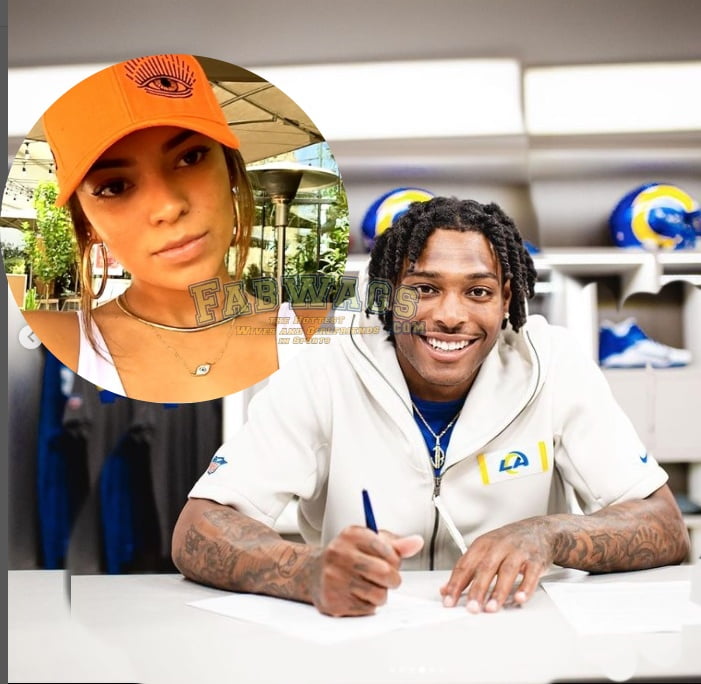 27-year-old Salaina Cisneros, aka Sally, was born in California on October 7, 1994. She is the daughter of Tracey Kellett.
Salaina graduated in 2018 with an associate's degree in marketing from Riverside Community College and in 2021 from Western Governors University. She is a sample store sales lead at The Collected Group; before that, Jalen Ramsey's GF Salaina was a public relations assistant at K3PR in Beverly Hills.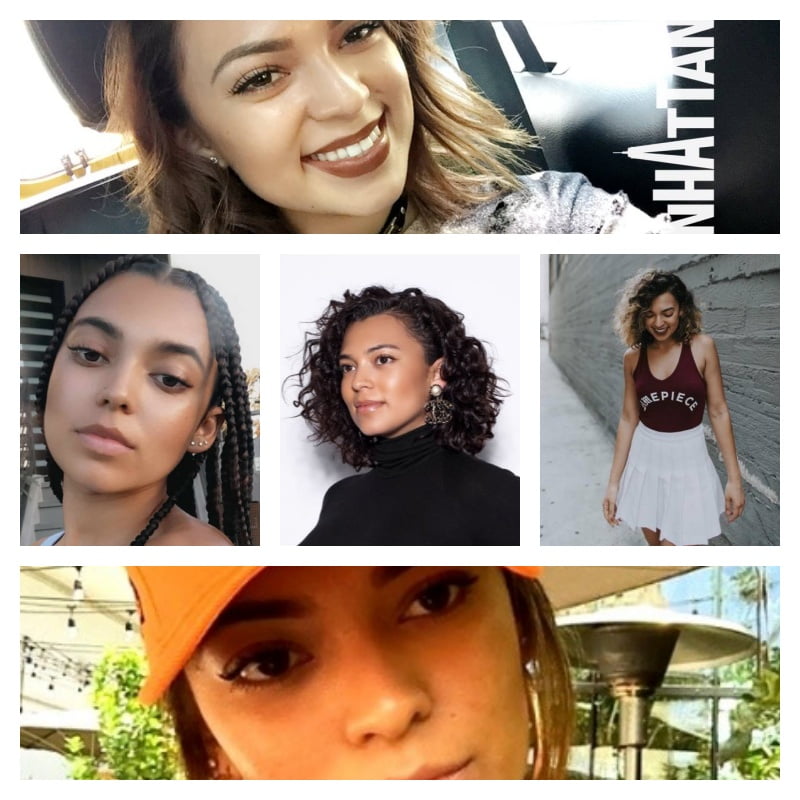 She did a creative internship at Dimepiece Designs in Los Angeles from March 2017 to June 2018.
Jalen Ramsey List of Girlfriends
Over the years, we have met some of the pretty ladies Jalen Ramsey has dated. He was still in college when we told you about Breanna McKnight, who he allegedly dated from 2015 to 2017.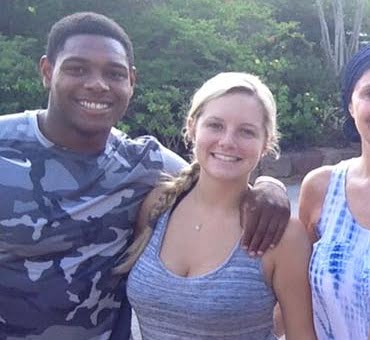 In 2018, Jalen was dating one of Golden Tate's twin sisters Breanna Tate. Breanna Tate is the mother of Jalen's two daughters Breelyn and Brooklyn. It looks like Jalen and Breanna Tate split up in 2019.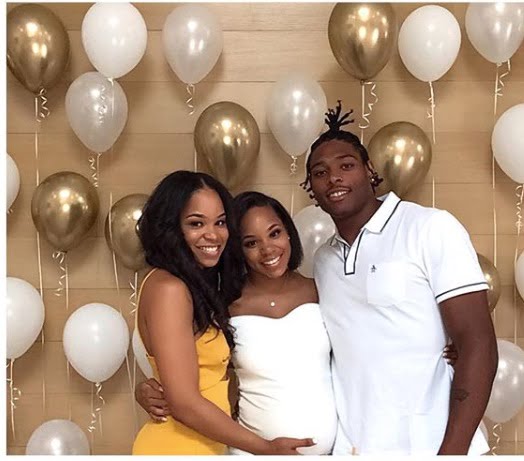 Breanna was still pregnant with Brooklyn when Jalen Ramsey started dating Las Vegas-based dancer and model Monica Giavanna, who attended Penn State and previously dated R&B singer Johnny Erasme.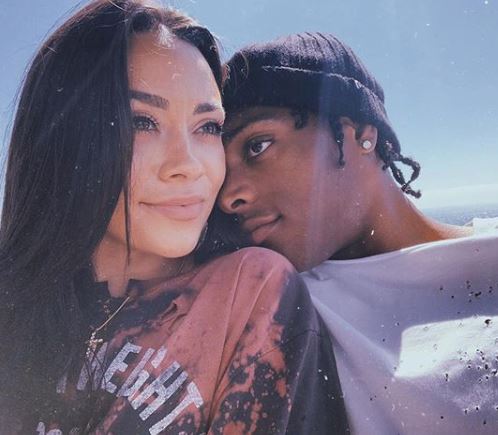 Jalen and Monica Giabanna broke up in March 2020. The breakup wasn't amicably judging for what she posted on social media about Ramsey.
Jalen Ramsey Children
Jalen Ramsey is the proud father of three beautiful and amazing girls, two born from his relationship with Breanna Tate and his youngest from his relationship with Salaina Cisneros.
Breanna Tate and Jalen Ramsey welcomed their first child together,  Breelyn Erin, on July 16, 2018; Breanna and Jalen were no longer together when Breanna gave birth to their second daughter Brooklyn on September 27, 2019.
His third daughter was born in 2021, from his relationship with Salaina.