Kylie Kilmer Gilbert
This stunning lady is Kylie Kilmer Gilbert; wife of NFL player Garrett Gilbert, the quarterback for the Washington Football Team. He previously played for the Carolina Panthers and the Cleveland Browns, L.A. Rams (then St. Louis Rams), New England Patriots, Dallas Cowboys, Oakland Raiders, and the Orlando Apollos of the Alliance of American Football.
Prior to the NFL, Garrett played college football at Southern Methodist University; he initially committed verbally to play with the Longhorns at the University of Texas at Austin.
Garrett Gilbert NFL Career Timeline
The St. Louis Rams selected Garrett in the 6th round (214th overall) in the 2014 NFL draft.
St. Louis released him on August 29, 2014.
Garrett signed with the Rams' practice squad on August 29, 2014.
He was released once again on October 30, 2014.
He signed with the New Engfland Patriots' practice squad on December 17, 2014.
He received his Super bowl ring after the Patriots defeated the Seattle Sehawks at Super Bowl XLIX.
He was waived by the Patriots on June 11, 2015
He signed with the Detroit Lionsa on June 12, 2015.
The Lions waived him on September 1, 2015.
He joined the Oakland Raiders' practice squad on September 6, 2015.
The Raiders waived him on May 24, 2016, before signing him again on January 2, 2017.
On March 24, 2017, he joined the Carolina Panthers' practice squad.
The Panthers waived him on September 2, 201and signed him back the following day.
He made the roster for the first time on October 16, 2017.
Garrett Gilbert was waived by the Carolina Panthers on September 1, 2018.
The Panthers signed him back on December 26, 2018.
He was waived once again on December 31, 2018.
On November 27, 2018, the Orlando Apollos of the AAF drafted him.
He signed with the Cleveland Browns' practice squad on April 5, 2019; waived him on September 5, 2020 and re-signed him on April 6, 2020.
On  October 12, 2020 he signed with the Dallas Cowboys.
The Cowboys named him starting QB on November 7, 2020, against the Pittsburg Steelers.
On September 2, 2021, returned to New England.
The Washington Football Team signed him off the Patriots' practice squad on December 17, 2021.
Garrett Gilbert Wife
Garrett and his beautiful wife Kylie tied the knot on April 11, 2015, in Lubbock, Texas. The photo below showed them getting ready to welcome their first child together.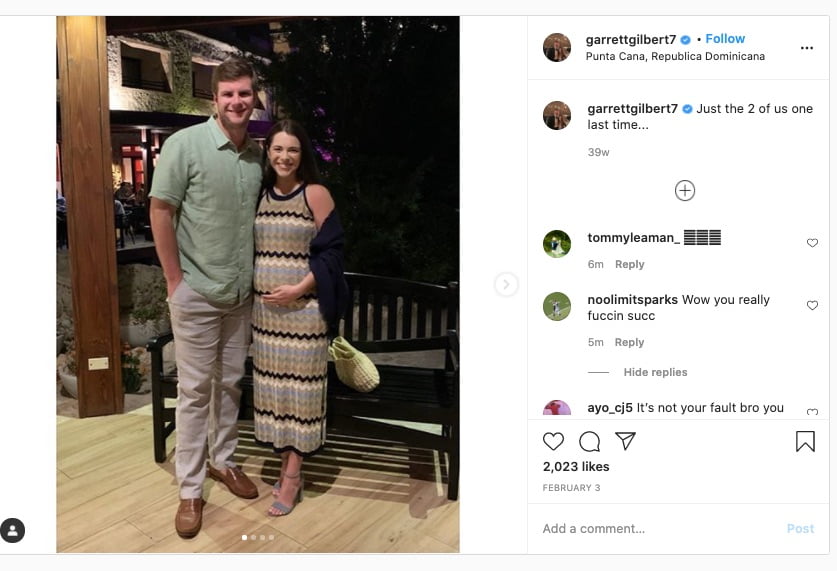 Pin
Kylie and Garrett Gilbert welcomed their adorable daughter Grayson Kate on April 8, 2020. She weighed 7lbs.
Kylie Gilbert
Kylie Kilmer Gilbert was born on March 14, 1991, in Santa Fe, New Mexico; she is one of the children born to Leslie Romero Kilmer, interim president of Saint Michael's High School in Santa Fe, Mexico, and Eddie Kilmer, former football defensive coordinator of Rio Rancho's Cleveland High School.
Kylie has one brother, Kevin, who graduated with a bachelor's degree in history from Texas Tech and is the Co-Offensive Coordinator at Angelo State.
Mrs. Kilmer Gilbert who like her brother graduated from Texas Tech University, worked as an administrative assistant.
Kylie and her friend Emily McDonald run a business called Add-Ons-Too.
Furthermore, you can find Garrett Gilbert's wife Kylie on Instagram here.