Maja Dragic
Maja Dragic is the beautiful and stunning wife of Goran Dragic, the Slovenian NBA player who is currently a guard player for the Miami Heat. He previously played with the Phoenix Suns and the Houston Rockets. Her man happens to be one of the best point guards in the league.
Maja Dragic's husband 6'3″ Goran Dragic was born on May 6, 1986. He started playing professionally with the Slovenian basketball team, Ilirija in 2003, a year later he moved with the Slovan, CB Murcia in Spain two years later, returned to Slovenia in 2007 and played for Olimpija.
He was selected in the second round, 45th overall in the 2008 NBA Draft by the San Antonio Spurs, who traded his draft rights to the Phoenix Suns. After two season, the Suns traded him to the Houston Rockets in February, 2011. Later played for the Saski Baskonia during the NBA lockout in 2011.
The Suns subsequently traded him to the Miami Heat just before the 2014-15 NBA trade deadline.
Pin
Maja Dragic's hubby grew up playing soccer, but an injury forced him to switch sports and began playing professional basketball in Europe at the age of 17 for Ilirija Ljubljana in Slovenia.
Maja Dragic and her hubby tied the knot in 2013 in Slovenia. A particular fact of their wedding included the couple wearing crowns for the special day. The couple designed together their dream home in Slovenia.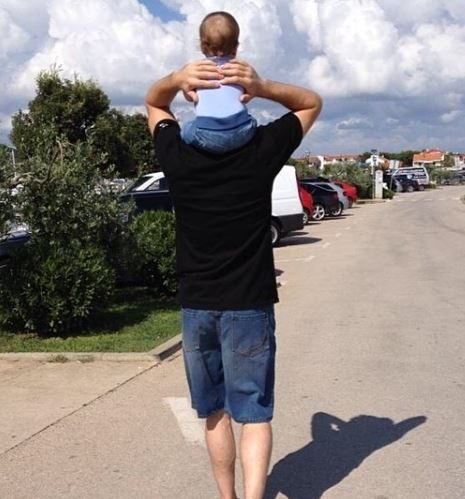 Pin
Maja and Goran have two beautiful children; Mateo born on November 11, 2013. The 6 ft 3 in player described the birth of his son as an "unbelievable experience" and about the lovely Maja Dragic:
"All the congrats to my wife Maja," "She did a great job. I don't know if I could do that. That's why I'm a man."
Almost two years later Maja gave birth to their second child, a girl this time, they name her Viktoria. The pregnancy described as difficult forced Maja to give birthto Viktoria in Serbia in August 2015.
Maja Dragic is not to be confused with a Serbian journalist with the same name. Mrs. Dragic, the lovely NBA wife spends her time being a stay at home wife, attending her hubby's games and of course taking care of their children.