Najah Re Martin
Meet Najah Re Martin, this stunning gal is the loving and caring girlfriend of Jadeveon Clowney. He is a defensive end for the Seattle Seahawks. Prior to the NFL, Clowney played college football for the South Carolina Gamecocks at South Carolina University.
The 6'5″ native of Rock Hill, South Carolina, was born on February 14, 1993, to parents Josephine Clowney and David Morgan. Proud momma Josephine is a processing technician at the Frito-Lay plant in Charlotte, North Carolina.
Mrs. Clowney raised her as a single parent with the help and support of her parents Josephine and John Clowney as well as Christopher Jones, her longtime beau.
David Morgan, was absent for most of his son's childhood, he was arrested for a robbery at a Rock Hill check-cashing business in 1996 and was released until 2006.
He didn't stay out of trouble for long. In 2015 he shot his gun at two men at a strip club; he could spend six years behind bars for that incident.
Clowney started playing football while he attended at South Pointe High School; subsequently in college. Furthermore, Jadeveon was the first overall pick selected in the first round by the Houston Texans in the 2014 NFL Draft.
On June 6, 2014, signed a 4-year deal worth $22.272 million, eventually on August 9, 2014, made his NFL debut against the Arizona Cardinals.
As noted, Jadeveon is living it with his gorgeous girlfriend Najah and their adorable son. Here is exactly what we found about this Fab NFL Wag.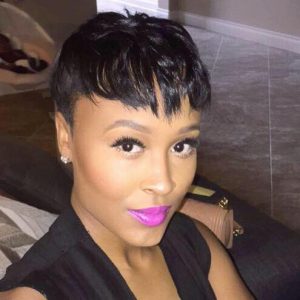 24-year-old Najah Re Martin from South Carolina attended T.L.Hanna High School from where she graduated in 2010, subsequently studied Pre-med at University of South Carolina – Columbia, graduating in 2014.
Pretty Najah gave birth to her adorable son Jahlil, born on October 31, 2015, in Pearland, Texas.