Nikole Adena Prelooker
This stunning brunette is Nikole Adena Prelooker; she is the beautiful girlfriend of college football player Max Gilliam, the 6'3″ quarterback currently playing for the Rebels at the University of Las Vegas.
Before we can get to tell you a few things about Ms. Adena, allow us to tell you about Max.
Max Gilliam Career Highlights
Max Gilliam is one of two children born in Ventura, California to Mr. Jeff Gilliam and his beautiful wife Heather. Max has a younger sister named, Brooke.
Prior to committing to UNLV, the young quarterback played at Thousand Oaks High School,  under coach Mike Leibin. Gilliam's high school stats are 6.333 passing yards, 68 touchdowns, 13 interceptions, 428 pass completions, and 599 pass attempts.
Max was among the young players named first-team All-Los Angeles Daily News, All-Ventura County Northern Division, All-Ventura County Northern Division, All-Camino League selection, All-State Medium Schools selection; Gilliam was a senior when he was named All-Ventura County MVP. Max graduated in 2016.
He started his college carer at Cal before verbally committing to play with the Rebels at the University of Las Vegas on December 10, 2017.  He red-shirted at Cal in 2016, but played in 10 games his junior year in UNLV, finished the season with 1, 185 passing yards, 148 passes, 10 touchdowns and 7 interceptions.
Max replaced Rebels quarterback Armani Rogers after he suffered an injury, in 2018 completed  1,394 passing yards, 8 interceptions and 14 touchdowns. He didn't played in 2019.
Max graduated in May 2020, with a bachelor's degree in economics.
Max Gilliam's Appeareance on Below Deck
As for now it looks like Max Gilliam is still dating his longtime GF Nikole Prelooker, but his sushi incident could affect his relationship.
As you all know he appeared on the reality television show Below Deck. He releasedan apology for what he did there and I bet he already had apologyze to Nikole.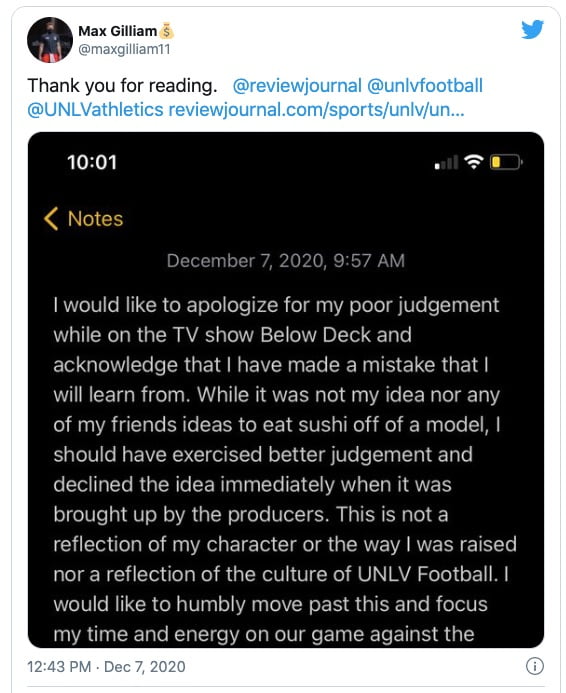 Pin
"I would like to apologize for my poor judgement while on the TV show Below Deck and acknowledge that I have made a mistake that I will learn from," Gilliam wrote on Twitter.

"While it was not my idea nor any of my friends [sic] ideas to eat sushi off a model, I should have exercised better judgement and declined the idea immediately when it was brought up by the producers."

"This is not a reflection of my character or the way I was raised nor a reflection of the culture of UNLV Football," Gilliam wrote. "I would like to humbly move past this and focus my time and energy on our game against the University of Hawaii this weekend."
His Rebels coach Marcus Arroyo, who said he was not aware of what happened also commeted.
"When we talk intently about what we're building here, we mean thoroughly and completely," Arroyo said. "Each of our players, especially our senior leadership, must recognize that when we go out in public we're representing this team, this university and the alumni and fan base. How we conduct ourselves in public is just as important as how we do on the field. I was made aware of Max's recent statement and it is apparent that he also agrees."
Who is Max Gilliam's Longtime Girlfriend Nikole Adena Prelooker?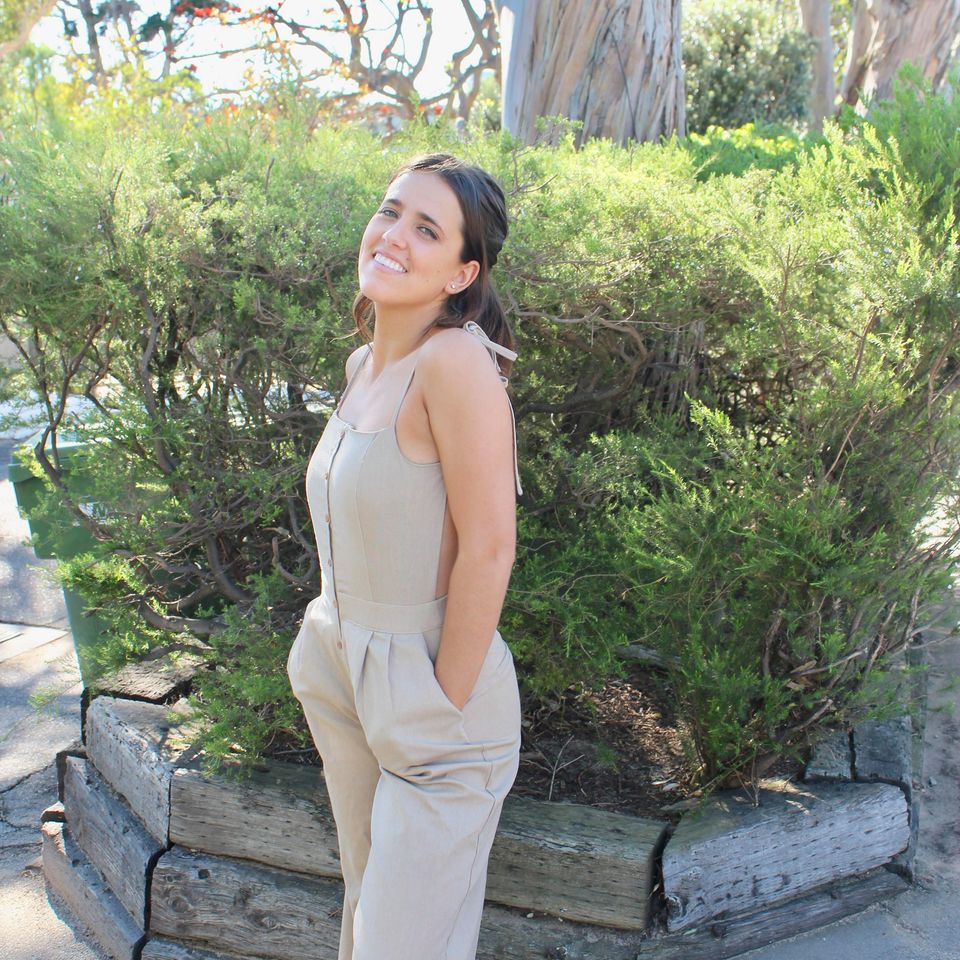 Pin
Nikole Adena Prelooker  mental health counselor in Westlake Village was born on April 6, 1997, in Woodland Hills, California. She is the eldest child of Daniela Ariana Caluori and Javier Prelooker, also proud parents of her younger brother Luka, who according to her college biography plays basketball.
Her father Javier Ignacio Prelooker originally from Buenos Aires, Argentina, is the vice-president  at Condista Ad Sales in Miami and Los Angeles.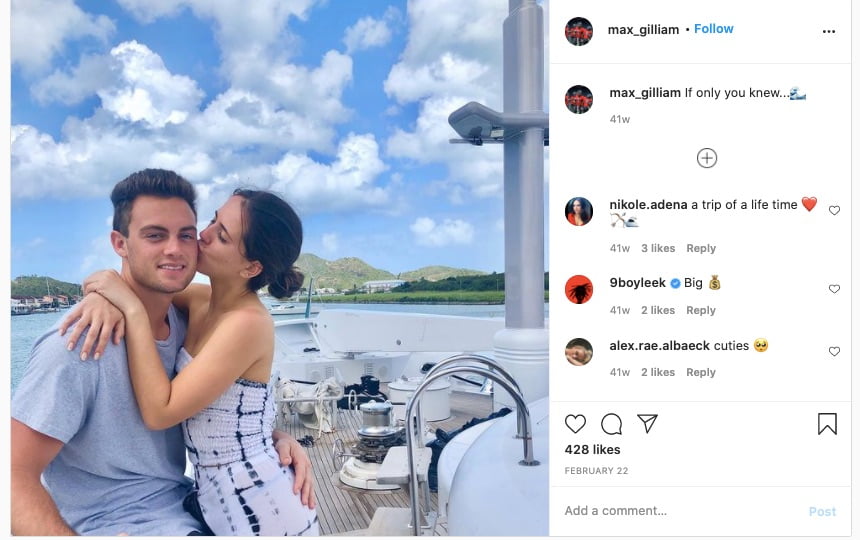 Pin
Her momma, Daniela Caluori lives in Thousand Oaks, with her husband, Mr. Ronnie Oatman.
Nikola graduated in 2015, from Thousand Oaks High School, where she was a member of the girls' soccer team; Nikole Offensive MVP for two years earned Second Team All-Marmonte league. She subsequently attended California Lutheran University.
Made her debut against UC Santa Cruz on September 1, 2015; played in 20 games during the 2015 season, helped her team to four shutouts and a 1.35 goals against average.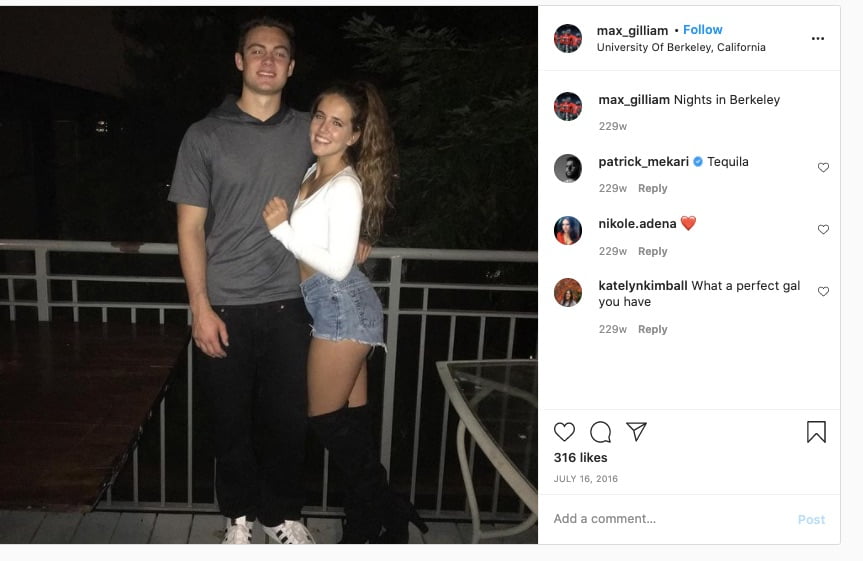 Pin
Nikole played in 21 games with the Regals, finished with 12 shots on goal and .500 shot on goal percentage.
Nowadays Nikole is a Behavioral Health & Social Service Providers counselor in Hampshire Road, Westlakw Village, California.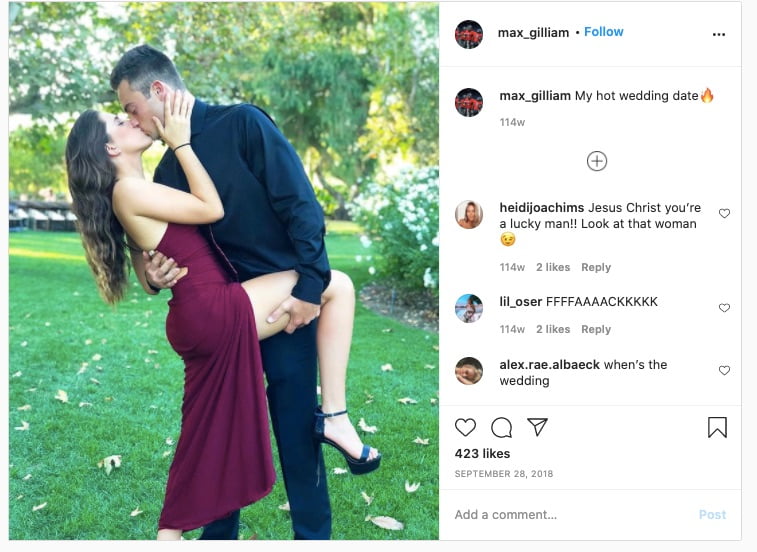 Pin
Nikole and Max started dating in April 2015. You can find them on Social media Max's Instagram can be found here and Nikole's although is private can be found here.