Catherine McDonnell
Meet the lovely Catherine McDonnell; this stunning NBA Wag is the pretty wife of Spanish basketball player Pau Gasol, the 7'0 center player who currently plays with the San Antonio Spurs. He also played with the Lakers, Bulls, Memphis Grizzlies and back home in Spain he played with the FC Barcelona basketball team, that was before coming to the U.S in 2001.
No doubt you know all about the great Pau Gasol, whose younger bro Marc is a center player with the Memphis Grizzlies, both Gasol brothers are members of Spain National Team.
Pau started his career in the NBA with the Grizzlies who traded Shareef Abdur- Rahim to the Atlanta Hawks in exchange for Pau who was back them selected in the first round (3rd overall) in the 2001 NBA Draft.
Gasol was traded to the Los Angeles Lakers on February 1, 2008. He left the Laker after four great, incredible seasons. His next team, the Chicago Bulls, was a challenge which he overcame; finished his final season in Chicago by becoming the 36th with 10,000 points and 10,000 rebounds and 38th NBA player to reach 10,000 career rebounds. Pau joined the Spurs on July 14, 2016.
Gasol took some time alone following his split from longtime girlfriend Silvia Lopez Castro in March 2014; they started dating in 2009. It took him two years to open his heart once again. This time the lucky girl is Catherine McDonnell.
Cat McDonnell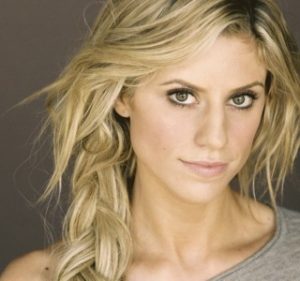 Cat a California beauty was born on May 22, 1989. She holds a bachelor of arts in communications and business, and a master's degree in business and communications management from the University of Southern California. In 2010, she was a sports broadcasting reporter for ABC News and Fox Television; in February 2012, joined Innovative Dining Group as a project manager and later as social media manager. Since July 2014, Catherine serves as vice president of Guggenheim Partners.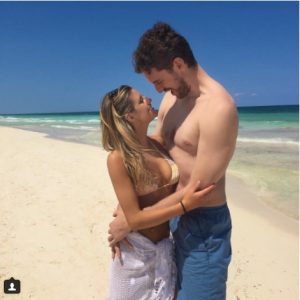 Pau and Catherine tied the knot on July 7, 2019.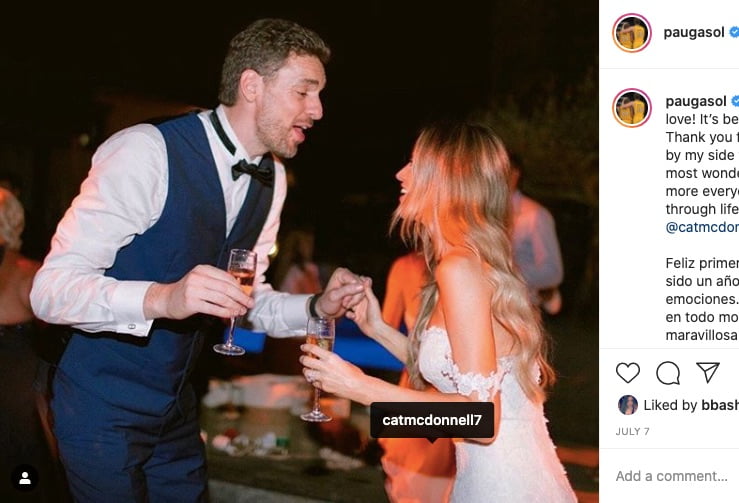 Catherine McDonnell, now cat Gasol gave birth to their beautiful girl Elisabet Gianna Gasol on September 10, 2020.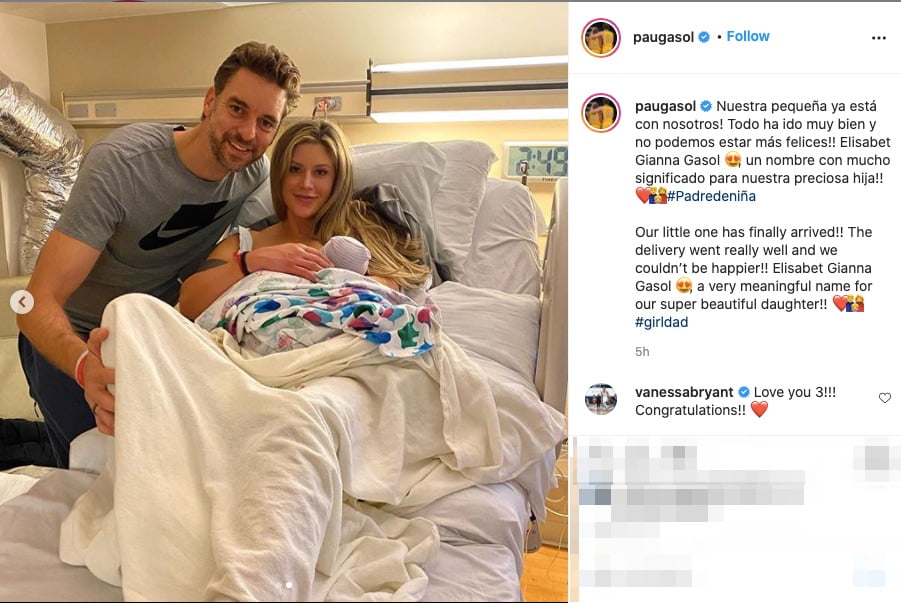 Pau named his daughter after his former teammate Kobe Bryant's daughter Gianna.
You can find her on Twitter here.