Rachel Lackey Strasburg
Rachel Lackey Strasburg is the beautiful wife of MLB player Stephen Strasburg, the California born pitcher with the Washington Nationals. Prior to that, he played college baseball for the San Diego Aztecs at San Diego State University.
But we are not really going to look furthermore into his life, but rather find out about his pretty gal Rachel Lackey aka Rachel Strasburg, right? For that reason, check her biography below.
Rachel's hubby was born on July 20, 1988, in San Diego, California. Stephen is the son of Jim Strasburg and Stephen Strasburg. He attended West Hills High School and San Diego State University after he was not accepted into Stanford.
Strasburg was the first overall pick selected by the Washington Nationals in the 2009 MLB Draft. He made his MLB debut on June 8, 2010, against the Pittsburgh Pirates.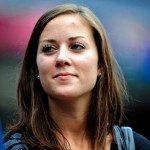 31-year-old Rachel L. Lackey one of the children born to Jennifer Lee Lackey and met her hubby while they both attended San Diego State University. Rachel was a water polo player while in high school.
Strasburg and his picture-perfect wife tied the knot on January 9, 2010.
The couple wed Jan. 9 at a small outdoor ceremony at South Coast Winery near San Diego, the warmest spot in the United States that day. She wore a strapless white lace gown; her bridesmaids wore fuchsia. Then the newlyweds headed to Hawaii for their honeymoon. The groom was allowed to skip all the Nationals offseason publicity programs but spent every other day working on his arm.
They welcomed their first daughter Raegan in October 2013, and another girl born on April 25, 2017.