Is coach Pat Riley married?
Yes, he has been happily married to Chris Rodstrom now Chris Riley, his wife for nearly five decades. Chris Rodstrom! has been described as a classy lady! She has been married to Pat Riley the president of the Miami Heat since 1970! Let's see what else can we find out about her! Having been married for 49 years to an accomplished professional NBA coach gives us an idea of the ride the two of them have had!
Pat Riley Parents
Pat Riley is one of the children born to Mary and Lee Francis Riley, born Leon Francis Riley on August 20, 1906, in Princeton, Nebraska. He graduated in 1924 from Cathedral Catholic High and later attended St. Mary's College in St. Mary's, Kansas, where he excelled in baseball.
Lee Riley played with the Ottumwa (Iowa) Packers in the Class-D Mississippi Valley League in 1927, Class-A Lincoln Links in the Western League and The Pueblo Steelworkers, where he averaged 173 hits per year and a .319 batting average. He later played for the Rochester Red Wings ( St. Louis Cardinals' affiliate) and for the Philadelphia Phillies in 1944. He later served as a minor league baseball manager in the Canadian-American League and a farm team of the Philadelphia Phillies. Lee Riley was 64, when he passed away from heart disease on September 13, 1970, in Schenectady, New York,
Pat's mom Mary Riley born Mary Rosalia Balloga in Pueblo, Colorado on September 11, 1909, the daughter of Adam and Mary Cecelia Hamrock Balloga. In 1928, Mary worked as a waitress at the Bluebird Diner when she met Lee Riley, who became her husband in 1931.
They welcomed six children, Leon Jr. (b. 1932), Leonard (b. 1934), Dennis M., Elizabeth, and Mary Kathleen born in 1945. Elizabeth died as an infant in December 1935, from a rare skin condition.
Pat's brother Leonard Joseph Riley is deceased, his beloved mother died at the age of 96, on April 21, 2006, at the Teresian House.
Where did Pat Riley go to college?
Pat Riley born on March 20, 1945, in Rome, New York attended Linton High School before committing to play for the Kentucky Wildcats, where he averaged 18.3 points, 8.4 rebounds, 2.0 assists per game.
Pat Riley and the Wildcats coached by Adolph Rupp reached the 1966 NCAA title game, unfortunately, lost to UTEP, then Texas Western. He was named First-team All-American – USBWA, Third-team All-American, and SEC Player of the Year in 1966.
Did Pat Riley win a championship as a player?
Yes, he won a championship as a player in 1972, while he played for the Los Angeles Lakers; at that time, the Lakers defeated the New York Knicks 114-100, in Game 5. Wilt Chamberlain was named MVP.
Before playing for the Los Angeles Lakers from 1970 to 1975, Pat Riley played for the San Diego Rockets now Houston Rockets, the team that selected him with the 7th overall selection in the first round during the 1967 NBA draft.
The last team he played with was the Phoenix Suns, from 1975 to 1976, when he announced his retirement. He averaged 7.4 points, 1.6 rebounds and 1.7 assists per game in nine seasons.
How Pat Riley became the Lakers coach?
After his retirement, Pat Riley worked as a broadcaster for the Los Angeles Lakers for two years before he received the opportunity of becoming the Lakers assistant coach for Paul Westhead who took over the head coaching role after Jack McKinney's tragic bicycle accident.
In 1981, Coach Westhead was fired by Jerry Buss after Magic Johnson said he wasn't happy with his (Westhead) coaching and wished he would be traded rather than continue playing in L.A. Jerry West, along with Pat Riley were named the Lakers' co-coaches; however, Jerry West said Riley would be the head coach, and he would assist him.
How many rings does Pat Riley have as a coach?
Pat Riley has won five rings as a coach for the Los Angeles Lakers, the first was in 1982 against the Philadelphia 76ers, in 1985 and 1987 against the Boston Celtics, in 1988 against the Detroit Pistons, and in 2006 while coaching the Miami Heat against the Dallas Mavericks. He also won another ring in 1980 as an assistant coach for the Lakers under head coach Paul Westhead.
Under Pat Riley, the Lakers' Showtime era started, while Magic Johnson and Kareem Abdul-Jabbar became the team's star duo, Pat Riley's Armani suits and slick back hair took center stage; he became known as The Godfather!!!
With the Lakers Pat Riley won four NBA championships, was named NBA Coach of the Year in 1990,  NBA All-Star Game head coach in 1982, 1983, 1985 and 1990, maned among the Top 10 Coaches in NBA History and Top 15 NBA Coaches!
What Other Teams Pat Riley Coached?
After leaving the Los Angeles Lakers in 1990, he joined the New York Knicks (1991-1995), while in New York Pat Riley won his second Coach the Year Award. In 1995, after he quit his job with the Knicks, he was appointed head coach and president for the Miami Heat. He quit his head coaching duties after the 2002-2003 season.
He returned to the head coachiong position for the Miami Heat after the 2005-2006 season. A hip problem forced him from coaching the Heat on January 3, 2007, and eventually quit coaching on April 28, 2008, but remained as the team's president, Erik Spoelstra took over the team.
Pat Riley Net Worth
According to the Celebrity Net Worth as of May 2022, Pa6t Riley's net worth has been estimated at $80 million.
Pat Riley Wife
The two discovered their mutual passion in 1968 when they were introduced on a San Diego beach. Chris Rodstrom, the Maryland-born daughter born to Navy captain and Navy nurse, was then a junior majoring in psychology at San Diego State but dropped out of college to be the dutiful player's wife. Pat Riley and Chris got married in June 1970.
This lady definitely means business no wonder they have lasted this long! Bored of her "cookie queen" life as just Mrs. Pat Riley she decided it was time to complete her BA studies in 1972 and went on to earn her master's degree in educational psychology at Cal State Northridge three years later!
I was bored silly," she says. "My first years of marriage were the unhappiest of my life. Being Mrs. Pat Riley wasn't enough. We looked at our marriage, and I said, 'Okay, I'm not going to be the cookie queen anymore.' "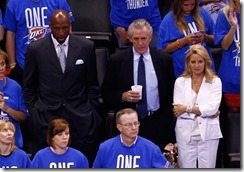 Chris Rodstrom Riley
Pat Riley's 74-year-old wife, Chris was born Christine Carolyn Rodstrom on December 23, 1947. Mrs. Riley a former family therapist, gave up her career in 1981 to play Pat's personal assistant leader.
They make quite the dynamic duo! Chris's hubby is the first to admit he has a long list of accomplishments to be proud of; as head coach of the Los Angeles Lakers guided his team into the playoffs for six straight years. His lifetime winning percentages in both the regular season and the playoffs are tops in the history of the National Basketball Association. But surely he had the love and support of his gorgeous blond, blue-eyed wife, Chris.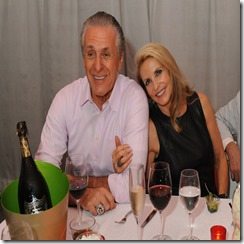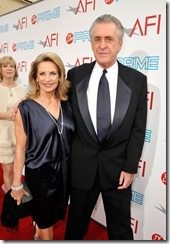 When working together Chris used to have her perch located across the Forum from the Laker bench, so she could take in the action on the floor and keep an eye on her husband at the same time.
"If I didn't love basketball it would be tough," "But I'm lucky enough to love it."
But the love and passion for the sport are not all they share; Chris and hubby also have a special bond! These two souls are huge fans of Bruce Springsteen! But getting back to the sport Chris was definitely her husband's rock when in the middle of the 70s he was going through a rough patch after having ended his playing career. He recalls:
She helped me tremendously," "She treated the whole thing as a death, which is what it seemed like. It was a period of mourning. Basketball was my whole life."
The couple has two children, James Riley and Elisabeth Riley. After pretty rocky building years; Pat, 77 and his lovely wife are often photographed in social events together such as the Kentucky Derby; the Haute Living Hublot; the AFI Life Achievement Awards, and of course NBA games.
Pat Riley and his wife Chris renewed their vows in Hawaii in 2019, during a surprised ceremony which Cris at tfirst believe to be a birthday party.
Pat Riley Children
They have two children together James and Elisabeth Riley. James Patrick Riley was born on February 9, 1985, Pat and Chris Riley adopted him that same year after struggling to have kids of their own for six years.
"It took six years to understand that we couldn't have a child naturally," says Pat. "There still isn't any clinical explanation of why, because we are both capable. So we got an opportunity to adopt."
Elisabeth Marie Riley was adopted a few years later.
In fact, we're looking again. James is just a bundle of joy for us." Chris looks on the adoption as another factor that helped strengthen their marriage. "If any couple can go through what you go through to adopt—not just the adoption, but all the issues of not being able to have a child and why, as well as all the tests—if you can survive that with humor, the adoption is very easy."
Elisabeth Riley is now married.
Take an intimat look at Pat Riley's life, career and family, in the video below, 21 minutes well spent!
Related Story: Madeleine Arison – Miami Heat Owner Micky Arison's Wife