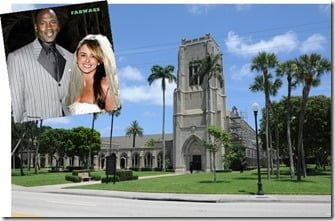 Former NBA legendary star 50-year-old  Michael Jordan, and his 35-year-old model-fiancée, Yvette Prieto, made it official with a wedding in Palm Beach, Fla., on Saturday, with some of the top sports athletes in the world.
Michael Jordan and his new wife Yvette invited another 1,500 to join them for the reception at the Bears Club, a Jack Nicklaus-designed golf course community in Jupiter, Fla., where Jordan recently built a 38,000-square-foot home.
"They've been planning for months and months," says a source of the nuptials. "He wanted to give Yvette everything she's ever wanted."
Michael, now the owner of the Charlotte Bobcats, proposed over the Christmas holidays in 2011. His Wedding Tent was 40,000 sq ft, 5000 sq ft larger than his 35,000 sq ft home in the elegant and classy Bears Club in Jupiter, Fl.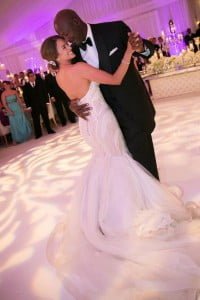 They applied for their wedding license in March at the Palm Beach County courthouse.
On Friday afternoon, they were spotted attending their rehearsal at the church.
Prieto,  met Jordan at a Miami nightclub in 2008.