Meet Michelle Manziel
Michelle Manziel is the NFL mom of quarterback Johnny Manziel, a.k.a Johnny Football.
As we've all heard, her son's ongoing problems on and off-the-field has everyone wondering what will become of the former Texas A&M QB and Heisman Trophy winner. Johnny is not only embroiled in a domestic-violence incident with his ex-girlfriend, in which he allegedly said that he was going to kill her and himself; but also, recent reports allege Manziel actually arrived at a Browns practice drunk on December 30.
Michelle Manziel was born Michelle Liberato. She is married to Paul Menziel, whom she met in high school and where she used to play golf. She gave birth to son, Johnny in Tyler, Texas, on December 6, 1992. She is also the mother of Johnny's younger sister, Meri.
The Manziel's are reported to have made their money through oil. While living in Tyler, the Manziel name had a stigma. According to Michelle Manziel, despite the families wealth, the members sometimes found themselves on the wrong side of the law. Due in no small part, to their attraction to cockfighting. The family boasted over 1,000 fighting . The family moved to Kerrville with Michelle telling author Josh Katzowitz for his book "Johnny Football":
"People prejudged us there. People would know me, and I had never met them before in my life. I hated that. I didn't want my kids to ever be affected by it."
Michelle Manziel has worked as a realtor. Several sites list her as College Station Realtor.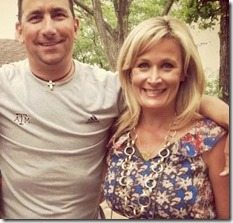 When the family moved to Kerrville, Michelle hoped her family could stay away from the crazy side of the Manziels. Her husband helped build their new house. Their new house just happened to be close to the 16th hole of Hollytree golf course. Her husband would enjoy playing golf with their son.
Michelle's son has been described as spoiled by his parents. He quickly was known for his temper and bad attitude with the family acknowledging he has a problem.
Her son, was recruited out of high school as a dual-threat quarterback. In 2012, Manziel debuted for theTexas A&M Aggies. During his time with A&M he broke numerous NCAA Division I FBS and SEC records, which include becoming the first freshman and fifth player in NCAA history to pass for 3,000 yards and rush for 1,000 yards in a season. In addition to the Heisman, Johnny also received the Manning Award and the Davey O'Brien National Quarterback Award.
Johnny was drafted by the Cleveland Browns with the 22nd overall pick of the 2014 NFL Draft.
Michelle's husband said during an interview the family has tried to get Manziel into a rehab facility but failed. Michelle's husband also added: "I truly believe if they can't get him help, he won't live to see his 24th birthday."