Stephen Thompson
MMA fighter Stephen "Wonderboy" Thompson is not only a fighter with the UFC, but he is also a model, but is Thompson also taken? Do you know who is Stephen Thompson's girlfriend? wife perhaps?
Thompson is well remembered for his impressive debut win four years ago. "Wonderboy" Thompson fired a perfectly placed kick toward the head of Daniel Stittgen, sending his opponent crashing to the floor. Despite taking place in the night's first fight, the finish earned Thompson the evening's "Knockout of the Night" bonus.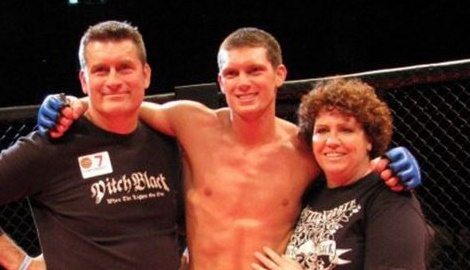 Early life
Stephen Randall Thompson was born February 11, 1983 in Simpsonville, South Carolina. He is the son of former professional fighter Ray Thompson –who is now his manager and former trainer.
Stephen began training at an early age at his father's Karate school. The South Carolina native comes from a family of martial artists, so he's been well looked after. His dad, Ray Thompson, was a pro kickboxer in the '70s and '80s and got him involved in karate at age 3. But it was his sister, Lindsay, who was first to fight for real. Now, she's married to his jiu-jitsu instructor, Carlos Machado. His brother, Evan Thompson is also a fighter.
MMA
Thompson began training Ju-Jitsu and American kickboxing during his teens, he trained in Brazilian jiu-jitsu at age of 20 and mixed martial arts at 26. He is currently undefeated in kickboxing and has only one loss listed in his Mixed martial arts record. According to his UFC profile, he is a five-time world champion kickboxer. Stephen also holds a 5th degree black belt in Tetsushin Ryu Kempo Karate, a 1st degree in Tetsushin Ryu Jujitsu and a Purple belt in RCJ Machado Jiu-jitsu.
Stephen also worked at the family's karate academy, he said he did everything from cleaning bathrooms and worked his way up to becoming the head kids' instructor.
In pro competititon, Stephen is undefeated – competed in the Chuck Norris World Combat League. His favorite grappling technique is the RNC while his favorite striking technique: Spinning backfist.
He's been an MMA Pro since 2010 and his record includes, six wins by KO, one by submission (RNC). He owns a combined 57-0 kickboxing record, which includes over 40 KOs.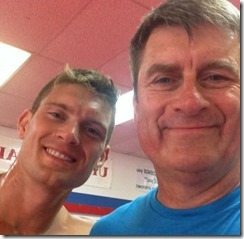 Eight years ago, Thompson "tore every ligament in his left leg" while kickboxing. He had won handfuls of kickboxing titles in the mid-2000s, and once worked with welterweight champion Georges St-Pierre on his striking. But the injury forced him to rethink his career. That's when MMA came into the picture.
He also has trained with Anderson Silva, Chris Weidman, Georges St-Pierre, Rashad Evans, Nate Marquardt, and Keith Jardine. The hot 6'0″ good looking fighter, seems to be single for the moment.
You can find him on Twitter here.