Monika Caryk
Monika Caryk is the stunning girlfriend of NHL player, Mike Hoffman. Her man played for the Ottawa Senators until a disturbing incident regarding Erik Karlsson and his wife Melinda. 
Monika and her Canadian NHL stud have been dating for a few years but before we go on and tell you all the juicy details about her, let's take a quick intro on her man.
Michael Hoffman was born November 24, 1989. The left wing began his junior hockey career in 2006 with the Kitchener Dutchmen. Four years later, he arrived in the Ottawa Senators development camp.
Hoffman made his debut with the team in December 2011 after having played for their AHL affiliate, the Binghamton Senators. Mike emerged during the 2014-2015 season as one of the leading scorers; his 27 goals led the team and earned him a 1-year, $2 million dollar contract the following the season.
After becoming a free agent at the end of the 2015-2016 season, he re-signed a four-year, $20.75M deal with the Senators.
Hoffman and his girl, have been dating for the last few years. As promised, let us introduce you to
Monica Caryk.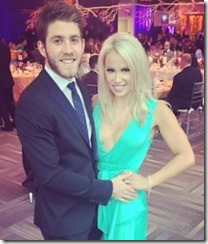 The stunning blonde is also a Canadian born. Believe it or not, these two lovebirds have been in a relationship for the last 10-years.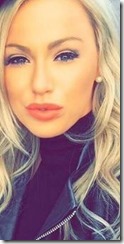 Being together for that long, Monika Caryk clearly understands what it means to be an NHL wag and she sums it all up on her social media, describing herself as a 'Professional packer & unpacker.'
Getting a little more serious, she was born Monika Carolina Caryk and also hails from the same town as her man, Kitchener, Ontario, Canada.
According to her LinkedIn, she attended Wilfrid, Laurier University and graduated in 2014 with a Bachelor Degree in Criminology. Aside from being an NHL girlfriend, Monika Caryk has also spent time between a number of jobs including, a shoe store manager, a promoter, and an Abercrombie & Fitch manager. Her most recent and current job is listed as a travel agent at the Pro Travel Network –a post she's held since 2015.
Caryk is very close to her family, especially her father of whom she wrote on Instagram for his birthday
Happy birthday papa bear Ziggy, I love you #daddysgirl #homeboy4life
Monika calls herself a French Bulldog Enthusiast and is the owner of two cute dogs named Murphy and Maui.
Monica Vs. Melinda
Early in June 2018, Melinda Currey Karlsson filed a peace bond application (very similar to a restriction order) against Monica Caryk, who had been threatening her and her husband for most of the NHL season
"Monika Caryk has uttered numerous statements wishing my unborn child dead," says Melinda Karlsson's sworn statement to the court.

"She also uttered that she wished I was dead and that someone should 'take out' my husband's legs to 'end his career.'

"Monika Caryk has posted over 1,000 negative and derogatory statements about me as a professional."
Caryk denied everything, Mike also stood by her side.
"It's been a really hard week, to be honest," Caryk told the newspaper. "We both feel terrible for them that they have go through something like this and for us because we're the accused."
On June 19, the Senators announced they started a multi-player trade with the Sharks that included Mike Hoffman. The traders later traded Hoffman to the Florida Panthers.
You can follow her on Instagram here.