Meet Nadia Spencer
Nadia Spence, is the girlfriend and soon-to-be wife of NFL player, Brandon McManus. Her fiancé is the current football placekicker for the Denver Broncos.
If you happened to watch Brandon over the weekend, then you caught the 24-year-old overcome challenging weather conditions and tied an NFL playoff record. According to media sites, he kicked 5 field goals, helping the Broncos to a 23-16 win over the Steelers.
McManus has also played for the NY Giants and the Indianapolis Colts. He earned College Football Performance Awards Best Overall Kicker, All-Time Leading Scorer at Temple University. He is a Temple and North Penn HS Alumni who's worked with Kicking Specialists Around the Country.
Brandon is currently in  his 2nd season, having been an undrafted free agent signed by the Colts in 2013.
McManus finished off the regular-season as the tenth leading-scorer in the league with 125 points, converting 30 of 35 field-goals and 35 of 36 PATs.
Sure Brandon had a big day on Sunday with five FG out of five, but he will be having a bigger day this upcoming March! He and his lovely girl will be taking things to the next level by saying "I Do." Lets get to know the soon to be, kicker WAG shall we!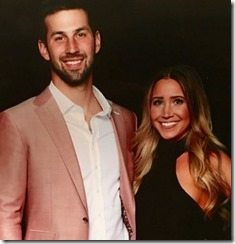 Nadia Spencer was born Nadia Isabella Spencer on December 18th. Nadia Spencer met Brandon McManus while attending Temple University.
Lovely Nadia Spencer is a dental assistant. She works at Willow Creek Dental and according to her profile, she is originally from the Philadelphia, PA metro area. She relocated to Colorado in 2014.
She earned her Bachelor of Science degree in Kinesiology. Prior to working in the dental industry, Nadia worked as a technician in Philadelphia.
Nadia has fallen in love with Colorado's weather and its landscape.
When she's not busy at work, Nadia enjoys going to Broncos games, traveling with her fiance and spending time with their golden retriever, CJ.
According to their wedding site, their nuptials are set for Saturday, March 5, 2016 in paradisiac Punta Cana, DR. The site also says Brandon popped the question to Nadia at the Denver Botanic Gardens on July 25, 2015. He chose to ask the big question on his 24th birthday. He plotted with friends of theirs to invite Nadia to the Gardens as a double date. The pretty blonde had NO idea and pictures were taken at multiple locations throughout the gardens waiting for Brandon to pop the question. When he finally found a good location, he got down on one knee.
The couple kept the magic going with a private room reservation at a downtown restaurant.
Want to take a peek at their Macy's Registry?
Congrats to the bride and groom to be!
You can find Nadia Spencer on Twitter here, Facebook here.