Check out Natalie Halcro, this NFL Wag is the girlfriend of Shaun Phillips the NFL linebacker, who is currently a free agent but who back in the day player with the Colts, The Chargers, Broncos and the Titans.
6'3" Shaun Phillips was raised in Philly where he attended Abraham Lincoln High School and then went to Purdue University before he was selected by the San Diego Charges in the fourth round (98th Overall) of the 2004 NFL Draft.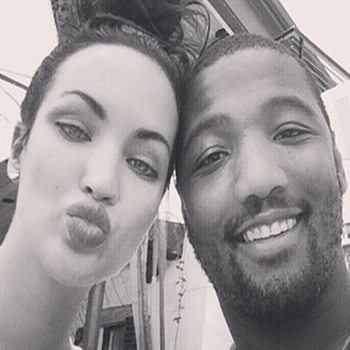 With San Diego Phillips played until April, 2013 when he signed with the Denver Broncos, a year later he played with the Tennessee Titans and with the Indianapolis Colts in November, 2014. The Colts  released him in February, 2015.
According to her interview with Composure Magazine Phillips's insanely hot girlfriend Natalie started modeling when she was twelve years old, by the time she was 16 she signed a modeling  deal with NEXT model agency. Modeling took Natalie to New York where she lived for the next seven years, around this time Halcro signed with Major Models.
L.A welcomed her with open arms and Natalie then signed with yet another agency, this time L.A Models. Certainly she didn't just modeled nationwide, but internationally as well- Milan, Cape Town, France, London.
Natalie has been in commercials for Nissan, Mazda, Marshalls, and Old Navy, has done campaigns for Cache, Macy's, Kohls, Salon Gafix, La Senza, Avon, Nike, Bebe Sport, and Levi's
Natalie Halcro was born in Langle, British Columbia in Canada one of the two gorgeous children born to Mr. and Mrs. Jim Halcro, also proud parents of Natalie's hot brother Joel, 30, and sister Stephanie.
Joel Halcro a graduate from the university of British Columbia with a Bachelor's degree, Political Science and Government currently works in the real estate business just like his pops, but he was once a a track and field athlete.
Natalie's dad Jim graduated from Sauder School of Business, he worked as a firefighter for 30 years before becoming a realtor.
Natalie and her cousin Olivia Pearson created their  fashion blog Jerome (the last name of their maternal grandparents).
Natalie Halcro and her NFL stud have been dating for the past two-and-a-half years, both along cousin Olivia will be on E! new reality show WAGS where our site FabWags was mentioned.
Follow Natalie Halcro on Twitter here