Natosha Boden
Natosha Boden is the proud girlfriend of NFL player, Forrest Lamp. Her man has been projected a first-round pick in this year's NFL draft.
Natosha's boyfriend is a Florida native who played both offensive and defensive line at Venice High School in Venice, Florida.
Born in 1994, the 6 ft 4 in player is still one of the big names available after the first round of the 2017 NFL draft.
While atttending Western Kentucky University, Lamp earned honorable-mention All-Sun Belt honors starting at guard (three games) and left tackle (nine games) as a redshirt freshman in 2013. In 2014 he earned honorable mention All-Conference USA. he past two years, Lamp was a first-team all-conference selection, starting every game on the blind side. He was a third-team Associated Press All-American as a senior. He finished a brilliant career for the Hilltoppers by scoring a touchdown in the team's bowl game.
The former Western Kentucky lineman often gushes about his girlfriend, Natosha Boden,on social media. Meet the lucky lady below.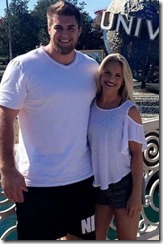 Natosha Boden is a certified personal trainer. Can you imagine a better match?
The blonde describes herself as a fitness enthusiast and a Christian on social media. Boden definitely know what she's doing, she hold a B.S. Exercise Science -from Transylvania University –where she was also a soccer player.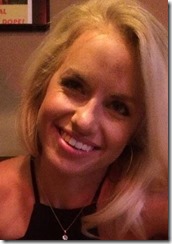 The trainer was born Natosha Lorraine Boden on December 13, 1990. She is a native of Nicholasville, Kentucky and currently resides in Bowling Green, Kentucky –where she moved since last September to be with Lamp.
In a post from Lamp's Instagram he thanks her saying
Shout out to this beautiful woman right here! Thank you for working 60 hours a week so you can live here. Just know you're appreciated! Not only is she a hard worker but she's easy on the eyes #wcw #thatsmile@natoshalorraine11
She is currently employed at D1 Bowling Green where she is listed as a Personal Trainer/Strength & Conditioning Coach. She is also a group fitness instructor and Pilates Reformer instructor.
Accoridng to her LinkedIn, miss Boden previously worked at Fit Kentucky Personal Training, HealthworRxs, the Beaumont YMCA and Proof Fitness.
Natosha Boden who is a few years older than Lamp began dating him in early 2016.
You can find her on Instagram here.