What is Nick Diaz's current Net Worth? Mixed Martial Arts fighter and former welterweight champ Nick Diaz, the Stockton, California native and older brother of MMA fighter Nate Diaz competed in Strikeforce, UFC, DREAM, World Extreme Cage fighting, Shooto, PRIDE, and EliteXC.
Nick Diaz Net worth 2021
Nick Diaz's net worth in 2021 has been estimated at $3 million. Diaz started fighting competitively in 2001, his first win using a triangle choke came against Mick Wick at IFC Warriors Challenge 15 on August 31, 2001. Nick later joined Warriors Quest, Shooto, and IFC before signing a deal with the UFC in 2003. His debut was at UFC 44 on September 26 against Jeremy Jackson; Diaz defeated Jackson by submission in the third round. Nick Diaz's total career earnings made a total of $1,759, 450 million.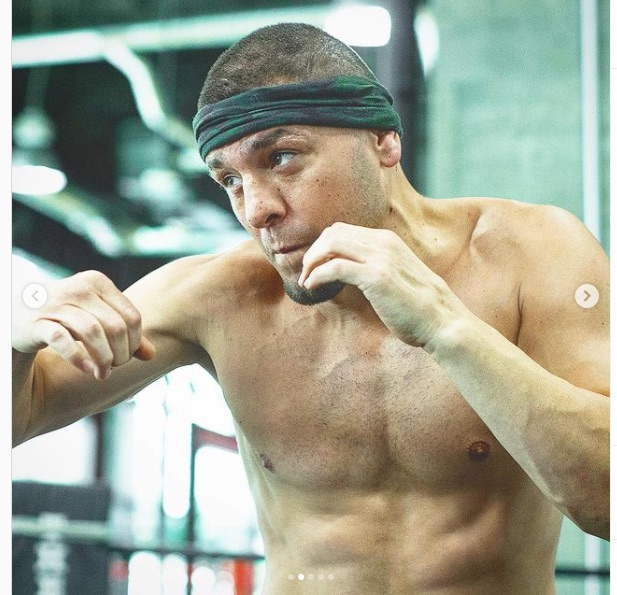 His last fight with the UFC was in 2015, but he has kept himself busy with his brother's business, Game Up Nutrition.
How much does Nick Diaz make per fight?
Mixed Martial Arts fighters are getting higher salaries than they used to; back in 2004 when Nick Diaz fought Lawler at. UFC 47, his salary was $6,000. The following year he was in the main card at UFC 51 and UFC 53, walked away with $11,000 and $15,00, respectively. In 2006 fought at UFC 57, received $10,000, the same amount at UFC 59, when Sean Sherk defeated him.
Also, in  2006, received $20,000, $10,000 to show, and $10,000 win bonus at UFC 62 against Josh Neer; Nick defeated Gleison Tibau at UFC 65, receiving $24,000, $12,000 to show and another 12 for winning the bout.
Subsequently, fight at PRIDE 33 Takanori Gomi, earning $12,000; initially received $15,000 to show, and got a $3,000 fine for a failed drug test. At EliteXC, Diaz received $60,000 for his fight against Thomas Denny.
Things got a lot better at Strikeforce when after defeating Marius Žaromskis, Nick received $100,000; earned$150,000 at Strikeforce: Diaz vs. Cyborg, and his last fight at Strikeforce got $175,000.
After returning to the UFC, Nick Diaz faced BJ Penn at UFC 137, earning $275,000, $200,000 to show, $75,000  as a winning bonus. Later appeared at UFC 143 against Carlos Condit; he lost the bout by unanimous decision, plus was fined $80,000 for failing a drug test, he ended up with $185,000.
Georges St. Pierre defeated him at UFC 158 on March 16, 2013, but still earned $200,000. His last fight at the UFC was against Anderson Silva at UFC 183 on  January 31, 2015, earned $400,000; supposedly, he was getting $500,000 to show but had a $100,000 fine for a failed drug test.
What is Nick Diaz salary?
As we said, he hasn't fought since 2015, but back in the good days, Nick Diaz was making around  $$495,000 per year.  As we broke it down before, Nick wasn't earning much between 2001 and 2006; he started getting paid a higher salary in 2008, at EliteXC, PRIDE, and Strikeforce; however, higher prize money came when he returned to the UFC in 2011.
Nick Diaz Sponsorships
No sponsors for Nick Diaz recently; he is busy sponsoring his own Cannabis brand. In 2017 appeared in a commercial ad for Futurola, a family-run business with its roots in the Coffeeshop industry in Amsterdam, according to their website.
Why did Nick Diaz stop fighting?
After three failed drug tests and costly fines, the Nevada State Athletic Commission suspended Nick for five years on September 14, 2015; they also fined him $165,000 for his last UFC fight; Nick filed an appeal in January 2016, Nick's suspension and fine were reduced to 18 months and $100,000, sadly his suspension also didn't allow him to work the corner for his brother Nate.
Although he was fighting in 2018, Nick is still a member of the  UFC Registered Testing Pool and required out-of-competition testing; he didn't show up for three tests at the locations provided in his Whereabouts Filings, two in 2016 and the third one in 2017. As a result, he received a one-year sanction after three unsuccessful test attempts during a 12-month period.
Nick Diaz Return to UFC
On September 7, 2020, Kevin Mubenga, Nick Diaz's manager, confirmed Nick Diaz was getting ready for his UFC return, keeping his weight in the 175-165 pound range and completing a test weight-cut and looking forward to fights in the welterweight division.
"This is Nick Diaz earlier today. He weighs in the 175-165 pound range. He just completed a 14-week diet and training regimen. This is the first time he cuts weight in approximately four years; Diaz wanted to do a test cut because he is keeping a close eye on the big welterweight fights coming up. He is "100%" planning on fighting again, per Mubenga, and is targeting an early 2021 return. per his manager Kevin Mubenga."
Nick Diaz Ventures and Investments
Along with his younger brother Nate Diaz, Nick founded Game Up Nutrition, which Nate said he smokes CBD joints from and uses a CBD vape pen from Game Up Nutrition to help him relax after an intense match; it also helps ease pain and inflammation after a fight. In 2013, Nick Diaz also launched WAR MMA, his own mixed martial arts promotion out of Stockton, California.
Nick Diaz Running
Nothing new to read about, Nick Diaz's running days started when he was 16; at that time, he dropped out of high school and started to take his MMA training more seriously; he was running 15 miles. Both Nick and Nate are known for running road races and doing triathlons.
Nick finished 36th out of 292 at the Donner Lake Triathlon in 2011; that year, he was ranked 831st in the USA national triathlon rankings. The Huffington Post's article titled Nick Diaz: The UFC's Running Man in 2012, stated Nick liked to compete in triathlons as a form of relaxation.
"Fighters are afraid of conditioning, they are afraid of getting tired, but I don't want to have anxiety or be afraid of anything," said Diaz, 26-7 (with one 'no contest') in his 10-year mixed martial arts career."
"I can go 100 percent out there and never have to worry about getting tired. Everybody says fighting is 90 percent mental, and it's true. Knowing you can go 15 minutes or 25 minutes without any problem can help you sustain that mental advantage over your opponent."
"I just like to race; It gives me something to build for. During the triathlon season, I'll probably race every two weeks. I get stronger and stronger when building up to the race. After a race, a lot of people will crash and take their foot off the gas, but I'll keep building and building until I have to fight. I have a reason not to crash, and I try to keep the ball rolling until fight night."
"Doing the races keeps me in shape. By the time a fight comes around, I'm already in shape and ready to go. I don't have to get in shape for fights. When I am in the gym, I train mixed martial arts, I don't need to train to get in shape. I am already in shape. If I'm not running, I'm going to go for a swim or go on a bike ride. I don't like being stationary at any point during training."
Nick Diaz Early life
Nick Diaz was born on August 2, 1983, in Stockton; one of the children born to Robert Diaz and Melissa Womble Diaz, proud parents to Nick's younger siblings Nate and Nina Megan Diaz, 34, Nick's mom raised her children on her own as their father wasn't home much.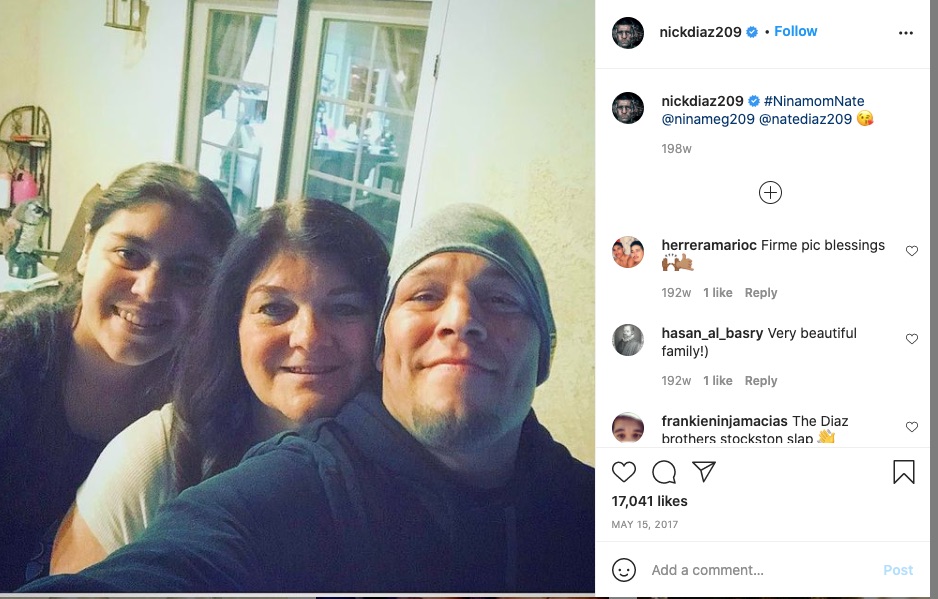 Nick briefly attended Tokay High School in Lodi, where he was a member of the swimming team. After he dropped out, he tried homeschool but figured out it wasn't for him since he was behind his studies. He started training karate and aikido before taking wrestling.
He was 16 when he started training Sambo and mixed martial arts later on. The rest, as you all know, is history.
Nick Diaz MMA Stats
Nick Diaz's mixed martial arts stats are as follows, 37 fights, 9 losses, 26 wins, 13 by knockout, 8 by submission, and 5 by unanimous decision. The 6'1, southpaw fighter, has a reach of 76″ is a black belt in Brazilian Jiu-Jitsu under Cesar Gracie.
Nick Diaz Highlights
We can tell you about Nick Diaz's career highlight, but we rather show you, those are must-see!!
Nick Diaz Personal life
Nick Diaz has dated a couple of girls over the years. One specific gal has stayed on his memory ever since he met her, fell for her, and disappeared from his life, Stephanie, his high school girlfriend, who committed suicide on July 5, 2000.
Before I ever had my first pro fight, July 5, 2000, Bart had a party at his house. The night before, Stephanie had told me she loved me. After the party, I was gonna go back to her house with her brother — he was my best friend — but some friends weren't doing well and headed to my house. So I had to go.
An hour later I got a call from her mom saying, 'Are you with Stephanie?' She came straight to my house to get me, took me up and down the Frontage Road on Highway 99 by my Grandma's house next to their trailer park. There was a wreck on the freeway. I jumped the fence and saw only one car and ambulances. She had walked and killed herself on the freeway. The girl I loved more than anything had tried to kill herself for the third time and succeeded.
he was gonna go to college. She was an avid student and and was doing everything I couldn't while living in a trailer park where everyone was doing dope. Meanwhile, I focused my whole high school years worried about what her and her friends would think if I lost a fight to her ex-boyfriend and football friends. I could never make attendance, hung out with the wrong people to hold my ground as a fighter and someone who I would fight for was important to me.
There was no way I was gonna go to school. I had no money, no car. I would have driven there and stopped her. After that, I was grown up. It was all over. I wasn't a kid anymore. I won my first fight in the first round with a choke and all I could think about was her, just like when I was in school.
I would run seven miles and back to her grave just to promise her I would make it as a fighter like she knew and had told me she knew and was proud of me."
Nick Diaz Wife/ Girlfriend
No wife for Nick Diaz; he isn't married; he dated Heather Nikole Thomas a couple of years ago, but it looks like he isn't dating anyone at this moment.
Nick Diaz Children
Nick Diaz' doesn't have any children; he gave up on marriage and children to become a mixed martial arts fighter.
"I held off on having kids and getting married so I could fight. I gave my life to this."
Nick Diaz Promoting
Nick Diaz launched WAR MMA in June 2013; the mixed martial arts promotion had its first event on June 22, 2013, in Nick's natal Stockton, Cali, with Daniel Roberts and Justin Baesman as the main event of the card.
Nick Diaz Video Games and Films
In 2009, Nick Diaz, along with a bunch of MMA fighters, appeared in the documentary MMA Worldwide; he also appeared in EA Sports MMA video game in 2010. In 2013, he appeared on one episode of HBO series Ballers, along with Dwayne the Rock Johnson, Troy Garity, and John David Washington as NFL player Ricky Jerret.
Nick Diaz Workout
Nick Diaz likes to train hard, six days a week, and two workouts per day when he was still fighting. Here is what Men's Health wrote about Nick Diaz's workouts in 2012; I bet he still does the same thing today.
He'd wake up, go for a ride or a swim, then hit Gracie's gym for bout after bout of 5-minute sessions of sparing, grappling, and mitt work, only to return to the gym to spar again around nine o'clock. He'd top his days off around midnight with some weight training or a 5-mile run. What fuels all of that training is the culinary extension of his intensity: Diaz eats no gluten, dairy, red or white meat, or GMO foods, and subsists only on organic fish, vegetables, nuts, and grains.
Diaz focused on sparring and grappling over multiple 5-minute rounds, spaced 1 minute apart. It's an insanely effective method that not only skyrockets his cardiovascular health, but also conditions his entire body, readying him to last far into the last round.
You can surely find Nick Diaz' working out at his Nick Diaz Academy, where they offer classes for children and adults in all skill levels.
Is Nick Diaz Vegan?
Yes, Nick Diaz is Vegan! so is his brother Nate. The brothers became vegans early in their careers, first Nick and later Nate followed him; as a matter of fact, Nick was who talked Nate into changing his diet.
"His brother, former UFC figher Nick Diaz — who is widely considered to be a pioneer of the sport — was the one who turned him onto his health-conscious lifestyle." per Livekindly.
Nick Diaz talked about how his vegan lifestyle helped him with his training ahead of a fight.
"I train really hard and I started eating vegetarian more, I eat seafood for a really long time and then now every once in a while I'll have seafood so you can call it pescatarian, I don't do dairy products or anything like that, I think that it helps a lot when it comes to training all week long I spend a lot more time in the gym, on the mat training, where other people do these workouts and they pile on a bunch of protein and then they have to take these recovery days, you need three days in a row  in the gym training jiu-jitsu to lock down your technique."
"You can't have one   one day and have a break all that stuff, you forget about it if you are not in the gym, it's not what you want to think if you are not in the gym, it's free time so you are trying not to think about the gym, because I spend all six days in the gym so eating raw food, vegan diet it really helps me out by feeling healthier."
Favorite Quotes from Nick Diaz
I feel that you instigate fights quite a bit…I mean that's your job but, where I come from, people like that get slapped."
If people can't handle watching me or they can't handle the intensity of my life or they can't handle me cussing saying f*** this and f***, then you know, I think people really need to become a little more mature, kinda grow up a little bit…
What I do is, I fight. So you know, I get on the ball and I do what I gotta do. And it's funny, to come home, to f****** crash out, I don't drink a bunch of—I don't drink a shot of whatever and pop a bunch of Vicodin like everybody else.
If I have a girlfriend, I don't bring her to flaunt her. She doesn't get to reap the benefits of me being famous.