What is Jeff Cavaliere's current net worth? the strength coach and physical therapist who has built an empire on YouTube on his channel ATHLEAN-X; he previously worked as a head physical therapist for the New York Mets, how much money is he making and how is he doing it?
Jeff Cavaliere Net Worth
Jeff Cavaliere's net worth in 2021 has been estimated at $2.5 million, it is estimated that Cavaliere makes  $5,000 in one day, and $1.8 every year, just from ads. His Athlean-X channel is considered to be one of the top 5 highest-earning YouTube fitness channels.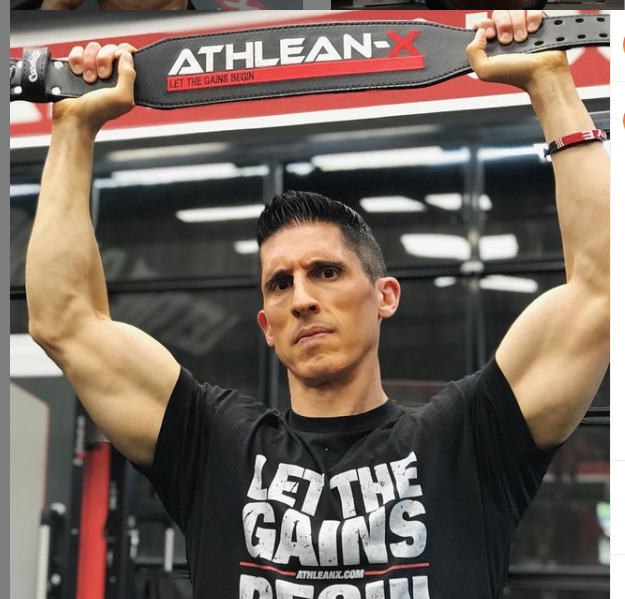 Jeff was born Jeffrey Daniel Cavaliere  on June 28, 1975,
Jeff Cavaliere Career
He started weight lifting while he was in high school, where he also played soccer and baseball; he earned a Bachelor of Applied science in Physioneurobiology and pre-medicine studies in 1997 and a Master's in Physical Therapy in 2000 from The University of Connecticut.
From 2006 until November 2009, was the head of physical therapists and assistant strength coach for the New York Mets.
"Served as the New York Mets major league head physical therapist and assistant strength coach for the National League East Champion 2006 and 2007, 2008 teams (including all time great players such as Pedro Martinez, Johan Santana, Carlos Beltran, Carlos Delgado, David Wright, Jose Reyes, Tom Glavine, and Billy Wagner)."
Jeff has been a contributing writer for Men's Fitness since 2004; he founded ATHLEAN in January 2009,
Jeff worked hard to advertise his workout guides – getting the chance to work with elite athletes, such as Greg Jennings, David Wright, Antonio Brown, David Beckham, Rafael Nadal, Steve Borden, Tom Glavine and Terrell Owens.

As a result, Jeff became recognized as a leading figure in the fitness industry, known under his nickname 'AthLEAN-X'.
Jeff Cavaliere's ATHLEAN channel created on December 16, 20906 and which has over 11.3M subscribers has expanded to  ATHLEAN-X Espanol, Athlean-XX for Women and ATHLEAN-X Reviews. 
Jeff Cavaliere Height & Weight
Jeff Cavaliere's height is 5'8 or 172.5 cm, his weight is 190 lbs or 87.5 kg. Jeff said he discovered his passion for fitness at an early age; grew up watching professional wrestlers, bodybuilders, and action movie stars like Sylvester Stallone and Arnold Schwarzenegger.
"I idolized guys like Arnold, Stallone, Ravishing Rick Rude, and The Hulkster, I found myself wondering what it would actually take to look like them."
 "Long before I ever touched a weight I grew up a huge fan of pro wrestling and action movies."
"After one summer of consistent workouts, I not only started to see abs, but was finding it easier to get my job done on the field." – Jeff Cavaliere
Jeff Cavaliere Fake Weights Controversy
Last summer there were several sites that accused Jeff Cavaliere of not only using fake weight but also of using ; Dan Brooks a London-based trainer wrote that according to a YouTube judge Jeff indeed used fake weights in some of his videos.
In the last couple of weeks there has been much, totally pointless, hand-wringing among the YouTube fitness community over whether Cavaliere uses fake weights in some of his videos. The YouTube judge and jury have decided he has – and he does appear to in some videos – but does it matter? I'd argue not.
Take, for example, a video of Cavaliere performing deadlifts which has been held up as evidence that he is using fake weights. The weight on the bar is not the issue. It's the quality of advice which matters. In that sense, the advice he always gives regarding the deadlift is absolutely spot on.
What about his alleged use of ? Distractify published a story about people posting rumors about it on Facebook and Reddit.
"Jeff plays the great angle of being professional and acting like he cares. If he really cared he wouldn't be lying to people about his personal steroid usage that is clear as day to anyone who has used gear themselves. Don't get scammed peeps."
Another user claimed none of Jeff's clients has had similar results to him, "Not a single person he has trained has gotten similar results to him or passed him, It is hilarious how nobody questions that."
Greg Doucette, another bodybuilder, and coach said he believed is not OK that Jeff uses fake weights, before adding that if he is indeed using fake weights, there might be more things he is lying about.
"Is Jeff in fact lying about anything else? I think he is, I made a natty or not video on Jeff Cavaliere, and now I've changed my freaking mind. I think he is not natural."
Jeff responded to Greg's claims with the following statement:
"You've levied some serious allegations here. I'm inviting you down to take whatever drug test you'd like for me to take. Don't wait. Get on a plane and come down. I will pay for your flight and your hotel. I'll even let you watch me pee in the cup if that's your thing. I'll let you bring your own videographer and chronicle the whole thing so you can upload the video to your channel and get the views."
Jeff Cavaliere Books
Jeff Cavaliere has published several books on fitness, AthleanX's Train Like an Athlete: Intelligent Training to Build the Ultimate Body available on Amazon, The Biceps Black Book, available for download on Jeff's website, AthleanX's Train Like an Athlete by Jeff Cavaliere also on Amazon.
Jeff Cavaliere Wife & Children
Jeff Cavaliere's wife is Michele Cavaliere, tied the knot in 2008, after their wedding Jeff realized he could no longer work with the New York Mets, due to their constant travel, if he wanted to be there for Michele he had to choose.
Jeff Cavaliere and his wife Michele welcomed twin sons Jaxon and Javier on January 6, 2016; their boys born several weeks before her due date, had to spend five months in the neonatal intensive care unit.
After spending 5 months in the neonatal intensive care unit following their birth, I can tell you that this is my favorite set of farmers carries I've ever done!! Welcome home Xavier and Jaxon!
Jeff his wife Michele and their twin boys reside in Fairfield, Connecticut.