Nicole Bell
Meet NFL cheerleader, Nicole Bell. She is also the hot girlfriend of football player, Chad Kelly who's been getting in trouble lately. Her boyfriend who is an Ole Miss QB signee, has been making headlines recently, as footage shows the 20-year-old getting into a fight with a bouncer and making threats to commit an assault rifle massacre over the weekend.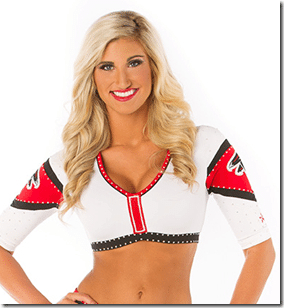 We are not exactly sure if Nicole and Chad are still together, but they sure were tight last year, on Nicole's Vine profile you can find most of her posts are about Chad.
According to Nicole's Atlanta Falcons Cheerleader profile, she is a full time student and model, she attends Georgia State.
Nicole who is a huge fan of Falcons player, Matt Ryan wishes to become a successful ESPN sports broadcaster.
She says she is attracted to men who have a sense of humor, teeth, and a good heart. Do you think Chad Kelly fulfills the qualities?
Find gorgeous Nicole on Twitter here, Instagram here.