Nina Sandbech
Check out the lovely Mrs. Nina Sandbech; she is the pretty girlfriend of ice hockey player Mats Zuccarello. Her stud is the talented Norwegian left wing player for the New York Rangers and Norway National Hockey team.
Zuccarello played for Metallurg Magnitogorsk, Modo Hockey, and Frisk Asher prior to coming to the US. The New York Rangers signed him as a free agent in the summer of 2010; they agreed to a two-year, entry –level contract.
Mats made his NHL debut against the Tampa Bay Lighting on December 23, 2010. During the 2012-13 NHL lockout, Mats went to play with Metallurg, returning to the NHL on time to sign a one-year deal with the rangers on March 28, 2013.
He resigned a new deal after the 2012-2013 season and then again during the 2014-15 season, this time he signed a four-year contract worth $18 million.
Not bad for the 5'8" boy who grew up in the suburbs of Loren in Oslo, Norway!!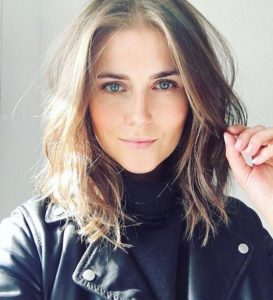 Oslo, Norway is also the place where his pretty model girlfriend Nina Sandbech comes from. The stunning 27-year-old fashionista now spends her time between Oslo and New York with her man.
Nina who just like any other woman loves fashion shares her passion on her blog, which you can check out here.