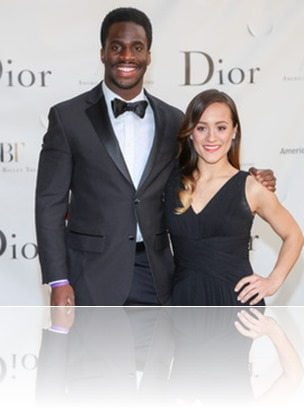 Meet the beautiful Pilar Davis, she the lovely girlfriend turned fiancée of the NY Giants virgin cornerback Prince Amukumara. and is about Pilar the soon-to-be Mrs. Amukamara that fabwags is going to talk to you about.
24-year-old Prince to his lovely and petite girlfriend Pilar Davis on July 19, 2013, and he did it in style. Prince and Pilar where at the Jabbawockeez show "PRiSM" at Luxor Hotel and Casino in Las Vegas when he joined the performance on stage, Pilar unaware that her Bf under a mask was  among the performers  was pulled to the stage, it was only then that Prince got on one knee, took off his mask and popped the question.
28-year-old Pilar D. Davis was born on June 01, 1985 in Sacramento, CA  to Vicki and Devan Davis, Pilar met her beloved boyfriend two years ago when she went to the New York City nightclub SL with some friends. while he was there with his buddies Corey Webster , Ahmad Bradshaw, and Aaron Ross, who encouraged him to go talk to her..
They were like, 'Go say something to her!'" Amukamara said. "And they were cheering me on. She thought we were all rowdy and drunk and she didn't pay us any attention. Then, later, I was waiting for Ahmad [Bradshaw] and she came by and we struck up a conversation. I asked her for her e-mail address because when someone asks for your number, it might be too personal and you might not want to give it. But if you ask for their e-mail address, they'll give it. I was right."
The rest is history, Pilar and Prince have been inseparable ever since, and plan to get married a week after the Super Bowl on February 2nd.
Find Prince Amukamara"s pretty wife Pilar Davis on Facebook here