Who is Quinnen Williams Girlfriend?
Maranda Ross
Have you met Maranda Ross? She is the new girlfriend of NFL player Quinnen Williams. Her boyfriend is the 6'3″ defensive tackle for the New York Jets who also played college football at the University of Alabama.
Prior to getting into Alabama, Quinnen the recipient of the Outland Trophy committed to Auburn University, he also received scholarships offers from Ole Miss. He started playing football at Wenonah High School.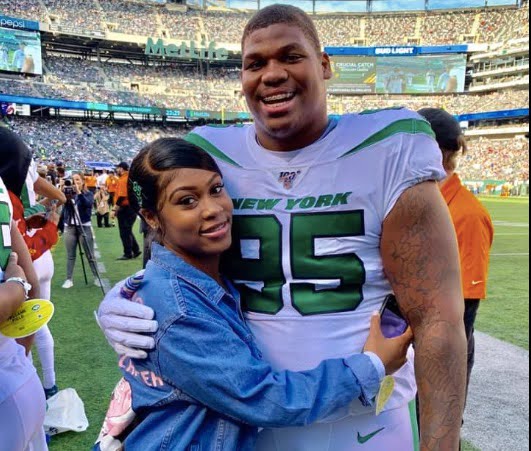 Quinnen Williams family
Maranda's boyfriend is the younger brother of Quincy Williams a linebacker for the Jacksonville Jaguars who also played Murray State and Wenohah High before that.
Quinnen and his siblings Giovanni, Quincy and Ciele Williams are the children born to Mr. Quincy Williams Sr. and former school teacher with the Birmingham City Schools, Marquischa (nee. Henderson) who sadly died at the age of 37, from breast cancer in 2010. Raising four kids by himself, wasn't easy for Quinnen's dad, his kids (Quinnen was 12, Giovanni was 11 and little Ciele was 9 at the time of Mrs. Williams' death) saw that and each and everyone helped at home.
"It was very hard at first," Quincy Sr. said. "Losing a spouse and a mother is extremely difficult."

"We bonded close, as close as you can get, because we had to," Quincy Sr. said. "We had to get each other to through the hard times, through the difficult times.

"Had to keep everything normal. We had to keep the kids busy with sports, basketball, soccer, baseball cheerleading camps, church plays and speeches. Stayed as busy as possible, always working to do the right thing, to prevent the mind from drifting off toward bad influences. We stayed busy, and we stayed close.

"Talked all the time, texted, and kept an open family communication together. We had extended family always providing a positive influence in teaching and [helping bring up the kids]. It was a collective effort. Everybody pitched in and did a part. … So many people deserve credit in getting us where we are today."
Quinnen was still in high school, playing football, and still got a job as a chef. To this day, Quinnen continues to cook, chicken alfredo and burgers are his specialties.
The Williams Brothers
Williams' younger sister Ciele a member of the youth choir at Olive Baptist Church graduated from Wenonah High School in 2019, where she was also a member of the cheerleading squad.
His other Giovanni played linebacker at Wenonah High School from where he graduated in 2017.
Quincy Williams.
Quinnen's big bro Quincy Williams, was born on August 28, 1996, marked the path his younger siblings followed; he started playing football at Wenonah, before playing an array of positions at Murray State.
4'10" Quincy whose full name is Quincy Kamonte Williams II, graduated with a major in public relations, before the Jacksonville Jaguars selected him in the third round with the 98th overall selection of the 2019 NFL Draft.
Quinnen Williams Alabama
With the Alabama Crimson Tide team, Quinnen's college stats recorded 91 tackles, 35 assists, 10 sacks.
Quinnen forgo his remaining two years of eligibility when he announced he was entering the draft, where the New York Jets selected him in the first round (3rd overall) of the 2019 NFL Draft. On July 25, 2019, he subsequently agreed to a four-year deal, worth $32.5 million.
Quinnen Williams Stats.
As of 2019, Williams' stats with the Jets recorded a total of 28 tackles, 2.5 sacks, 1 pass deflection, and 1 fumble recovery.
Williams' career took a twist when he was fined $21.056 for a late his on Atlanta Falcons' quarterback Matt Schaub. More recently Quinnen was arrested at LaGuardia Airport for criminal possession of a gun before he was about to catch a plane of the night of Thursday, March 6, 2020.
According to reports, Quinnen had a permit for carrying the gun, however, the license was issued in Alabama, in New York, the permit is not vail since it wasn't issued in the state.
It is unknown if Williams was flying solo or if he was with someone, perhaps Quinnen Williams Girlfriend Maranda Ross. Speaking of her, ready to hear what we know about this fine gal?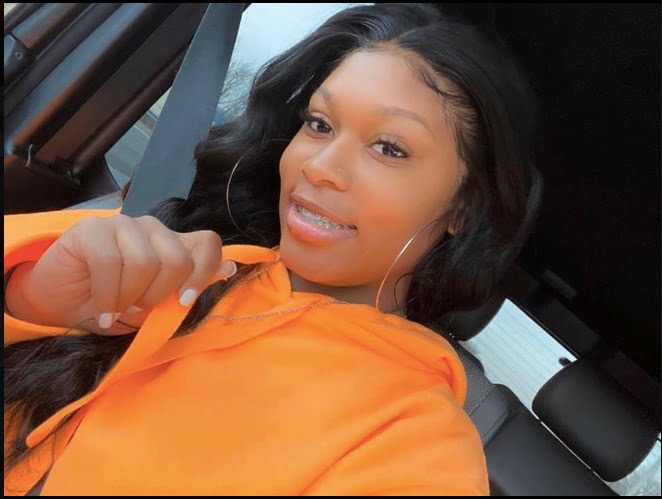 There isn't much out there about there, thus far, we know that 21-year-old Maranda Victoria Ross also from Alabama is a student and an entrepreneur, she is CEO of Maranda Kouture.
We can't be a 100% how Maranda and Quinnen met, probably at the University of Alabama; photos of them together were initially posted on her social media accounts in August 2019.
They do make a cute couple, right? Share your thoughts about this story and about Ms. Ross in the comment box below.
Furthermore, you can find Quinnen Williams girlfriend Maranda Ross on Instagram here.