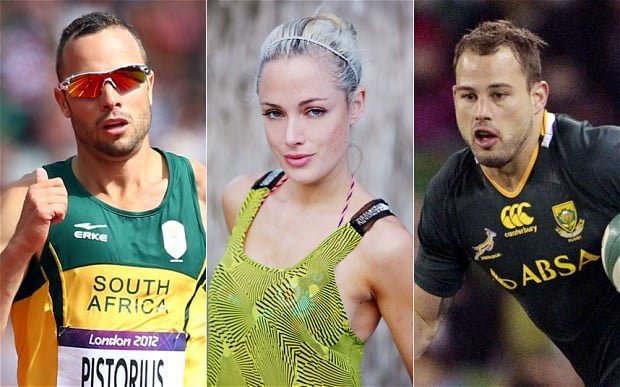 Pin
The South African model Reeva Steenkamp of 29 years old who was murdered by Oscar Pistorius, a South African athlete and the one who holds the world records in the 100, 200 and 400 meter dash for athletes who have suffered a double amputation.
The model Reeva Steenkamp had a promising career and was very active against gender violence, some suspicious comments may said that Oscar Francois was jealous about the friendship between his girlfriend and the rugby player and her ex-boyfriend Francois Hougaard, according to British tabloids Hougaard was a good friend with Oscar Pistorius and also very close to his ex-girfriend.
Francois and Reeva have known each other for years and were boyfriends for a while, investigators have been looking at Reeva´s tweets with Francois.
You can take a look at her twitter.
The 24-year-old Francois Hougaard is a professional South Africa rugby union rugby player, his primary position is scrumhalf.
Francois Hougaard was born on April 6, 1988 in Paarl South Africa. Francois studied at the Robertson Primary School at Western Cape, he weights 198 lbs. and stands at 5'10".
Hougaard began his professional career with the South African Rugby Western Providence in 2008
In 2009 Hougaard made his international debut with the South Africa Rugby Union Team.
You can find Francois Hougaard on Facebook and Twitter.
Francois's friend Reeva Steenkamp was laid to rest on Tuesday, February 19, Hougaard was one of her closest friends that attened at her private funeral and cremation.