Ron and Nellie Biles are the two of the most important people in Simone Biles' life. The US Olympic gymnast, her two brothers, and sister Adria were raised by their grandparents Ronald and Nellie Biles who adopted them after Simone's parents  Shannon and her husband were incapable of looking after her four young children due to drug addiction.
Simone Biles Parents
Ron and Nellie Biles
Simone Biles is one of four children born to Shannon Biles, whose parental rights were terminated due to her drug addiction; Simone and younger sister Adria, who is also a gymnast, were adopted by their grandfather Ron and his wife Nellie, who is not Simone's grandmother. Nellie Biles recalled the transition wasn't easy, but adopting her daughters was the best thing that could ever happen to her.
"It wasn't an easy transition because they didn't have any connection to me and I didn't have any connection to them. It was a very trying time for me because they were not my children, they were related to Ron.

"I don't think you could prepare yourself for something like that. Being a grandparent… that's not something you can change. But then making a decision to adopt Simone and her sister…"

"Over time you take your barriers down and that goes both ways," explained Nellie, who lives up to P&G's slogan that 'It takes someone strong, to make someone strong' as part of the company's "Thank You, Mom" Olympic campaign.

"Me taking my barriers down and the children taking their barriers down and before you know it there is unconditional love that's there between both of us, or between myself and my husband, and Simone and her sister.

"That goes for her brothers too, they feel the same way. It's not something you can plan, it just happens.

"Making a decision to adopt Simone and her sister … it was the best decision we made."
For Nellie Biles, Simone is not her granddaughter; she is her daughter.
"I have no idea when it happened but it happened at some point when all the barriers came down. I would do anything for those girls. I would kill for those girls," Nellie said.

"The best thing about being Simone's mum is looking at your child who sets goals for themselves and works very hard towards their goals. And when you see the outcome, it's great to be Simone's mom, it's a very, very proud feeling.

"The worst part of being Simone's mom is that at times she is a very stubborn 19-year-old teenager that I could just kill at times," she added as mother and daughter both dissolved into laughter.
Shannon Biles, mother of Simone, Adria, and sons Ronald and Adam, struggles with drug addiction, and being a single mother, her children's father abandoned her.
Child services would take her children from her when she messed up, sometimes they remained clean, and her children came back to her, but then came when her children were taken for good from her life. Luckily for her and her children, they were adopted by a family.
Ronald and Adam were adopted by an aunt, and Simone and Adria, ages 6 and three, were adopted by maternal grandfather Ron Biles and his second wife, Nellie. In the beginning, Ron and Nellie were grandpa and grandmother for the girls, but after Nellie told them it was up to them if they would like to call them mom and dad, there was no turning back.
"I went upstairs and tried practicing it in the mirror—'Mom, Dad, Mom, Dad.' Then I went downstairs, and she was in the kitchen. I looked up at her and I was like, 'Mom?' She said, 'Yes!' " Simone recalled.
Belize native Nellie Biles worked at a nursing home and Ron air-traffic-control systems all over the country for the Federal Aviation Administration until 2010, when he retired.
Ron and Nellie Biles devoted themselves to the girls; they helped Simone and Aimee Boorman, a former competitive gymnast and one of the coaches at Bannon's (the gym where Simone started training) when she needed psychological help to cope with the stress.
They have and continue to be Simone's biggest supporters and loyal fans.
Simone Biles Shaq
The Simone Biles and Shaq photo moved to viral heights in a matter of minutes!
Simone Biles and former NBA player Shaquille O'Neal posed together for a photo after the Super Bowl LI; Simone tweeted the photo and soon got over 50,000 retweets. Shaq's height is 7'1 (2.16), making Biles' 4'8 (1.42 cm) frame looked even tinier.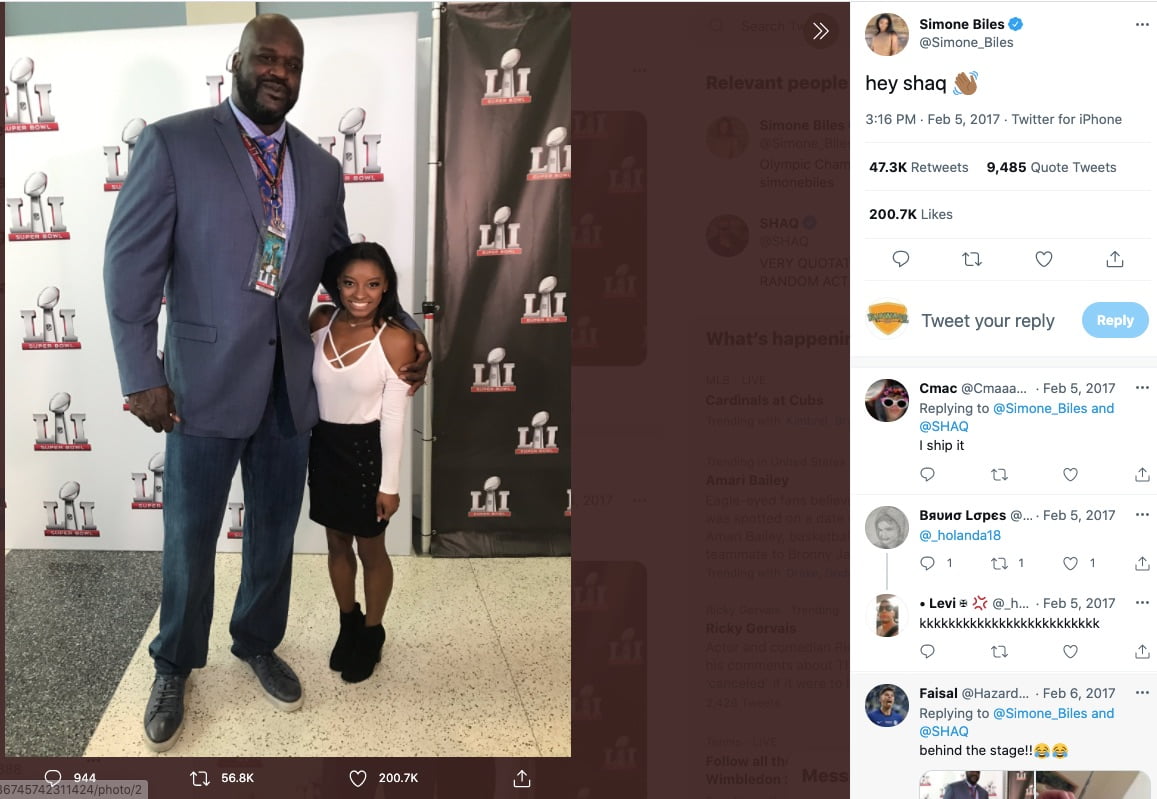 Simone Biles Net Worth
According to Wealthy Gorilla, Simone Biles has a net worth estimated at $2 million. Simone has earned her fortune from her endorsement deals with Octagon Sports Agency (since 2015), Nike (Nov. 2015 to April 2021) and GK Elite Sportswear (since Nov. 2015), Kellog's (August 2016), Proctor & Gamble, United Airlines & The Hershey Company (After the 2016 Summer Olympics in Rio), Mattress Firm (since Sept. 2016), Spieth America and Beats by Dr. Dre (2016), joined Gap's Athleta Brand in April 2021, after ending her partnership with Nike.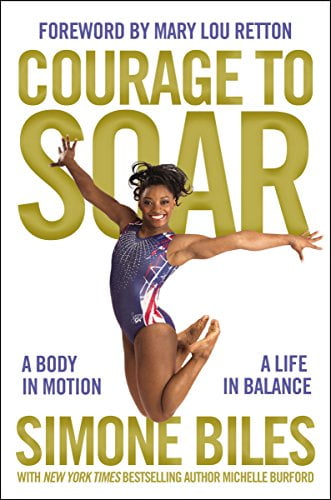 Simone Biles also earned from the sales of her book Courage to Soar: A Body in Motion, A Life in Balance, available on Amazon if you are interested in a good read.
Simone Biles House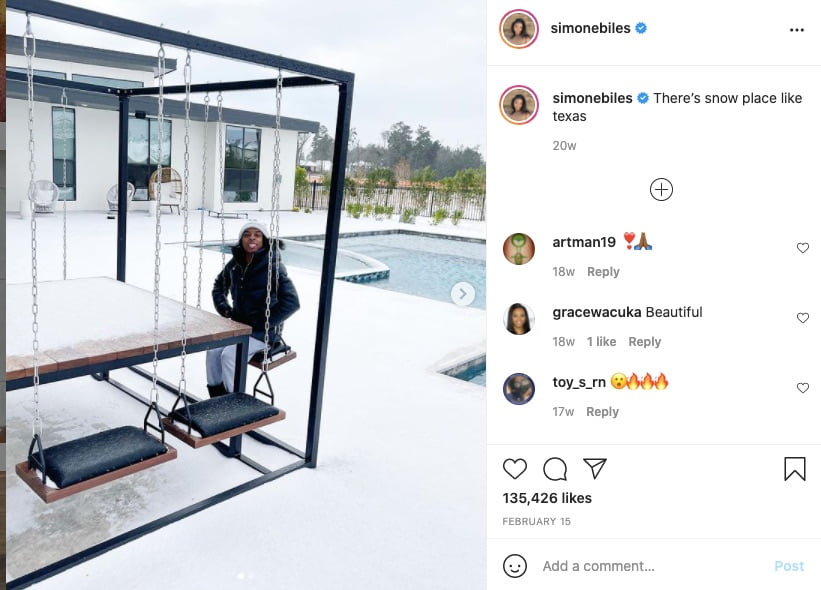 Simone Biles shared photos of her beautiful home in Spring, Texas, early this year. The 3,711 square feet house features 4 bedrooms, 3 and a half baths, pool, covered patio, game room. In December 2017, Simone' brother sold their childhood home around $250,001-$285,000
Simone Biles Height
Born in Columbus, Ohio, Simone Biles' height is 4'8 or 1.42 cm.; she weighs 104 lbs. or 47.1 kg.
Simone Biles Boyfriend
Over the years, we have met some of the handsome guys Simone Biles has dated. She is currently not single, and once again, she has fallen for an athlete; this time is an NFL player who didn't even know she was a famous gymnast when he met her.
Arthur Nory Mariano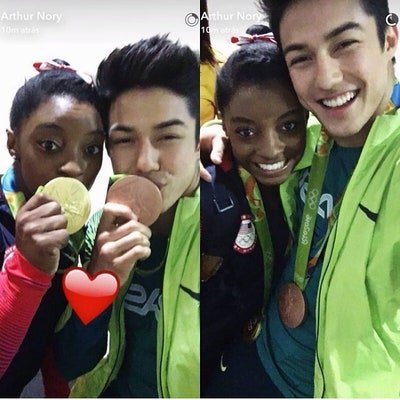 Back in 2016, it was rumored Simone dated Brazilian gymnast Arthur Nory Mariano, born Arthur Nory Oyakawa Mariano on September 18, 1993.
Their whole alleged relationship started after Arthur posted a photo with Simone with the caption My U.S. Girl.
Stacey Ervin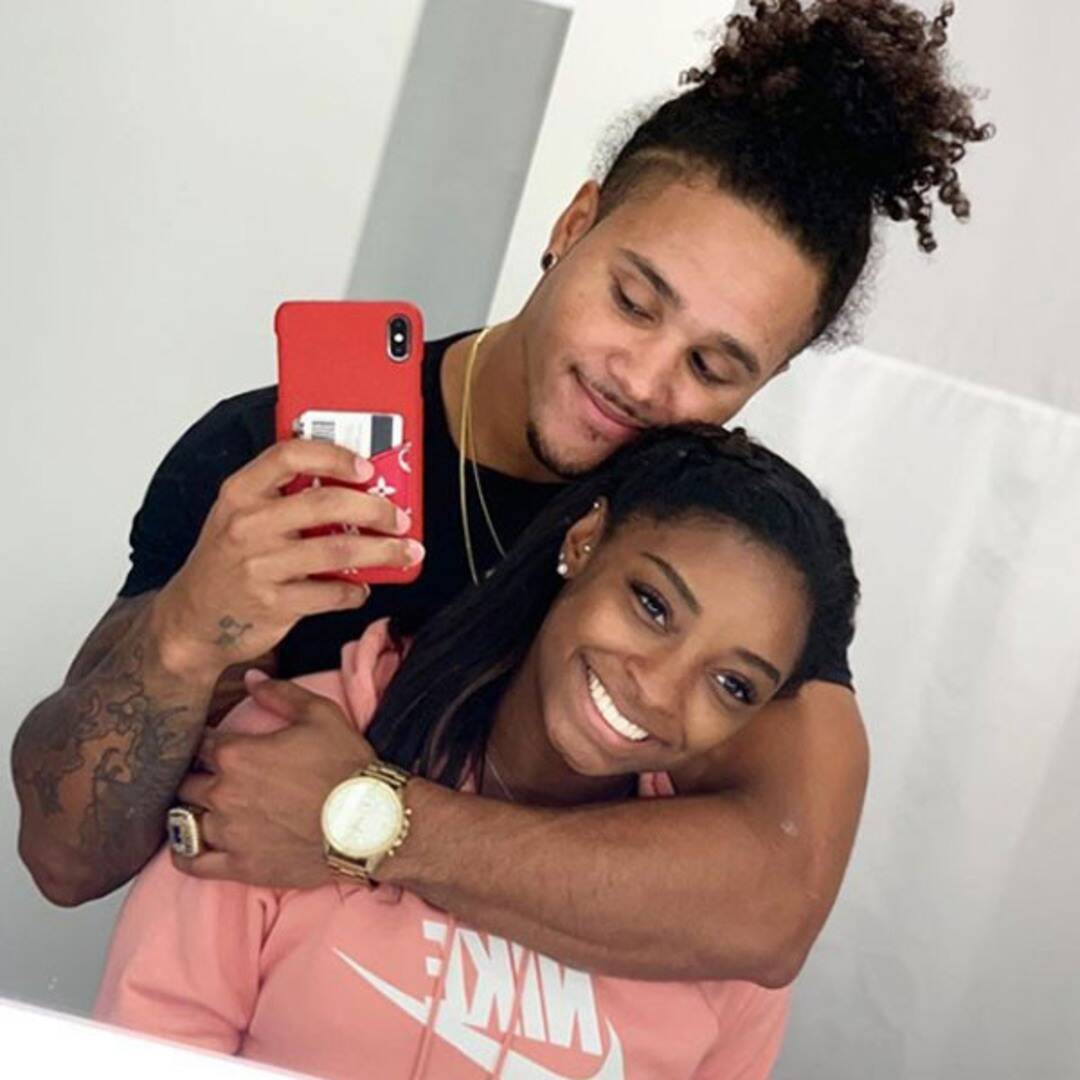 A year later, Simone Biles dated Stacey Ervin, an American Olympic gymnast born in Michigan who studied psychology at the University of Michigan and ran the American Ninja Warrior course in San Antonio, Texas.
Jonathan Owens
Jonathan Owens and Simone Biles came under the radar in August 2020 when she posted a photo of them on Instagram.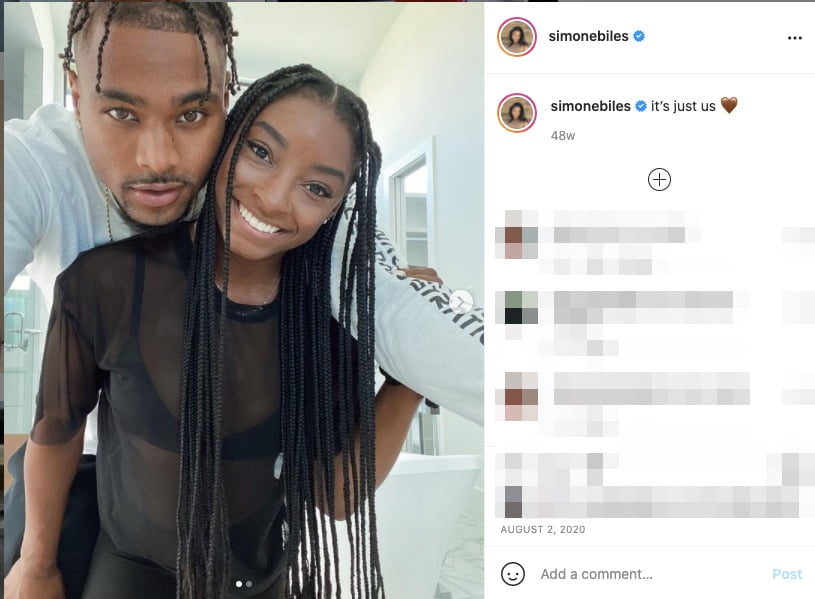 5'11 Owens was born in St. Louis, Missouri, on July 22, 1995, to Arthurine Cannon. Jonathan attended Christian Brothers College and subsequently played football at Missouri Western State from where he also majored in physical therapy in 2018.
Following the 2018 NFL draft, he signed a deal as an undrafted free agent with the Arizona Cardinals. He was included in the roster on November 21, 2019, but waived two days later and assigned to their practice squad.
Jonathan agreed to a reserve/future deal with the Houston Texans on January 13, 2020; later on, the Texans waived him and signed him to their practice squad. He was elevated to the roster twice and send to the practice squad each time. Jonathan was promoted to the roster once again on December 12, 2020.
Simone Biles Dancing With the Stars
Simone Biles participated in season 24 of dancing with the Stars becoming the fifth gymnast to participate in the show; her dancing partner was professional ballroom dancer Sasha Farber. Simone dance Tango (scores 8, 8, 8, 8) on DWTS's premiere.
Week 2, dance Cha-Cha-Cha scores (7, 7, 7, 8).
Week 3, Quick-Step (7, 8, 9, 8).
Week 4, Viennese Waltz (9, 9, 9, 9).
Week 5, Contemporary (9, 9, 10, 10).
Week 6, Samba (9, 9, 8, 9), Team freestyle (8, 8, 9, 9).
Week 7,  charleston (10, 9, 9, 9), Dance-off Cha-cha-Cha awarded two points.
Week 8, Foxtrot (9, 9, 9, 9), Trio Paso Doble (9, 9, 9, 9).
Week 9, Jive (10, 10, 10, 10), Rumba (10, 10, 10, 10), she was eliminated that night (May 15, 2017).
Simone Biles Instagram
Simone Biles has over 4.2 million followers on Instagram; there, you can check what her life is like when she is at home, with her family, boyfriend, and friends.
 Simone Biles Twitter
Simone Biles is on Twitter; she keeps her 1.2 million followers updated with everything she is up each day. She is only following 333 people there.
Read: Allyson Felix Husband Kenneth Ferguson