Rosalind Sallenger Richardson
Rosalind Sallenger Richardson; the wife of former player and current team owner, Jerome Johnson Richardson, simply known as Jerry Richardson; he is the owner of the Carolina Panthers.
Mr. Richardson is a native Carolinian, whose dream was to bring NFL football and the world championship he knew as a player in the league to his home.
In addition of being inducted into both the North and South Carolina Business, Mr. Richardson is an Athletic Halls of Fame inductee.
On October 26, 1993, Richardson became the first former NFL player to own a team since George Halas. Moreover, Richardson played a pivotal role as Co-Chairman of the NFL Executive Committee in reaching an unprecedented 10-year Collective Bargaining Agreement with the NFL Players Association in 2011.
Mrs. Richardson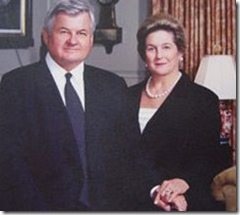 Rosalind Sallenger Richardson attended Winthrop University in the late 1950's. Subsequently, in 1996, she received an honorary bachelor of arts degree from Winthrop.
The second fact is that in 2014, her husband established a fully endowed scholarship; there in honor of his wife. Her husband said in a statement
It has been my good fortune that Rosalind agreed to marry me many years ago; it gives me great pleasure to honor my wife with the naming of this facility dedicated to the arts on the Wofford campus; my alma mater.

"Rosalind's love of art and our love of Wofford are a perfect match in making this vision for the college a reality."

The Rosalind Sallenger Richardson Center for the Arts opened its doors in Spring 2017.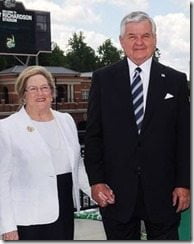 The lifelong resident of the Carolinas, Richardson and his wife, Rosalind Sallenger Richardson produced three children; Jon, Mark, and daughter, Ashley Richardson Allen –who is a member of the Wofford Board of Trustees.
Rosalind Sallenger Richardson and the rest of the family struggled with the death of their eldest son Jon in 2013; Jon Richardson died at the age of 52, from a long battle with cancer.
According to the team's page, Rosalind Sallenger Richardson and her husband have nine grandchildren and one great-grandchild. They reside in Charlotte.