Marian Shepard
Meet the beautiful Mrs. Marian Sheapard; she is the gorgeous wife of NFL player Russell Shepard, the 6'0″ wide receiver for the New York Giants. He previously played for the Carolina Panthers, Tampa Bay Buccaneers and the Eagles.
Prior to the NFL, Shepard a Houston Native played college football at Louisiana State University. He signed with the Philadelphia Eagles as an undrafted free agent in 2013, however, Philly released him and he subsequently signed a deal with the Buccaneers in September 2013.
Eventually, on March 10, 2017, Russell joined the Carolina Panthers and later the Giants on May 21, 2018.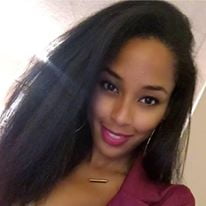 Mrs. Shepard formerly known as Marian Kazali-Wilson born and raised in Houston, Texas. Marian studied at Cypress Creek High School and later graduated with a Bachelor of Arts in Communications from Louisiana State University.
Marian and Russell tied the knot on July 19, 2015, in Houston, Texas. They have two beautiful children together; son Moses born in 2016 and Ramsi Vi Shepard born in April 2018.