Paige Succop
Pretty Paige Succop is the lovely wife of NFL player Ryan Succop, the placekicker for the Tampa Bay Buccaneers. The North Carolina native also played with the Tennessee Titans and the Kansas City Chiefs prior to joining the Buccaneers in September 2020.
RELATED STORY: MEET THE TAMPA BAY BUCCCANEER WAGS
Ryan Succop father David Succop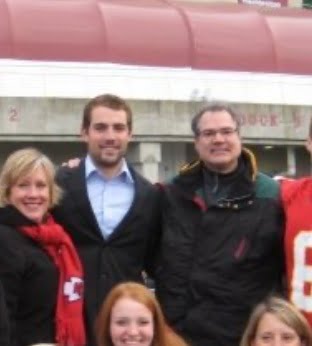 Ryan Succop's father is David Barrow Succop born on April 23, 1955. Ryan remembers that he was around 5 or 6, his family moved to a house on a golf course his dad took him to play golf after he got off his work.
"My dad would take me out after work, me with my one little club, and we'd hit every night before dinner,"
It seems that Ryan Succop's dad is general manager at the American Roller Bearing Company, in Morganton, North Carolina. American Roller Bearing was initially founded by  Clarence Succop in Pittsburgh in 1911; in 1980 American Roller Bearing opened in Morganton, NC.
Ryan Succop mother Kathy Succop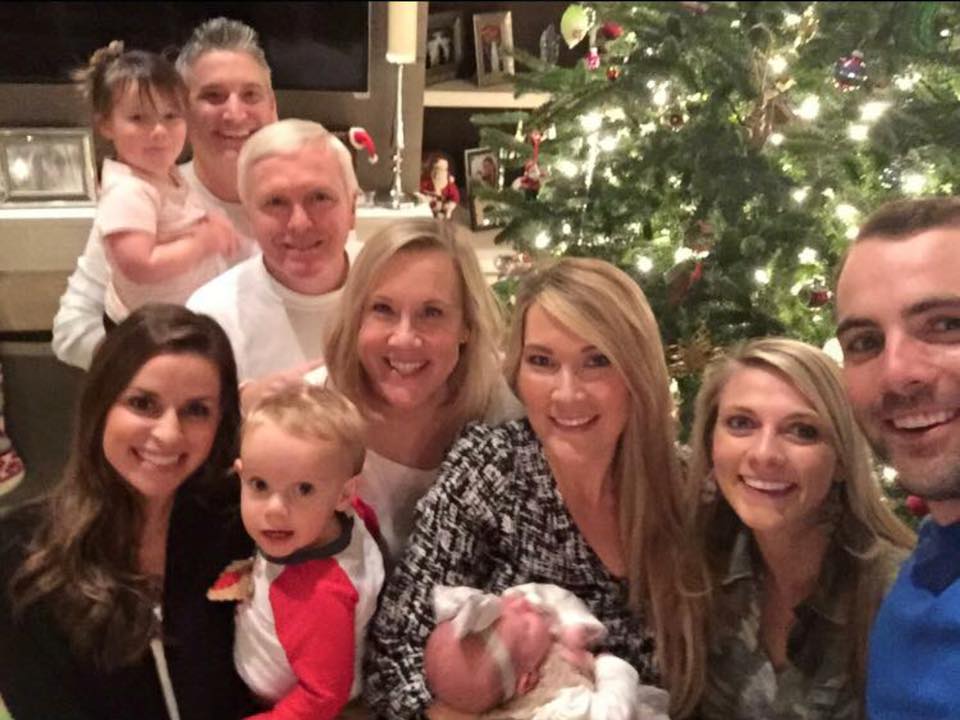 Ryan Succop's mom Kathy was born Kathryn Mary Auth on April 14, 1960. She is a pastoral associate at St. Aloysius Church in Hickory, North Carolina. Kathy was afraid of football, so she and her husband tried to get him into soccer instead.
"That's really why we got him started in soccer because we thought it was a safer sport. His high school coach said, 'With that leg, he really ought to play football.'
Kathy is no longer together with Ryan's dad David,  Kathy now Kathy Harkey is married to Jim Harkey.
Ryan Succop Sisters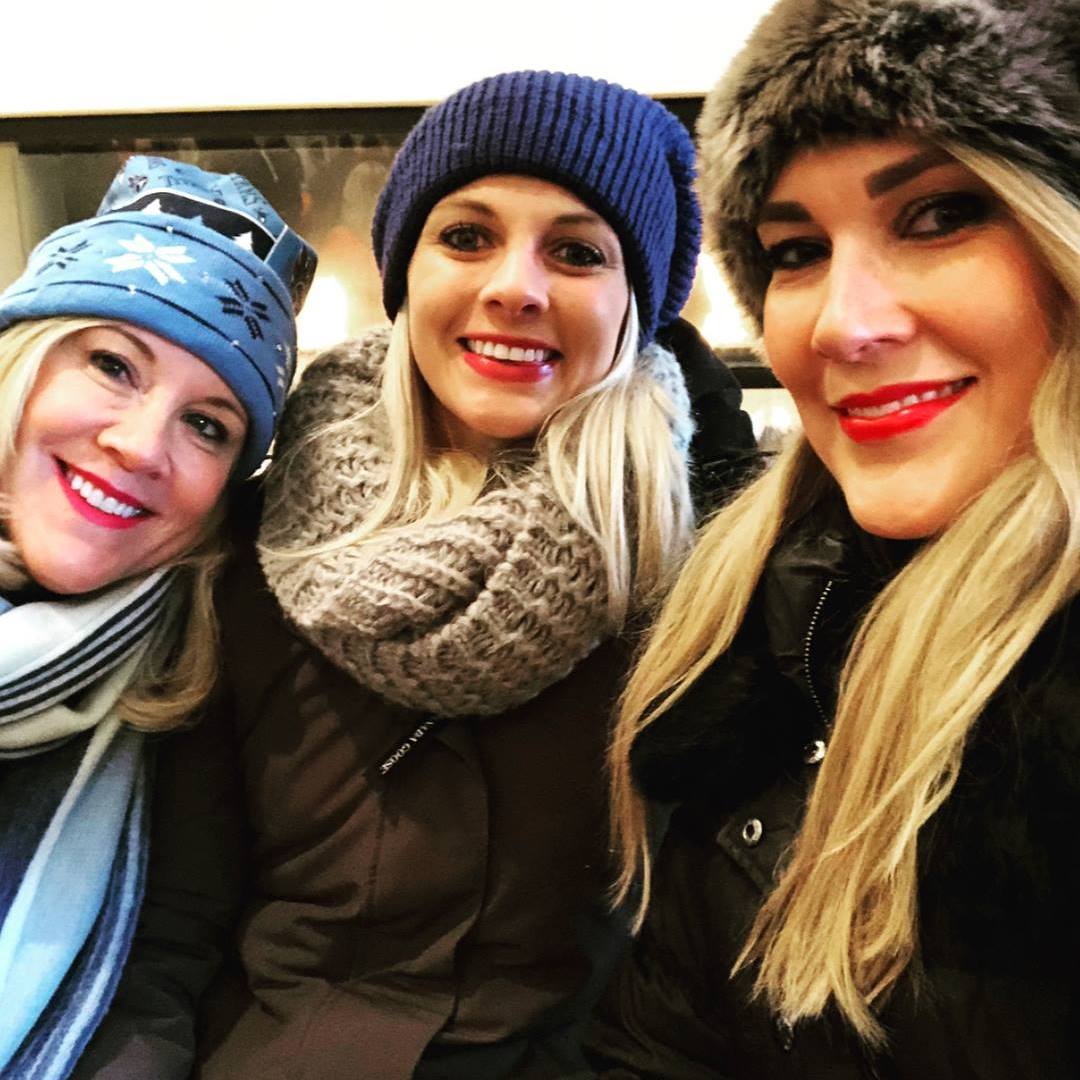 Some people send us questions about Ryan Succop's brother, but he doesn't have one, he has two beautiful sisters, thought. His older sister Kelsey Succop Pope married to Thomas Pope since 2013, is a sales manager at Renaissance Charlotte Suites Hotel; his younger sister Allison Marie Succop born on August 26, 1990, graduated from the University of South Carolina-Columbia with a Bachelor of Arts in sociology and a minor in psychology and a cognate in nursing in 2014.
Allison Succop was an account manager at Herlong Bates & Burnett from October 2014 to October 2015; nowadays,  is a manager at Nordstrom in Lexington County, South Carolina.
Ryan Succop College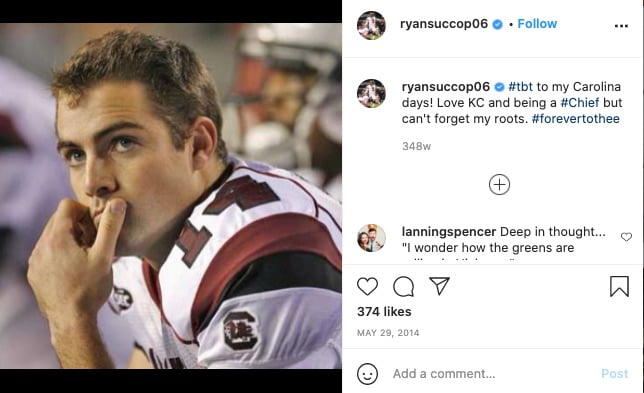 Succop attended Hickory High School before he committed to play at the University of South Carolina. His first season with the Gamecocks, Succop, recorded 2 field-goal attempts,  kicked off fifty-nine times for a 62.3 yard average with twenty-nine touchbacks. Ryan recorded 20 field goals, 20 goal attempts, 37 extra points made, and 39 extra points attempts, 86 points in total the following season, where he was also named SEC Special Teams Player of the Week.
In the 2007 season, Ryan was named Associated Press honorable mention All-SEC selection, named to the Ray Guy Award watch list, earned preseason second-team All-SEC honors as a punter; he made 13 field goals, 20 goal attempts, 37 extra points, totaling 76 points. In his senior year, went 20-for-17 in field goal attempts, 30 extra point attempts.
Ryan Succop NFL
Ryan  started hius NFL career with the Kansas City Chiefs  in August 2009. His stats while playing in Kansas are the following.

Kansaas waived him on August 30, 2014, and the Tennessee Titans claimed him off waivers on September 1, 2014, he played in Tennessee for six seasons.

The Tennessee Titans released him on March 13, 2020; he signed with the Tampa Bay Buccaneers on September 1, 2020.

Ryan Succop Nickname Mr. Irrelevant
The Kansas City Chiefs selected him in the seventh round (256th overall) during the 2009nNFL draft. He was the last player drafted him, earning him the nickname of Mr. Irrelevant.
 "I didn't choose to be Mr. Irrelevant. It just worked out that way. I'm just trying not to get caught up in it and focus more on the task at hand, which is trying to come in here and help the team. It's not one of those things I really think about too much, to be honest."
Todd Haley Kansas City Chiefs' former head coach and former general manager Scott Pioli also gave him a piece of advice.
"That's a worry. This 'Mr. Irrelevant' has become such a big thing," Haley said. "We just kind of reminded him that he was the last pick in the draft, so he had his work cut out for him making this team, and try not to be distracted any more than any of the other players — that he had a job to try to win."
Ryan Succop Last Name Pronunciation
Ryan Succop's last name is pronounced -Up. A question he gets a lot and the first question he got at the rookie minicamp.
Your last name — uh, exactly how is it pronounced?

"It's '-up,', believe it or not," Ryan Succop said with a big, good-natured grin. I've heard them all," he said. "If you come up with something new, I'll be impressed." He said he never got into a fight when other kids made fun of his last name."Maybe some arguments," he said. "But no fights."
Ryan Succop Contract & Salary
Ryan Succop's salary in 2021 is $1,050,000. His one-year contract with the Buccaneers could easily be extended after Succop's performance this year. He went 28-for-31 on field goals and 57-for-52 on extra-point in 16 games, his play against the Atlanta Falcons in Week 17, earned him the NFC Special Teams Player of the Week.
On June 7, 2009, Ryan signed his three-year rookie contract with the Kansas City Chiefs worth $1.2 million. Two years later agreed to a five-year contract extension worth $14 million, a $2 million guaranteed salary.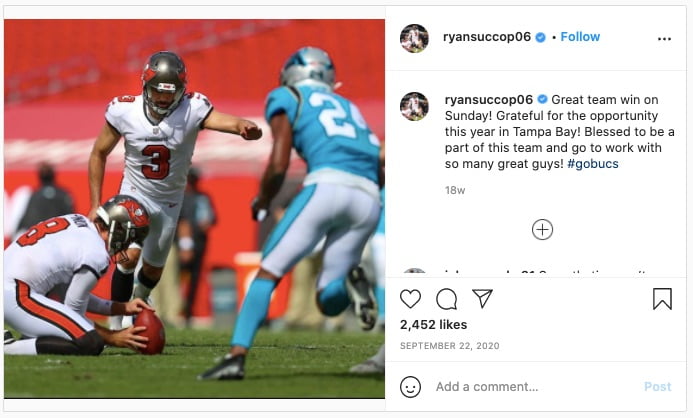 On September 1, 2014, signed a one-year deal with the Tennessee Titans; subsequently signed a three-year deal worth $7.2 million contract on March 13, 2015. He signed a five-year contract extension worth $20 million with the Titans, which included $7.25 million guaranteed. His more recent contract with the Tampa Bay Buccaneers was signed on September 1, 2020, the one-year contract worth $1,050,000 came with a $150,000 guaranteed salary.
Ryan Succop Wife
Ryan Succop's wife is Paige Succop; they tied the knot on July 2, 2011, and have since welcomed two amazing and beautiful children, son Cooper born while he played with the Kansas City Chiefs and daughter Reese born in Nashville, while he played with the Tennessee Titans.
Ryan Succop met his wife Paige during her freshman year at the University of South Carolina; they started dating not long after they met and became engaged in December 2010.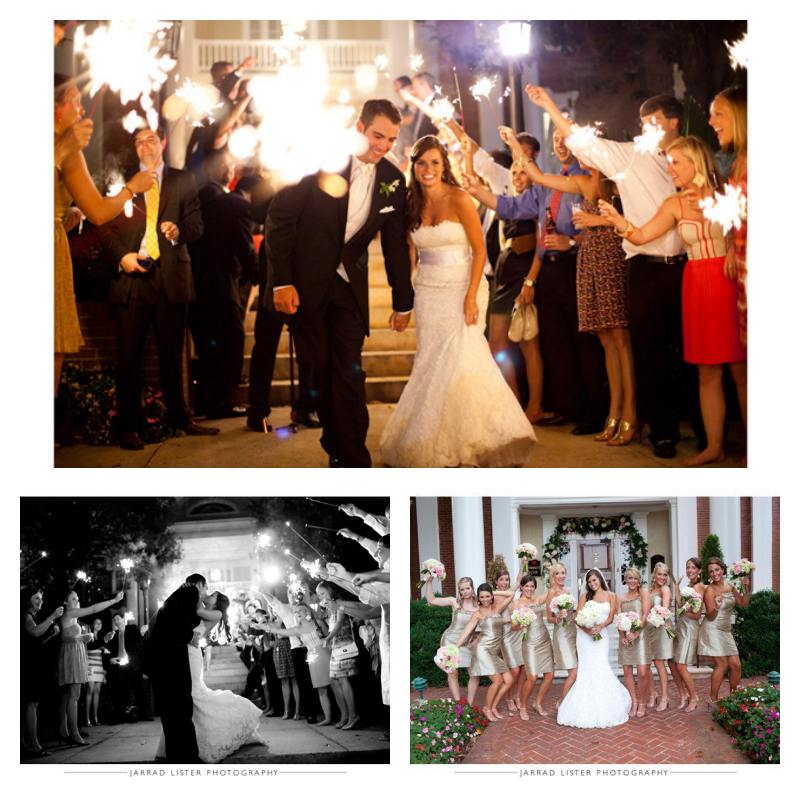 Their beautiful wedding help in Greenville, South Caroloina was capture by the lens of Greenville based photographer Jarrad Lister, who also tooh photos for Paige's sister's wedding.
Paige Succop
30-year-old Paige Succop was born Paige Cooper on April 24, 1990, in Easley, South Carolina. She is one of three children born to Dr. John Allen Cooper and his wife Karen Marchant Cooper; Paige has two siblings her brother John A. Cooper Jr. and sister Kinsey Cooper Sheehan, now marriedto Coley Sheehan, father of her beautiful daughter Rhodes and son Wells.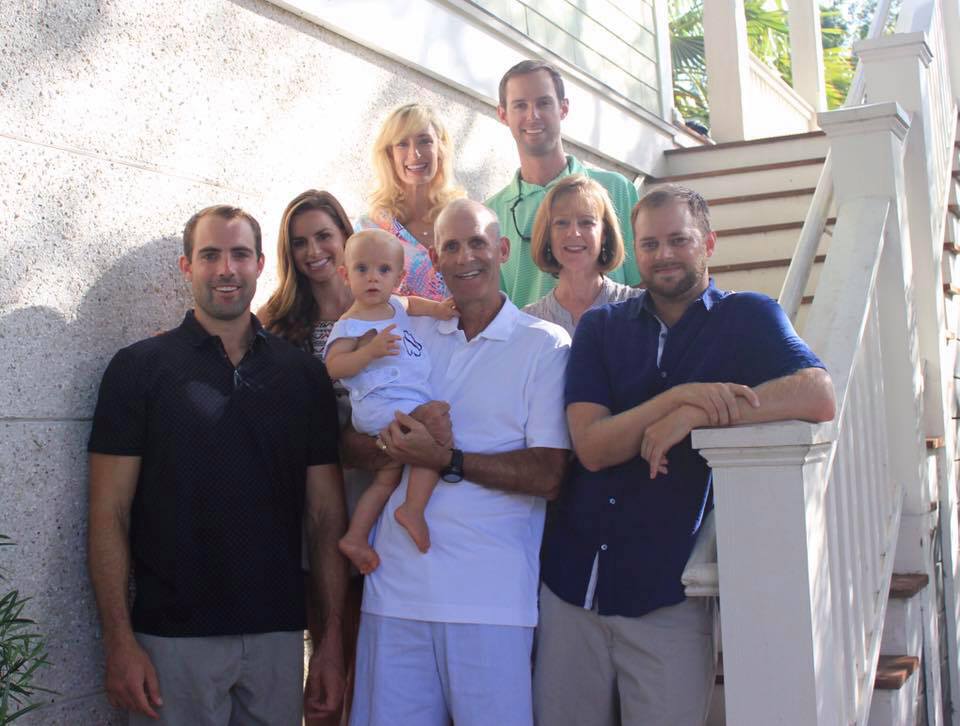 Her dad, John Coppert is a radiologist in Greenville, South Carolina; his father James Jimmy Cooper played football at the University of South Carolina, he later worked at the University for over four decades. Jimmy Cooper served with the 101st Airborne in the US Army from 1951-1953. He was 89, when he died  on September 6, 2019.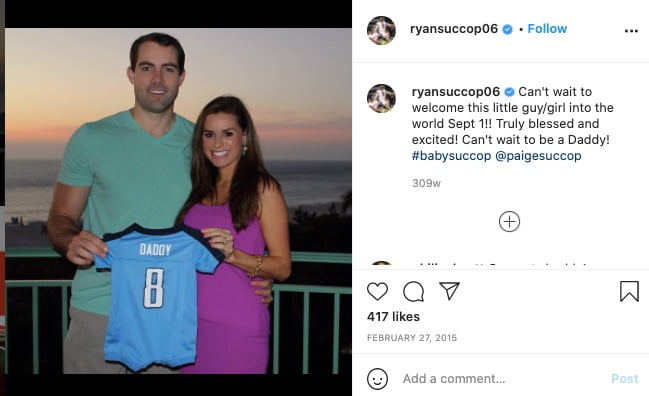 Paige and Ryan announced they were expecting a son on Febryary 27, 2015; they welcomed their son Cooper on August 25, 2015. Cooper was born with a condition hip dysplasia in his left hip and had to wear a Pavlik harness for a couple of months after birth. Her orthopedist told her that Cooper was doing fine, but he had to wear a spica cast for 3 to 4 weeks, Cooper couldn't be able to move from the waist down, Paige was devastated but then her faith lift her up, this is what she told the NFL Wife Handbook.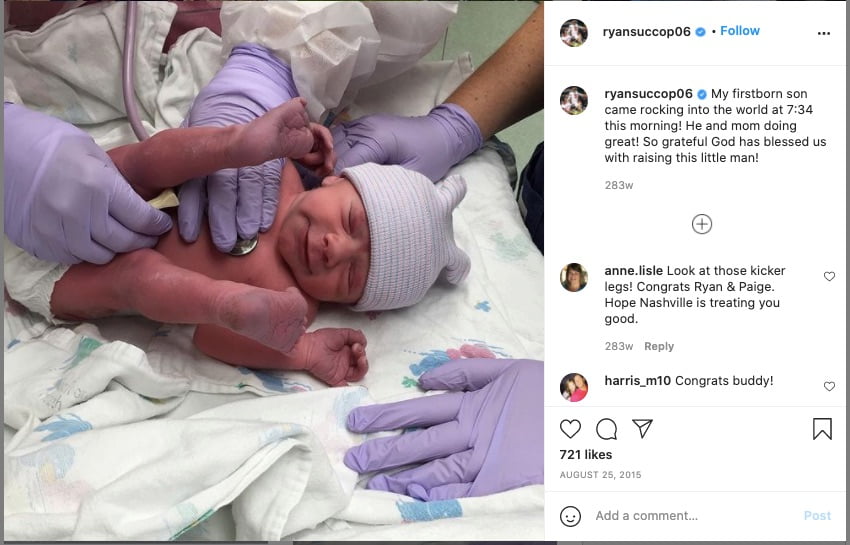 Cooper was casted when he was 4 weeks old. Instead of spending a month or more in the cast as planned, Cooper only spent 24 hours. We truly feel as if the Lord intervened that day by sending us to get a second opinion on his hip. After meeting with the new doctor, I knew we needed to switch. Ryan and I prayed about the decision and felt clear that God had opened the door to go a different method.

I remember immediately feeling a huge weight lifted from my shoulders. It was in this moment of clarity that I felt God saying, "Paige, you are doing a great job, you are an amazing mom, I will get you through this time. Trust in me". It was all I needed! Through the months of agonizing over the harness and cast and switching doctors and the uncertain future, I knew that everything was going to be okay.
God showed Ryan and me that He was present. I wish I could say that I never worried and always felt peace because I trusted God through this time but to be honest, I know I wasn't trusting Him as I should. I put everything on my own shoulders instead of giving it to Him. I then prayed and thanked the Lord that Cooper was born with an issue that could be fixed.
I opened my eyes to the many babies who are born with illnesses that cannot be fixed. I prayed for strength to get through these times, and I felt an overwhelming peace that I had not been able to feel since Cooper was born. After 4 months of wearing the harness, Cooper was given the green light to take it off! By then he was changing every day with a budding new personality, and I was finally feeling like I had settled into motherhood.
"Trust in the Lord with all your heart and lean not on your own understanding; in all your ways submit to him and he will make your paths straight" Proverbs 3: 5-6
This verse has been my favorite for as long as I can remember. When I feel doubt, worry or fear creeping into my mind, I repeat this verse over and over and am reminded of God's faithfulness and truth! There is nothing that we will face in life that He has not faced before us!
Paige, Ryan and Cooper revealed they were adding a new member to their beautiful family on October 5, 2019. Their little Reese Collins Succop made it to this world on March 17, 2018, The proud father of two made the annoucement on Instagram.
Reese Collins Succop made her entrance into the world at 2:12 am this morning. She and Mom both doing great! Safe to say she's got daddy wrapped already! What a blessing!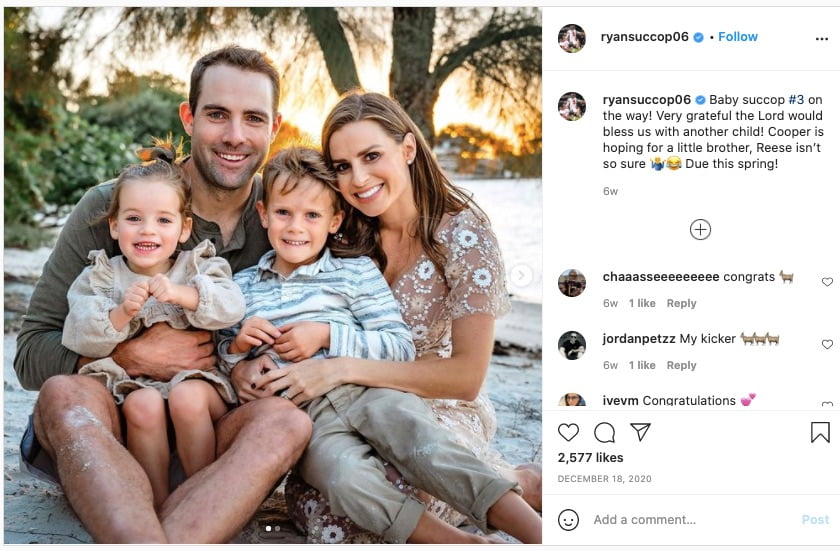 On December 3, 2020, Paige, Ryan and their two children took to Instagram to announced theiy were expecting a new member into their family!! Baby Succop #3 is coming this Spring!!