Samantha Taylor
According to Oscar Pistorius' ex-girlfriend Samantha Taylor, her ex-boyfriend was a ladies man, she spoke about it when she found out he was dating Reeva Steenkamp.
"Oscar has such a way with women. She's probably not the only one he's got. We dated for a year and a half. Oscar is certainly not what people think he is."
He certainly is not, after all, he had been charged with the murder of his girlfriend Reeva who was shot four times in his home during the early hours of February 14.
Samantha Taylor a marketing student from Cape Town had an ugly spat with Oscar on Twitter after she said Reeva stalked her for months on Instagram.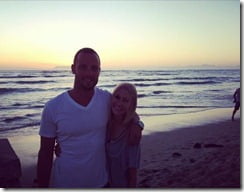 "She has been following me for a long time on Instagram (a photo-sharing system on Twitter) and knows exactly where I am and everything going on in my relationship with Oscar,"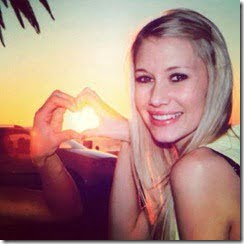 Taylor also said Reeva was the cause for their breakup after 18 months dating, but then Oscar fired out telling that is was Samantha who cheated on him with Quinton van der Burgh the Clifton Shores producer, the same man Oscar got into a fight with, at that time it was reported he had broken the legs of a guy who was friends with Quinton.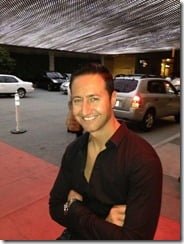 Samantha Taylor might have interesting things to tell about how Oscar was with her while they were together, she tried to spill the beans but she retracted her accusations in a letter presented by her attorney. At that time Samantha Taylor said..
"I am prepared to reveal what (Pistorius) made me go through"
She also tweeted this..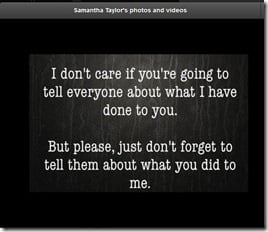 But it was Samantha's mom Trish Taylor who had a few things to say on Facebook when she heard Oscar had been arrested and charged with murder.
"I am so glad that Sammy is safe and sound and out of the clutches of that man – there were a few occasions where things could have gone wrong with her and his gun during the time they dated,"
Pretty Sammy Taylor born Samantha Ray Taylor graduated from HS in 2005 with a diploma from St. Mary's D.S.G, Kloof, KZN, received her bachelor of business science and finance from the University of Cape Town in 2009 and her diploma from Design Time: School of Interior Design in 2010.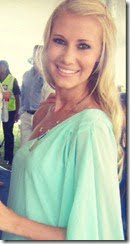 In 2008 she was an admin assistant at Stoneage Home Centre, the following year a bookkeeper at L.G Green CC, and a tutor at Teach Me 2.
At the end of 2010 and until March, 2011 Samantha Taylor was a financial consultant at SureSlim, after that she became a fund accountant at State Street and last year she worked for MIP Holdings as a Junior Programmer.
Sam the daughter of Patricia and Henry Taylor from Cape Town has three siblings sister Kerri and brothers Tyrone and Greg.
You can find Oscar Pistorius' ex lady Samantha Taylor on Twitter here and on Facebook here
Oscar Pistarius' previous girlfriends besides Taylor and Reeva are Melissa Rom bygewoon, Jenna Edkins, Chanelle du Plessis , and Vicky Miles.
Check Samantha Taylor's photos in the gallery  below.