Ashley Frost
Meet the lovely Ashley Frost; she is the young and gorgeous wife of coach Scott Frost, head coach of the Nebraska Cornhuskers at the University of Nebraska; he previously coached the Knights at the University of Central Florida. He also coached at the University of Oregon, Northern Iowa, Kansas State, and Nebraska.
Scott Frost NFL Career Stats
Former defensive back player now coach Scott Frost started playing first while he attended Wood River High School, then at Standford, and later at the University of Nebraska-Lincoln, from where he also graduated with a B.A. in finance. The New York Jets selected Frost in the third round (67th overall) during the 1998 NFL draft.
He completed six tackles(two solos, four last) in 13 games with the Jets during his first year.
During the 1999-200 season, he completed seven tackles ( five solos, two ast) in 14 games.
His last season in New York, Scott Frost completed  44 tackles (33 solos, 11 ast) in 16 games.
The Jets waived him on August 27, 2001. He signed with the Cleveland Browns the following day. They subsequently waived him on December 10, 2001.
Scott recorded  16 tackles and a fumble recovery in 12 games with the special team.
Coach Frost joined the Green Bay Packers on December 19, 2001, an array of injuries kept him on the sidelines, and the Packers later waived him on December 17, 2002.
He ended his NFL career with the Tampa Bay Buccaneers, recording one tackle in four games during the 2003 NFL season.
Scott Frost Height & Weight
Scott Frost's height is 6'3 (1.90 cm), his weight is 98 kg (218 lbs).
Scott Frost Coaching Career Timeline
After he ended his NFL career, Scott Frost returned to Nebraska as a graduate assistant.
In 2006, joined Kansas State as a graduate assistant.
Became linebackers coach at NorthernIowa in 2007.
In 2008, he was promoted to co-defensive coordinator and his linebacker coaching position at Northern Iowa.
In 2009, the University of Oregon announced their hired Scott Frost as their new wide receivers coach.
The Oregon Ducks named him offensive coordinator and quarterbacks coach in 2013.
Joined the University of Central Florida as head coach in 2016.
Became head coach at his alma mater in 2018.
UCF Coach
Scott Frost joined the UCF Knights on December 1, 2015; his first year at UCF, Scott Frost led the team to a 6-7 record. The Knights won the American Athletic Conference in 2017; he returned to lead the Knights for one last game before joining Nebraska after the 2018 Peach Bowl, where they defeated Auburn 34-27, closed their season with a 13–0 record.
Scott Frost's departure from Central Florida left the head coaching position available, and Josh Heupel was appointed head coach for the ICF Knights on December 5, 2017.
Coach Frost was officially named Nebraska's new head coach after signing a seven-year, $35 million contract on Saturday, December 2, 2017.
Scott Frost Wife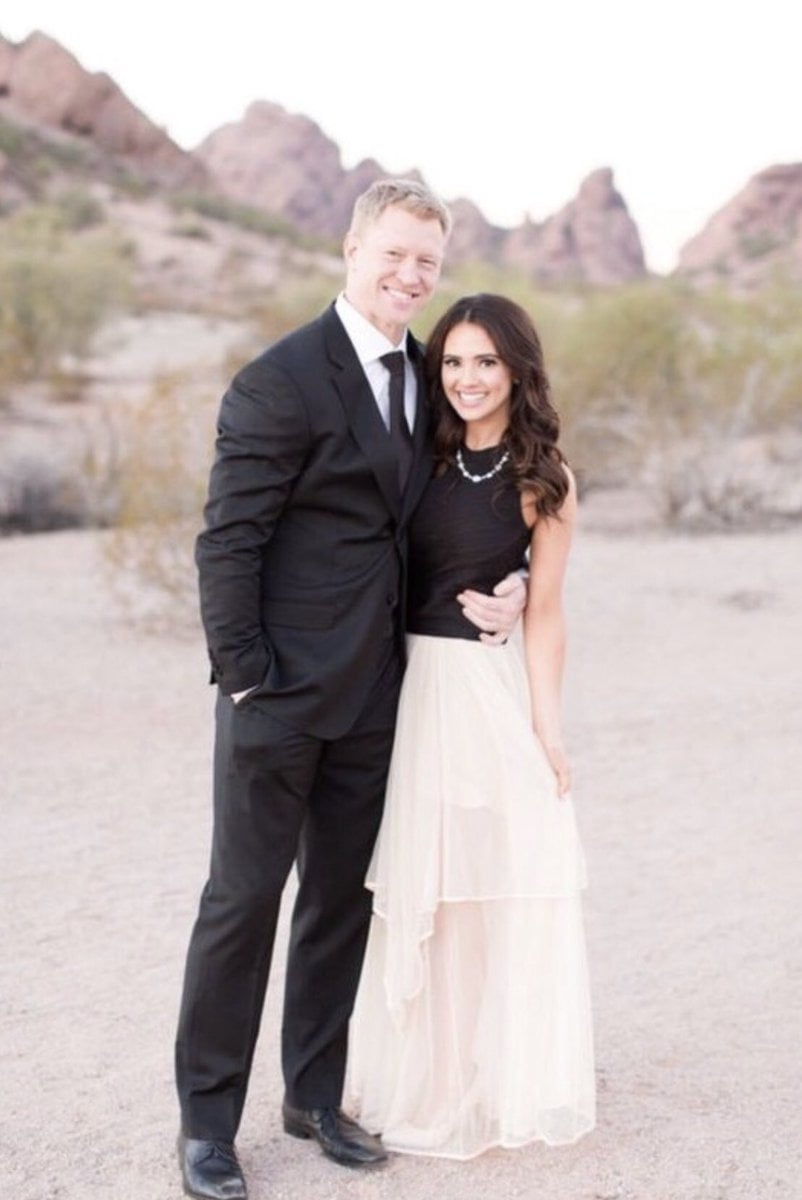 Asley Christina Neidhardth – Ashley Frost
Mrs. Frost, formerly known as Ashley Christina Neidhardt, was born on April 2, 1989. Ashley graduated from Grand Canyon University in 2015. She met Scott in 2013; after dating for two years, he proposed.
Frost got on one knee in October 2015; they tied the knot on March 11, 2016, at El Chorro, in Paradise Valley, Arizona. She gave birth to a healthy baby boy on November 9, 2017.
Scott Frost and his lovely wife Asley Christina Neidhardth Frost have two beautiful children together; Ryan James and daughter Alli Frost.