Simone Neto
Simone Neto is the loving and supportive wife of Brazilian soccer player Helio Neto –commonly known as Neto. Her 31-year-old husband is a defender with the Brazilian team Chapecoense. Keep reading to know lovely Simone Neto's biography.
Simone Neto's husband was born, Hélio Hermito Zampier Neto on August 16, 1985.  The Rio de Janeiro native, played youth football for Paraná Clube, Vasco da Gama and Francisco Beltrão.
He went on to make his senior debuts with Francisco Beltrão in the 2006 Campeonato Paranaense –where he also served as captain.
He has also played for Cianorte in 2008. The 2010–2012 seasons he joined Guarani and also played for Metropolitano on a loan in late 2010.
Neto played for Brazilian giants Santos between 2013 and 2014. During the 2013 season he was plagued by injuries and health issues. 2014, however he was given more first-team opportunities.
On 12 February 2015, Neto signed a one-year contract with fellow top tier club Chapecoense. He has spent two seasons with Chapecoense.
During his first season, he appeared in 23 league games and scoring three goals, one of them in a 3–1 home win against former club Santos.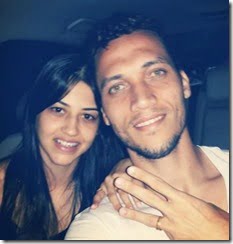 Simone Nieto or Simone Zampier, is the mother of the couple's two children, twins, Helan and Helen.
According to her social media, wag Simone Neto, studied at Colégio Mercurio.
It is not clear how Simone and her man came to be. It seems they have been together for a number of years and after two kids, you'd probably say pretty Simone knows all about being married to a professional athlete.
However, nothing could've quite prepared her for her man being on a plane wreck.
Recent reports indicate her husband was the last person pulled alive from the wreckage of the worst air disaster in Colombia in two decades. On November 28, a LaMia airlines flight with the Chapecoense team on board –was travelling to the Colombian city of Medellin to play in the final of a South American tournament –crashed into the Colombian mountains, killing a total of 71 passengers
Neto, was one of only six people who survived the crash. He suffered trauma to his head, thorax and lungs, as well as open wounds to his knees.
We wish a fast and full recovery for Simone's husband.
You can find Simone Neto on Facebook here.