Meet pretty Agnese Bizarri, the girlfriend of Italian footballer, Simone Pepe –who will be facing Barcelona in tomorrow's Champions League Final!
The Italian 31-year-old Juventus midfielder has also appeared in several offensive and midfield positions. He's been described as a fast, strong, energetic and hardworking player; his most important qualities are said to be hi stamina, his defensive contribution and his crossing ability. He also owns a good technique and is effective on set pieces.
On Twitter she reveals "'I'm a mom 365 days a year and a happy companion in love as the first day"
Agnese is the mother of the couple's two children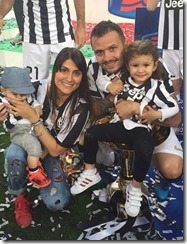 According to her Facebook page, she is originally from Rome but currently lives in Turin, Italy. She attended IPSC Garrone
in Barletta. We can imagine how the busy mom spends most of the time, she's definitely not the high maintenance type, instead she seems like a very down to earth woman.
Not much more is known about the pretty brunette, but you can find her on Twitter here, Facebook here.