Meet Sera Cahoone, the girlfriend of soccer player Megan Rapinoe. There's no doubt when stars align in the same direction they can come up with some great couples. Megan is a well known soccer star, the midfielder and Olympic gold medalist plays for Seattle Reign FC in the National Women's Soccer League.
But her gal is sure keeping the pace. Sera is in a different field of entertaining but she still is a badass at what she does. The 39-year-old singer is originally form Colorado foothills but currently resides in Seattle. Her sound is known to combine elements of both classic country-western and modern indie rock and lo-fi.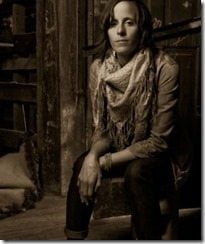 Both a guitarist and drummer, Sera has been in the music world since she was a young child. According to her bio, she got began playing the drums at age 11. Her style was highly influenced by the blues, the woods and the hills of the times her mother took her to dive bars to sit in with the scruffy old bluesmen.
Sera is known as one of the strongest songwriters in Seattle's ever-vibrant scene. She has been living in Seattle for 17-years and has worked with Carissa's Wierd, Band of Horses, Betsy Olson, and singer-songwriter Patrick Park. She made her solo debut in 2006, and her widely acclaimed Sub Pop debut Only as the Day Is Long in 2008.
Sera and Rapinoe began dating in 2013, after the blonde soccer player ended a five-year-relationship with Sarah Walsh. Cahoone is super supportive of her gal, who is 10-years-her-junior and is currently kicking but at the Women's World Cup!
You can find Sera on Twitter here, Instagram here.