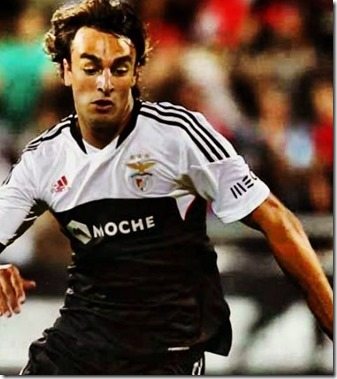 20-year-old Serbian player Lazar Markovic is on the brink of becoming Liverpool's fourth summer signing after he arrived on Merseyside for his medical! The Serbia international flew in to Liverpool on Sunday evening and is currently undergoing tests, which will be taken at Spire Liverpool Hospital and the club's Melwood training ground, before his £20million move from Benfica is ratified, the DailyMail reports.
Lazar first joined Partizan in 2006 as a 12-year-old trainee, his exceptional qualities have led him to signed his first professional contratc with them, that got interrupted when he went to Benfica –where he played an integral role in winning the Portuguese top flight last season –for two years as a loan.
His awards include the two Serbian SuperLiga Team of the Year 2011–12, 2012–13.
Like any other young athlete on top of his game, the hunky 20-year-old winger enjoys a pretty active life, he enjoys outdoors activities and as we can see has great hair!
Last year he attended his graduation but it wasn't easy due to his tight schedule; however Markovic made ​​an exception, of course, it is about the good guy and the guy who makes no problems, so it is easy to find a common language with the screen. The deal was that Lazar remain at graduation until midnight (some through laughter said, "like Cinderella") and then appears in Stara Pazova. It was then, that we got to see some action with the ladies.
He certainly had a good time, he was pictured with fellow graduate Nikoline Vojinović .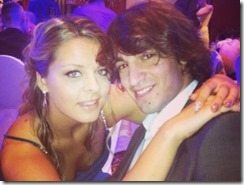 The two seem close, but that was a year ago and we know how fast young players can move around when due to their work duties. Plus there is no sign of her or any other female on his social media. Unlike school mates and companions, who until dawn partied up, Lazarus was at the celebration held only an hour and a half.
He was also pictured with another girl, but basically he just a had a free night of fun with friends.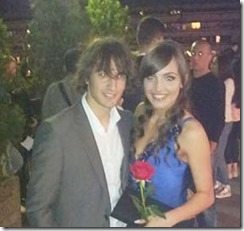 He he is certainly successful both on the field and off, getting major attention from girls, but so far, we have no word on an official relationship.
That might change soon as he will be stationed at least four years, as reports suggest Markovic could complete his move to Anfield as early as today where he is expected to agree a four-year contract.
You can find him on Twitter here.