Meet Stephanie Sarkisian
Stephanie Sarkisian  is the ex-wife of college Football coach Steve "Sark" Sarkisian – Stephanie's ex-hubby is the main man at the University of Southern California and unfortunately we don't have the most positive note on him.
It was a wild weekend for the 41-year-old former football player, who really blew it during a kickoff event on Saturday. According to ESPN, Sarkisian showed up at Saturday night's Salute to Troy event drunk! His intoxicated state led the USC head football coach to embarrass his whole team according to sources.
According to TMZ Sports, Sarkisian has already apologized for his behavior, assuring the SC's athletic director that it won't happen again but several are asking for his head!
Several reports surfaced that Sarkisian was using inappropriate language in front of the school's signature "Fight On" slogan, and told an obscene joke to the crowd at a Salute To Troy event. When asked about the Trojans difficult schedule, Sarkisian said of USC's opponents: "They all ."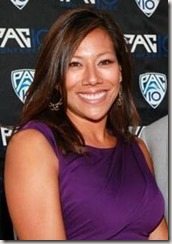 40-year-old Stephanie Sarkisian, nee Yamamoto, made headlines of herself earlier this year when she filed for divorce from her football coach husband. She is the mother of the couple's three children: 12-year-old daughter Ashley, 6-year-old daughter Taylor and 9-year-old son Brady.
Stephanie and Steve began dating while attending college, they tied knot in the summer of 1997.  She filed for divorce on April 20th, citing irreconcilable differences. They issued a joint statement about the split a few days ago saying, "It is our desire to protect the privacy of our children and each other."
"Our goal is to raise our children in a joint, cooperative style as caring and loving parents."
Last year, they sold a property, across Lake Washington in Yarrow Point, for $3.5 million. They had been living there since May 2009 — nearly six months after the coach left Southern California to take over as head football coach at Washington.
The mom of three, worked as a substitute teacher, according to a Daily News article.