Meet Taylor Heinicke's loving and beautiful mother, Diane Dodsworth. Taylor Heinicke is the NFL quarterback currently signed by the Washington Football Team; he previously played for the Minnesota Vikings, Houston Texans, New England Patriots, Carolina Panthers, and Vince McMahon's St. Louis Battlehawks of the XFL League.
Taylor Heinicke High School and College Timeline
Taylor Heinicke's career goes way to his days at Collins Hill High School under coach Kevin Reach in Suwanee, Georgia, where he was named Old Spice Player of the Year and Gwinnett Daily Post Offensive Player of the Year.
Taylor later attended Old Dominion University in Norfolk, VA.
As a started QB for the Monarchs in 2011, Heinicke recorded  2,385 yards, 25 touchdowns, and 1 interception; in addition to that, he ran 363 yards and 4 touchdowns.
The following season he recorded 5,076 yards, 44 touchdowns, and 14 interceptions, ran for 470 yards and 11 touchdowns, and punted 11 times for 475 yards.
During the 2013 season, Heinicke passed 4,022 yards, 33 touchdowns, 8 interceptions, ran for 348 yards and 5 touchdowns, and punted 13 times for 539 yards.
During his senior season at Old Dominion, Taylor Heinicke passed  3,476 yards, 30 touchdowns, 16 interceptions, ran for 139 yards and 2 touchdowns, and punted 14 times for 661 yards.
Taylor Heinicke NFL Career Timeline
Taylor Heinicke went undrafted at the 2015 NFL draft; however, The Minnesota Vikings signed Heinicke as an undrafted free agent on May 5, 2015.
He became the third-string QB after Shaun Hill was the second QB with Teddy Bridgewater in the starting position.
After the Vikings placed him twice on injury reserve, he was eventually released with an injury settlement in September 2017.
He signed with the New England Patriots on September 23, 2017; unfortunately, they released him on October 9, 2017.
The Houston Texas signed Heicke into their practice squad on November 29, 2017, later activated to their roster on December 15.
Taylor Heinicke finally made his NFL debut against the Pittsburgh Steelers on December 25, 2017, replacing starting QB T.J. Yates who suffered a concussion.
Heinicke suffered a concussion after completing one pass against the Steelers that same day, and Yates was sent into the field in his place.
Taylor Heinicke was waived by the Texans on April 13, 2018.
He was claimed off waivers by the Carolina Panthers on April 16, 2018.
He replaced Cam Newton after he suffered a shoulder injury and was ruled out for the rest of the season on December 19, 2018.
In March 2019, Taylor Heinicke suffered an elbow injury against the Atlanta Falcons and was replaced by Kyle Allen.
The Carolina Panthers released him on August 30, 2019.
On November 22, 2019, before the 2020 XFL draft, Taylor Heinicke was assigned to the St. Louis Battlehawks; he didn't play a single game. His contract ended during the COVID-19 pandemic when the team ended operations.
Taylor Heinicke signed with the Washington Football Team's practice squad on December 8, 2020, reuniting with his former coach Ron Rivera; Kyle Allen joined them on March 24, 2020.
He replaced Dwayne Haskins in Week 16 against the Panthers.
He was promoted to the starting position by Ron Rivera on September 13, 2021, after Ryan Fitzpatrick suffered a hip subluxation and was placed on injured reserve.
Taylor Heinicke Stats

Taylor Heinicke Name Pronunciation
The right pronunciation of Taylor Heinicke's last name is hi-nuh-keee; he has been so kind to add it to his Instagram account.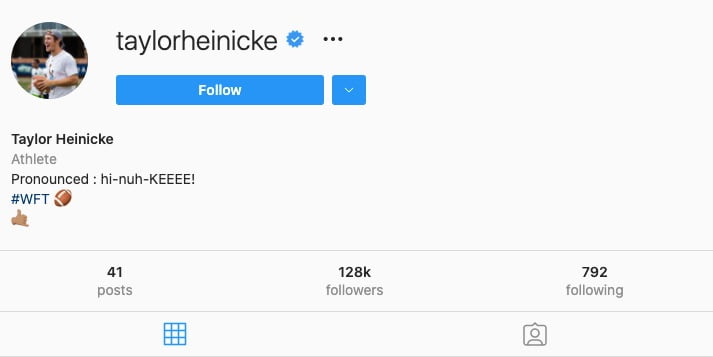 And his last name is not the only thing people sometimes get wrong, as we found that a few people have called him Tyler Heinicke instead of Taylor.
Washington Depth Chart
Washington Depth Chart after Ryan Fitzpatrick's injury is listed below.
Taylor Heinicke Net Worth, Contract & Salary
Taylor Heinicke has an estimated net worth between $1.5 to $1.7 million. On February 10, 2020, Heinicke signed a two-year, $8.75 million contract extension with the Washington Football Team, earning a base salary of $1 million. His previous contracts and salary are as follows:
In 2015, he signed a three-year, $$1,585,000, plus a $10,000 signing bonus with the Minnesota Vikings.
In 2017, agreed to a 2-year, $1,320,000 million contract and a base salary of $660,000 with the Houston Texans.
In 2019, signed a one-year, $805,000 contract with the Carolina Panthers.
In 2020, agreed to a one-year, $910,000 contract with Washington.
Taylor Heinicke Girlfriend
No, Taylor Heinicke doesn't seem to have a girlfriend at this moment; Heinicke is not married either and doesn't have any children.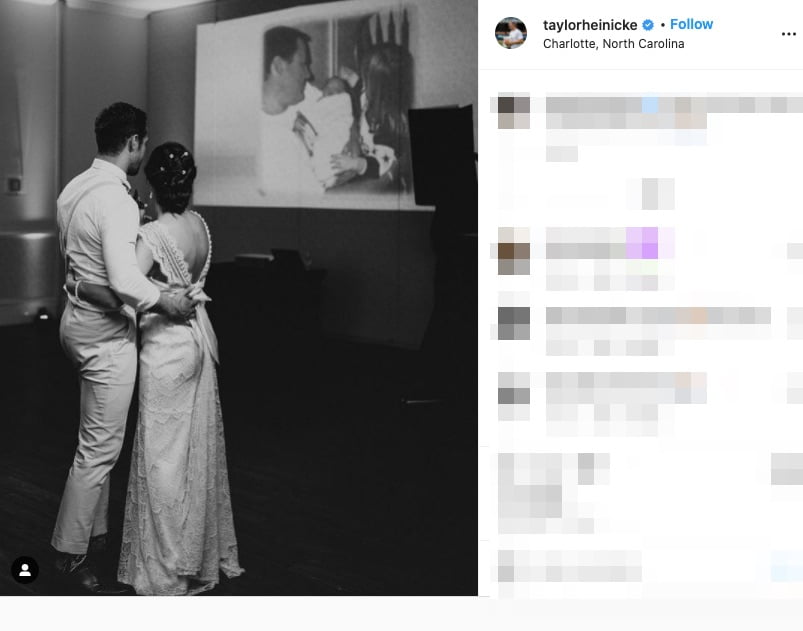 You probably have seen him posing with a stunning gal on Instagram; her name is Lauren, and she is his sister.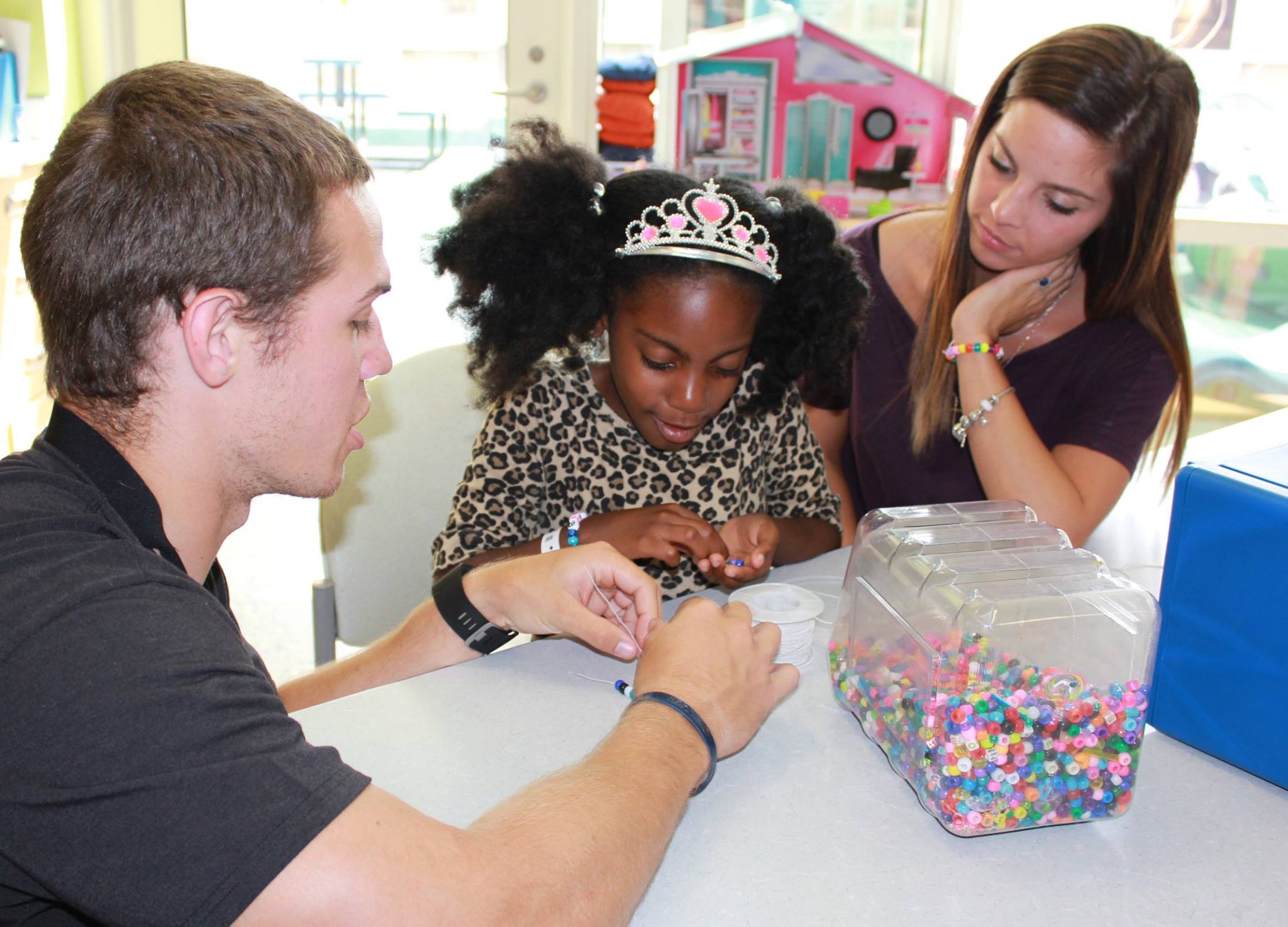 Taylor Heinicke may be single at this moment, but there was a time when he dated Casey Fehrle. Heinicke and Casey Fehrle met while they both attended Old Dominion University; they dated for several years until 2018 or 2019, when Casey, now an ophthalmologist, started dating Alex Kliesh, father of her adorable son Hudson born in May 2020.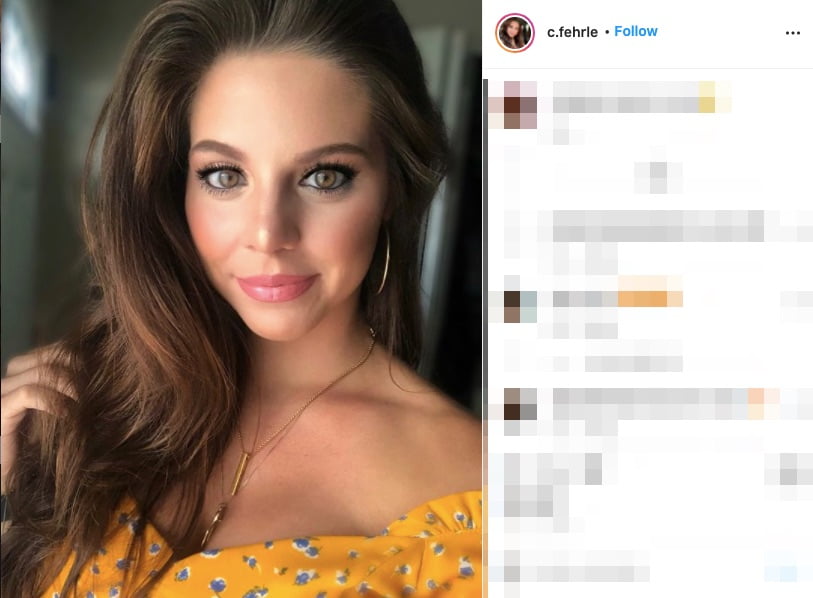 Taylor Heinicke Parents
Taylor Heinicke's loving parents are Brett Keinicke and Diane Dodsworth, also proud parents of Taylor's older sister Lauren Heinicke.
Taylor Heinicke Father Brett Heinicke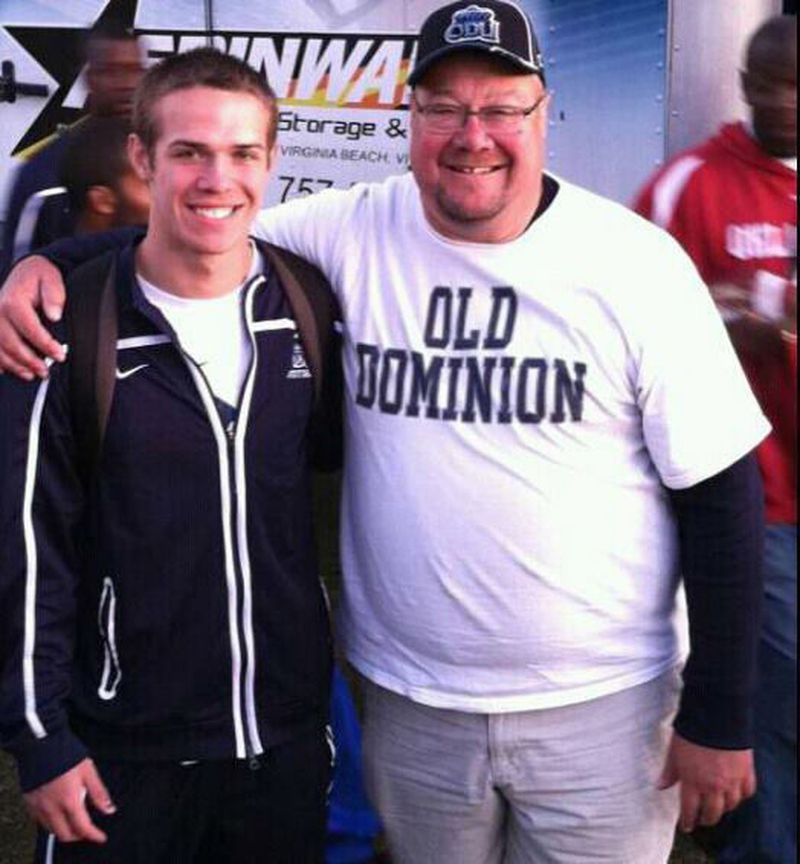 Brett Heinicke was responsible for getting Taylor into football; he was his son's biggest fan and best friend, without a doubt.
He was my best friend," Taylor said. "I would say he's like the best father. He did everything for me. That hit hard."
"He's the one that got me a scholarship to ODU," Heinicke said. "He sat there and made a highlight video for me, and he mailed it to literally 250 college around the East Coast and took me to 10, 15 camps each summer – doing whatever he could to get me a scholarship." Taylor said.
Former sporting good seller Brett Russell Heinicke was born on November 4, 1961, in Racine; he played the state golf championship in high school and later at the University of Hawaii. Mr. Heinicke was 50 when he died of a heart attack in Lawrenceville, Georgia, on December 16, 2011. At that time, Taylor was playing at Old Dominion. Still, on the eighth anniversary of his tragic death, the Panthers honored Brett Heinicky saving him a seat at the Bank of America Stadium.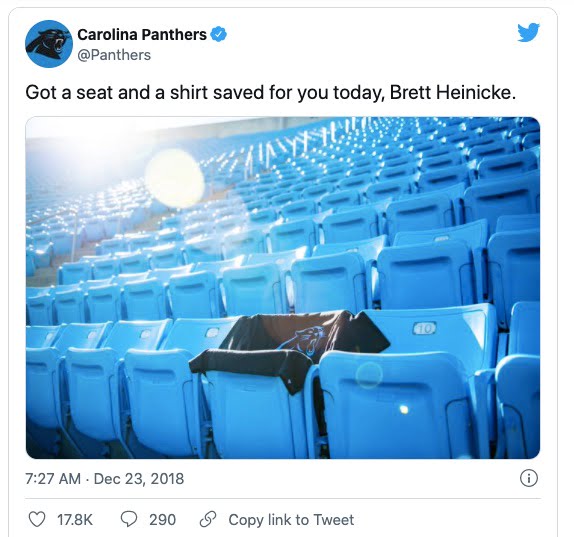 Taylor Heinicke immortalized his dad with a tattoo on his left arm; Heinicke's tat, said Dad, includes Mr. Heinicke's birthdate and date of his passing, a praying angel in the clouds the bible verse from John 16:22.
"Now is your time of grief, but I will see you again and you will rejoice, and no one will take away your joy."
Taylor Heinicke Mother
Diane Dodsworth
Taylor Heinicke's mom, Diane Dodsworth born Diane Marilyn Parrish on October 25, 1962; Diane Dodsworyh is a Business Systems Analyst for Coca-Cola in Atlanta. She and Brett Heinicke split up and had amicable divorce years prior to his death.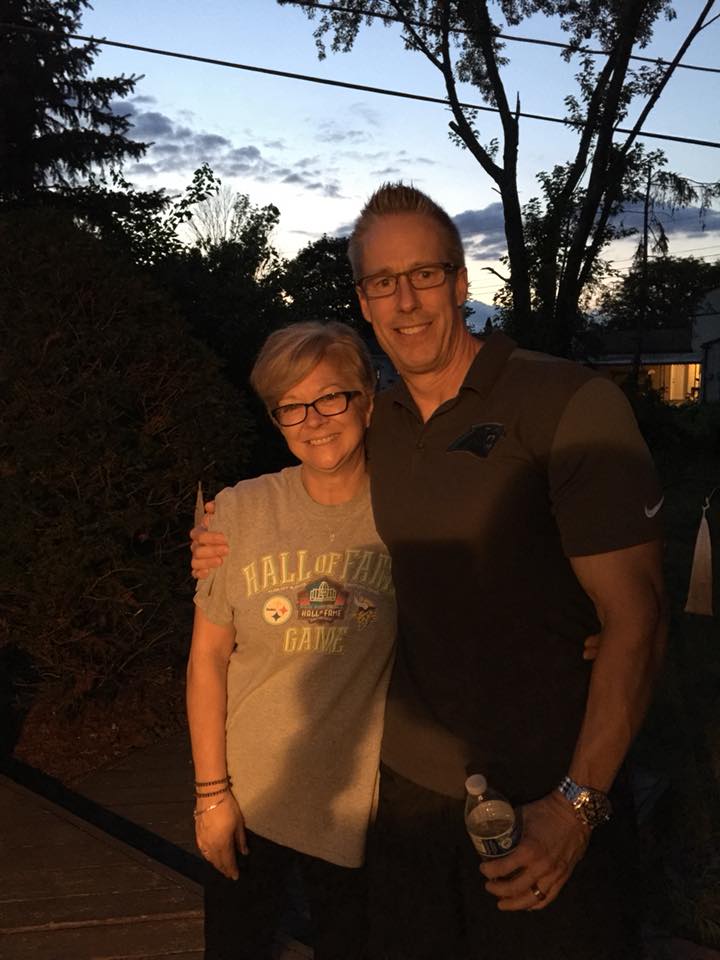 On July 3, 2010, Diane remarried former bodybuilder Mike Dodsworth, who was her prom date; he studied marketing, management, and economics at Miami University and is a medical device seller at Bayer Healthcare.
Taylor Heinicke Sister Lauren Heinicke McAndrew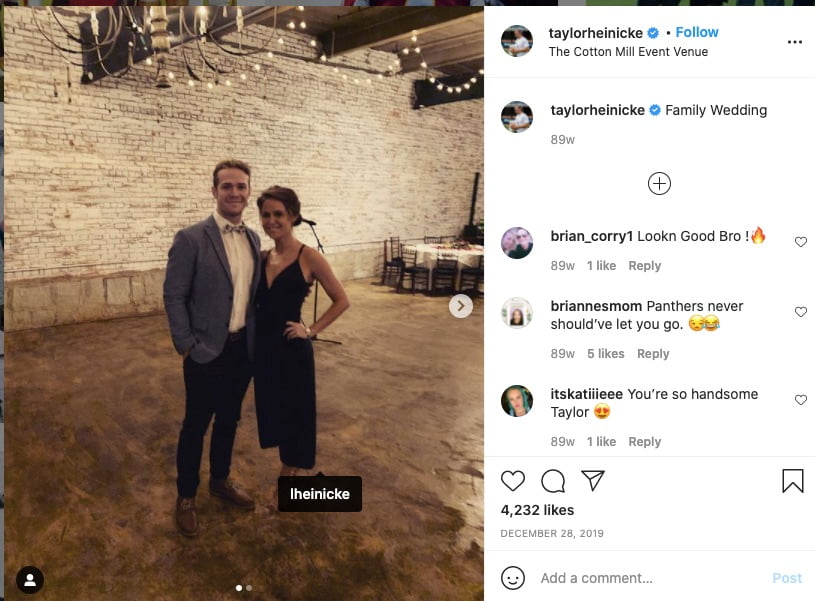 Heinicke's beautiful older sister was born Lauren Heinicke McAndrew on March 2, 1989, in Georgia. Lauren Heinicke graduated in 2012 with a Bachelor of Science in kinesiology from Kennesaw State University and, in 2014, got her post-baccalaureate certificate in technology/Science-radiation therapy from the Cambridge Institute at St. Joseph's Atlanta.
She is a clinical applications support specialist at Vision RT in Atlanta; before that, she was a Proton Radiation Therapist at Emory Healthcare, Northside Hospital, and DeKalb Medical. Lauren is married to Justin McAndrew, a coach At Johns Creek Fit body.