This lovely gal is Camilla Stewart! She is the amazing and beautiful mother of NFL player Tee Higgins the 6'4 wide receiver currently playing for the Cincinnati Bengals. Tee previously played college football for the Clemson Tigers at Clemson University under head coach Dabo Sweeney.
Tee Higgins College
Tee Higgins played college football at Clemson from 2017 to 2019. Initially, he committed to playing football at the University of Tennessee and subsequently changed his Tennessee commitment on July 4, 2016.
Tee had 17 receptions for 345 yards, 179 snaps, and two touchdowns in 13 games his freshman year.
He had 59 receptions for 936 yards and 12 touchdowns in 13 games his sophomore year.
During his junior year, Tee had 59 receptions for 1,167 yards, 13 touchdowns in 15 games.
On January 15, 2020, Tee announced he would not return to Clemson for his senior year and was entering the draft.
Tee Higgins NFL Career
On April 24, 2020, Tee Higgins was selected in the second. round (33rd overall) in the 2020 NFL draft by the Cincinnati Bengals.
He signed his rookie contract with the Bengals on July 28, 2020.
On September 17, 2020, Tee made his NFL debut against the Cleveland Browns, he had 3 receptions for 35 yards.
Tee recorded his first touchdown, during Week 3, September 27, 2020, against the Philadelphia Eagles. Higgins recorded five receptions for 40 yards and two touchdowns at the end of the game.
On December 6, 2020, he suffered a hamstring strain against the Miami Dolphins.
On September 13, 2021, Tee announced he would be changing his jersey number from 85 to 5, the number he wore at Clemson at Oak Ridge High School. Chad Ochocinco previously used #85 with the Bengals.
"It's not that big of a deal," Higgins said Thursday. "I just feel like Chad has done so much for this organization. I just got a good feeling that his number is going to be lifted one day. I just want to make a name for myself. A lot of people keep saying on Twitter 'Ochocinco 2.0.' I don't want to be a 2.0. No disrespect to Chad. He's a great receiver. I just don't want to be a 2.0 for myself. I want to be Tee Higgins 1.0 and No. 5 and make a name for myself for this organization."
On September 19, 2021, Tee suffered a shoulder injury against the Chicago Bears, missing two games.
On December 5, 2021, he sustained an ankle sprain against the Los Angeles Chargers.
Tee Higgins NFL Stats

Tee Higgins Net Worth
According to media, as of 2022, Tee Higgins net Worth has been estimated at $4 million.
Tee Higgins Contract & Salary
On July 28, 2020, Tee Higgins signed a four-year,  $8,686,785 contract with the Cincinnati Bengals; the deal included a $3,877,664 signing bonus, $5,882,518 guarantee, and an annual salary of $2,171,696.
Tee Higgins Jersey & Merch
Cincinnati Bengals fans looking for Tee Higgins jersey, you can get yours at the NFL Shop, the Bengals Shop, and Fanatics.
If what are looking for is Tee Higgins merchandise, you can find the most amazing tees, hoodies, and hats on his website, ladies you can also find sports bras, leggings and crop top sets there.
Tee Higgins Parents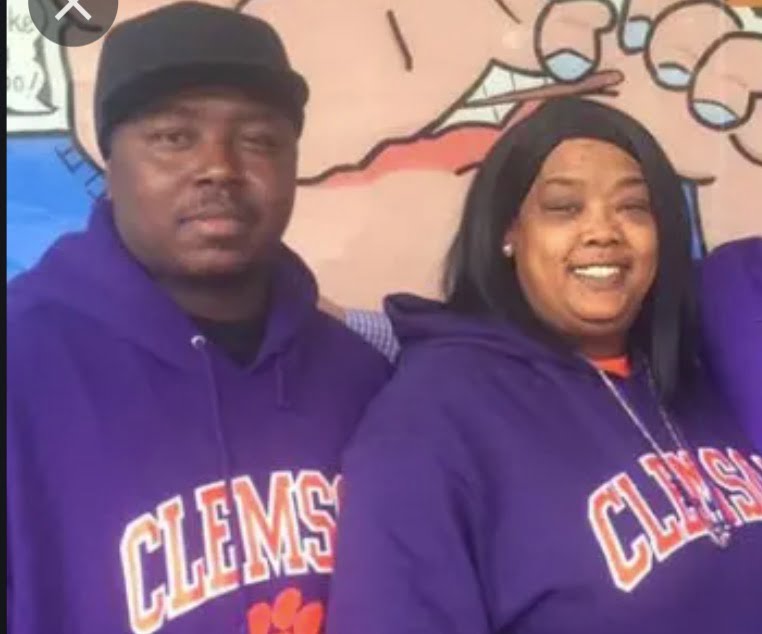 On January 18, 1999, Tee Higgins was born in Oak Ridge, Tennessee. He is the son of Camilla Stewart, brother of Keke, Ze'Yana's uncle, Denise and Amanda's nephew, Betty's grandson, and Eric Higgins's son.
Tee Higgins Father Eric Higgins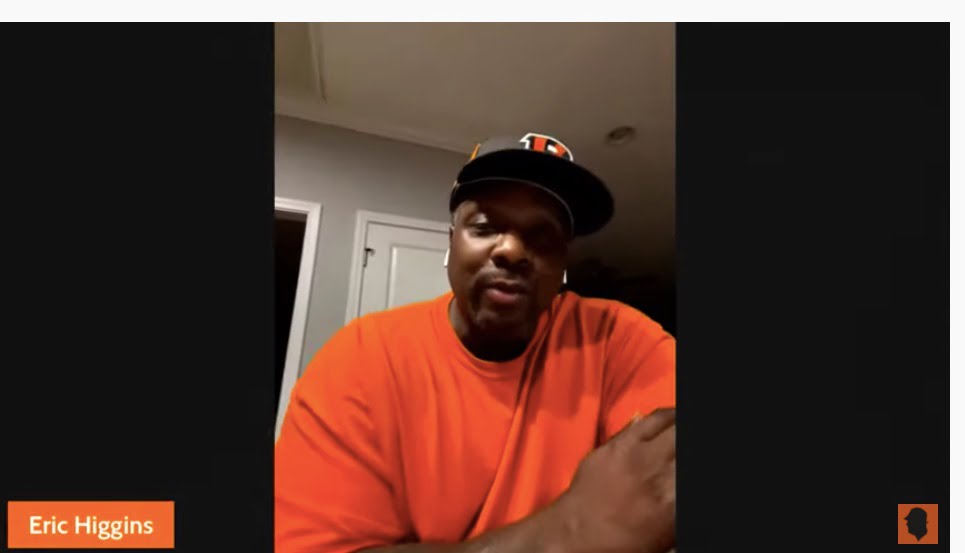 Not much is out there about Tee Higgins' father, Eric Higgins. Eric and Camilla Stewart met four years after she got out of jail and had been clean since then. They welcomed their son Tee in 1999, and Eric and Camilla split up in 2002.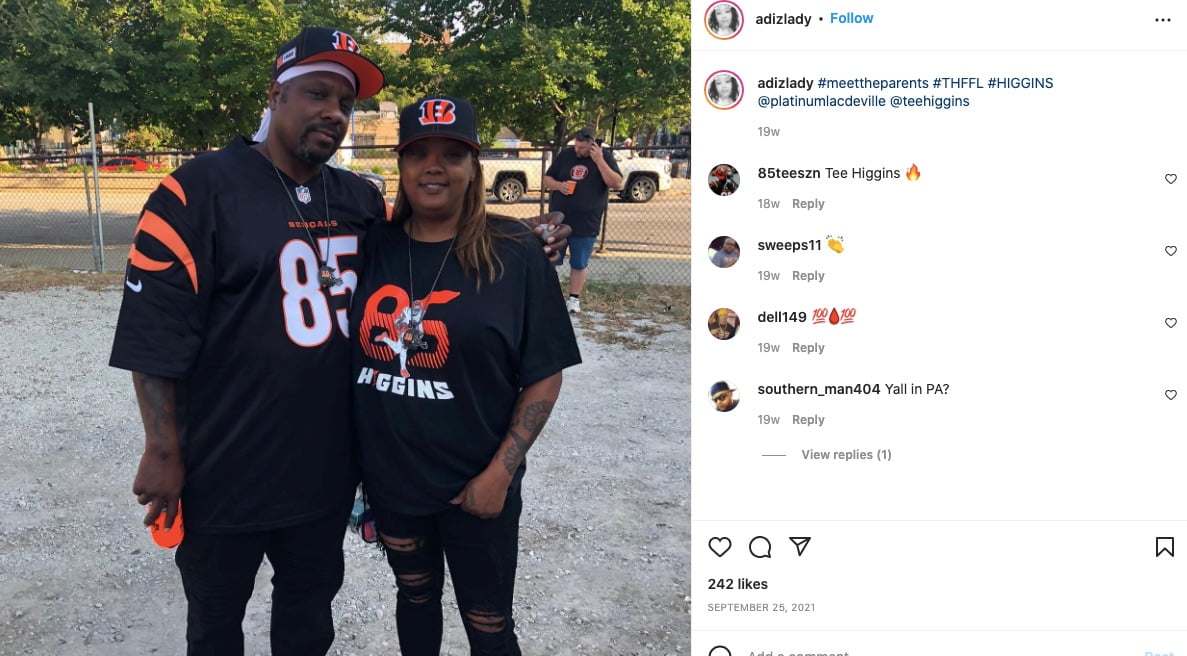 Eric Higgins was a part of Tee's life, even though he grew up with Camilla. Tee once said both of his parents were in and out of jail a lot during his childhood.
My mom and dad were in and out of prison for a lot of my childhood. So during those times I'd stay with my two aunts, or with my grandma and my sister. I really just tried to roll with whatever the situation was. But Oak Ridge, the town where we lived, didn't make things any easier.
In October 2021, Eric Higgins, a DJ, spoke to Bengal Jim's Tailgate Experience about the Fans in Cincinnati.
 "What's your thoughts on Cincinnati and the fans Eric?"
"Well actually man I actually really do like Cincinnati man that's a nice town the fans are just tremendous you know what I'm saying they're more they just welcome us with open arms you know what I'm saying so."
"I really do like it man every time I come I have a good time I have a blast you know what I'm saying uh the tailgates just are just off the change man you know what I'm saying so I really do like it that's why I want to DJ man I want to be part of it
Eric Higgins also spoke bout Tee choosing Clemson.
"Well choosing Clemson actually it was all him man you know what I'm saying, uh

he looked at a few you know what I'm saying schools and he said he felt Clemson like it was home you know what I'm saying he didn't feel like no number he didn't feel like he was just forced to play football there it was it was a fun family-like oriented type atmosphere and he he loved it, man."
Tee Higgins Mother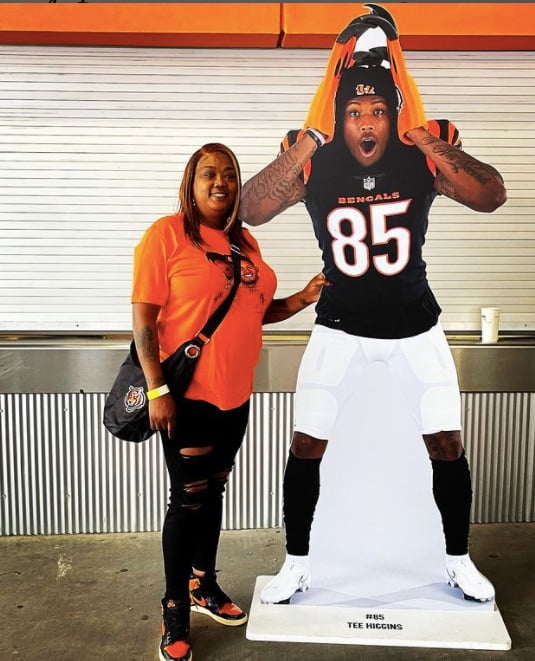 Tee Higgins' momma Camilla Stewart aka Lady Stewart, has one remarkable story. She is not ashamed of her past, not hiding it but, on the contrary,  takes the opportunity to talk about it, so others can learn from her mistakes and understand that anybody can change and feel proud about it.
One thing about my mom, she never tries to hide from her past or pretend it didn't happen. She's honest about it. And she uses her experiences as a way to bring about something positive in the present. So that's how she approached my opportunity.
"Son," I remember her saying to me when we talked about college, "I already chose the streets for you. I did that already, and now you don't have to go through it. You can choose to be different. You can be something special."
Camilla Stewart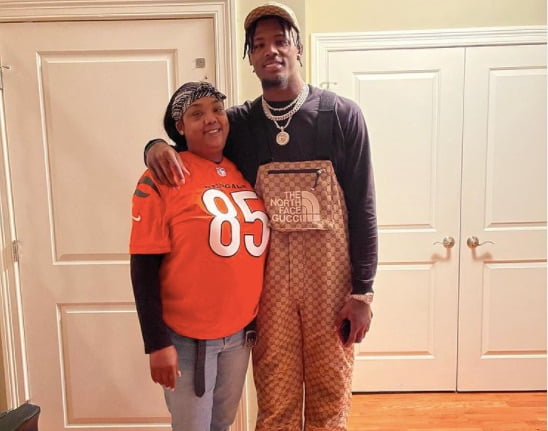 49-year Camila Joyce Stewart was a standout athlete in school, a volleyball, track, and basketball team member, where she played guard. She missed winning the basketball championship in 1988 when she found that she was six months pregnant with her daughter Keke.
Camilla graduated in 1990; in 1991, she started using drugs and getting in trouble, in and out of jail. She met Eric Higgins, and then Tee came along.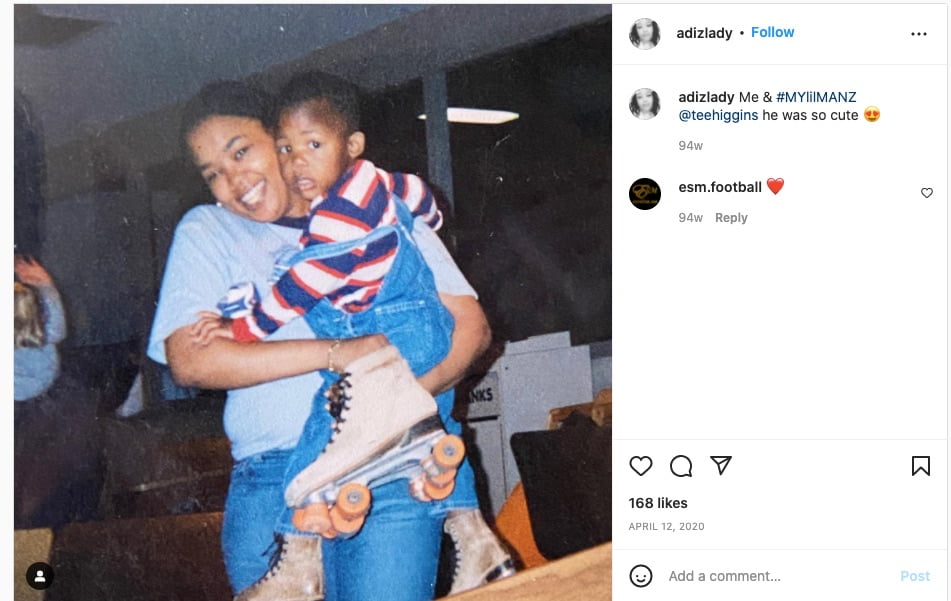 "I didn't think I deserved to have another child because of the life I lived," said Stewart. "But God blessed me with him. Tee's seen my life. He's seen my struggles, but he and his sister have been there for me. Even when my life felt like it was coming to an end, they were still there rooting me on."
Tee was in kindergarten when on October 18, 2005, his mom Camilla Stewart was shot twice at close range by her boyfriend and dealer. She survived but didn't stop using drugs.
I had no idea what she was into at the time. I was so little, you know what I mean? I didn't know she was using. Had no idea she was addicted to crack. To me, things were just … the way they were. When you're six, you don't really question all that much. And I was such a mama's boy. All I wanted was to be around my mom 24/7, to have her attention.
My mom didn't stop using after she got out of the hospital. Getting shot in the head? Almost dying? Having to go through surgery on her skull and weeks and weeks of recovery? None of that cleared out her addiction. When she got home, it was right back to sneaking out and getting high.
Her last arrest was on August 18, 2007; she decided to get better and not miss out. Camilla told her mom to keep her bail money and left her in jail; she spent five months there, met her granddaughter while in prison, and started reading the bible.
"I'll never forget that," she said. "It hurt. That was the first time I held her. The first time I held her was in jail. But she was so beautiful."
The judge told her mom Betty to get to rehab; Camilla Stewart spent a year at the Knoxville Area Rescue Mission; this was her ninth time in rehab over her 16-year addiction. She and Tee lived with her mom for the next five years; she took care of her granddaughter Ze'Yana when her daughter Keke decided to go back to college.
"That was a big deal for KeKe to trust me with her, given my history," Lady says. "I thank God she was able to trust me with her child."
Both Tee and Keke see Camilla as their role model; they are proud of her and prouder to call her their mother; she is a caregiver for the elderly and has been clean for several years.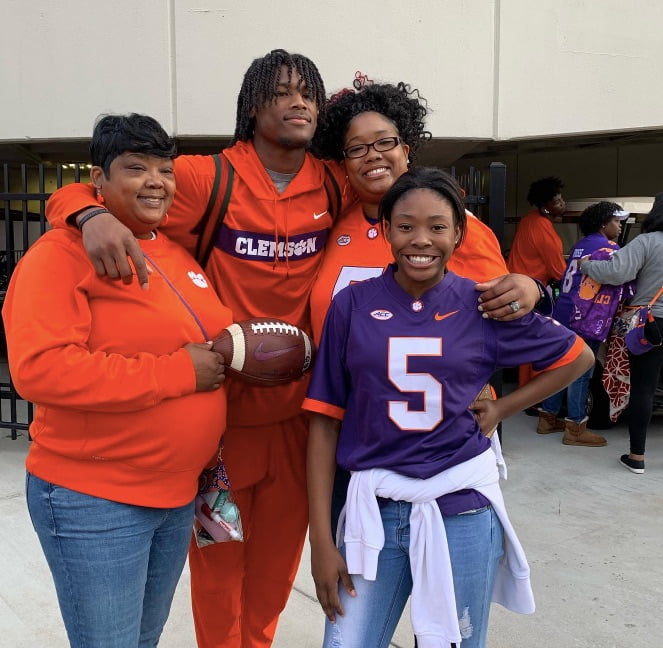 "They're proud of me, and proud to be around me," she said. "That makes me so happy."
"Keke had to write a paper on a role model, and I was her role model. She told her story. She said I saved her in showing her what not to do. And I look at it as a blessing, because God used me to keep my kids on the right track. They didn't have to go out there and experience drugs and everything because they saw that in their mother. Even though what I did was wrong, I was the best example for them. Knowing that they didn't turn their backs on me, knowing my daughter still loved me and didn't hold that against me, that helped me."
When people ask her why she changed her life around, what made her finally beat back the addiction that had her in its grips for so long, she immediately mentions me and my sister. That's the first thing out of her mouth … that she wanted to be a better mom and to show us the love we deserved and to be there for us in all the ways that she hadn't before.
And something I definitely want to get across here at this point is that once my mom got better and was able to turn things around, she's been the most amazing mom imaginable.

You better believe that she kept me on the straight and narrow all throughout middle school and high school. She made sure I understood the importance of getting a good education and of always trying to do the right thing. I never went anywhere near drugs. Ever. Never really got into any trouble at all. I was that quiet kid who was just always about his business. All I ever wanted to do was whatever I thought would make my mom the most proud.
So now it's time for me to go out and make my mom as proud of me as I am of her. And you better believe that I'm going to do every last thing in my power to make sure I don't let her down when I get to the NFL.
Tee Higgins and the Cincinnati Bengals are heading to Super Bowl LVI, the first time since 1988.
Tee Higgins Sister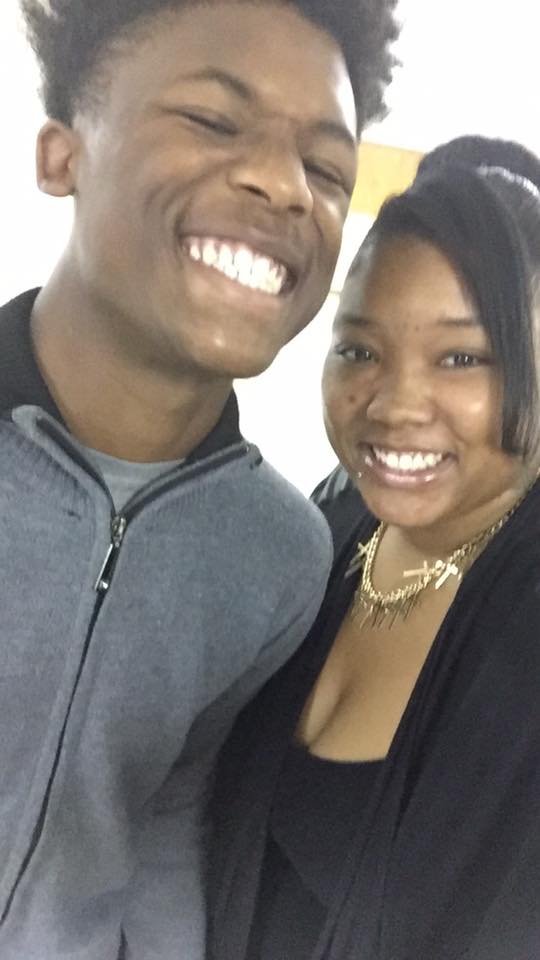 Tee Higgins' amazing sister Keke Stewart was born  Shakia Quinsha Stewart on May 6, 1988, in Knoxville, Tennessee, the daughter of Camilla Stewart and Brian Kirk. She played basketball at Oak Ridge High School and later at Middle Tennessee.
Keke, who had just graduated from high schooling in 2006, attended Middle Tennessee for three days before she decided to go back home and take care of Tee when their mother was still struggling with her crack addition.
Keke found out she was pregnant while her mom was still in jail and gave birth to her beautiful daughter Ze'Yana Stewart on August 23, 2007.
Ten years older than her brother, Keke Stewart spent most of her childhood and adolescence witnessing her mom's addiction.
"It was just hard not having my mother around," KeKe said. "Everybody else, all my friends and cousins, they had their moms. I was just wishing mine was there. I mean she was around. She just wasn't stable."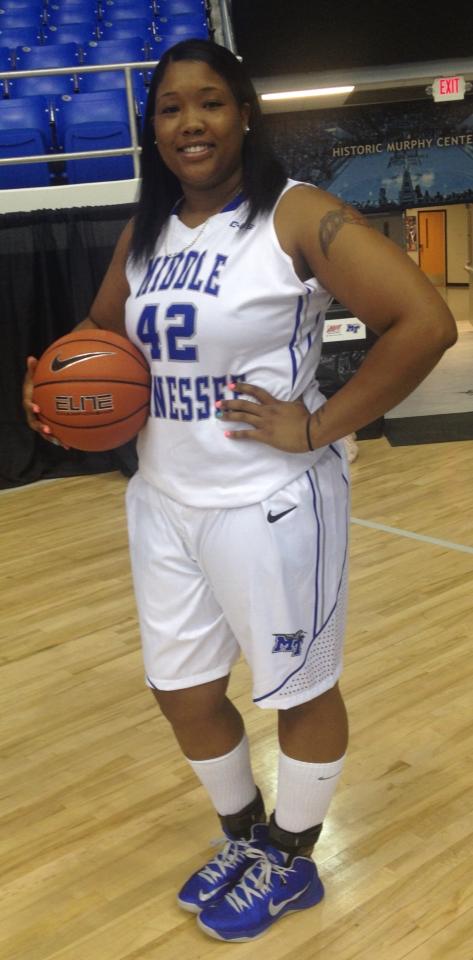 6'1 Keke Stewart went back to Middle Tennessee in 2010, leaving her daughter under her mom's care. She graduated in 2014 with a degree in liberal studies; she finished her college career with 723 points, 346 rebounds, 268 field goals in 126 games, and 2,075 minutes. She was named to the Conference USA Commissioner's Honor Roll.
Tee Higgins Girlfriend
As far as we know, Tee Higgins doesn't have a girlfriend at the moment.