Heaven Lei Bobo
Heaven Lei Bobo (photo above, is her, not Rihanna, although I see the resemblance, you?), anyways she is the insanely hot girlfriend of Terrelle Pryor, NFL wide receiver for the Cleveland Browns.
He also played with the Oakland Raiders. He aso played college football with the Ohio State Buckeyes prior to being drafted in the 2011 Draft.
Heaven Lei's stud, Terrelle Pryor was born on June 20, 1989 in Jeannette, Pennsylvania where he attended at Jeannette High School. After graduating from high school he attended at Ohio State.
He was selected by the Oakland Raiders in the 3rd. Round of the 2011 Supplemental Draft. Terrelle was then traded to the Seattle Seahawks on April 24, 2014.
Pryor never signed a contract with the Seahawks. Seattle released him during the final cut on August 29. After he was released he trained with the Redskins, the Eagles, Bengals and the NY Giants, but never agreed on a deal.
Luckily for him the Kansas City Chiefs offered him an one-year deal on January 7, 2015, however he was released four months later.
By May 10, Pryor signed with the Bengals but was released with a month. At this point. Terrell then a quarterback switched to the wide receiver position. The switch suited him and the Cleveland Brown soon took noticed.
After been claimed off waivers by the Browns, Terrelle made it into their final 53-man squad and named starting wide receiver for the 2016 season.
Heaven Lei Bobo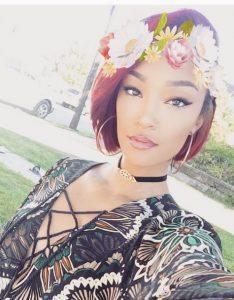 Terrelle and his beautiful girlfriend Heaven Lei Bobo became parents of their adorable son Terrelle Stephen Pryor II in 2014.
It's pretty obvious that Heaven Lei got her incredible good looks from her mother. Her mother Carla Bobo was once a model who was in the ad campaign for Virginia Slims cigarettes.
Mrs. Bobo, who is also known as Carla Hall is now married to former Steelers cornerback player Delton Hall.
Her beautiful momma graduated from Duquesne University in 1987 and is today an Executive Assistant at UPMC in West Mifflin, Penn.
There isn't much info about Heaven Lei out there, so far we know that she is from Pittsburgh, has one handsome older brother and she keeps a beauty blog. She writes about many of her beauty tips on her blog PeaceLoveHeaven, which you can check out here.