Tiziri Digne
Tiziri Digne is the loving and supportive wife of French soccer player, Lucas Digne. Her hubby is currently a defender for Barcelona FC.
Tiziri's hubby was born Lucas Digne on July 20, 1993. The French national arrived at the Lille Olympique Sporting Club Training Centre (LOSC) at age 12.
After breaking into the first team at Lille, he was signed by PSG in 2013 where stayed until 2015. He also represented France at the 2014 FIFA World Cup in Brazil.
Digne spent last season on loan at AS Roma, facing Barça in the Champions League group stage. In total he has played 148 matches for Lille, PSG and Roma, scoring six goals and recording 13 assists. His pace on left makes him a threat going forward as does his excellent technical quality on the ball.
He became Bacelona's latest signing defender last July. Digne made the move from League 1 Champions PSG on a five year deal for a fee of €16.5m, which could then rise to €20.5m should he achieve his contractual goals.
Digne struggled to make his mark for PSG when he ventured to the French capital from fellow Ligue 1 side Lille in 2013. However, when he was sent out on a season-long loan to Roma, the left-back found his feet quickly.
Following his signing to Barcelona, the hunky player revealed he had achieved a life-long dream in moving to the Catalan giants.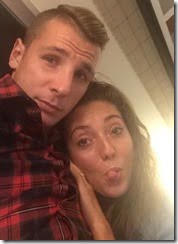 Digne certainly is a man that knows what he wants and goes after it. It appears that also applies to his personal life. He is married man at the age of 23, he is already a married man. Let's get to know his better half, below!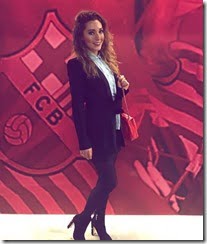 Tiziri Digne is originally from Lille, France and currently resides in Barcelona with her man. According to her social media, she attended high school in France and is a graduate from EFAP –a communication school in Paris.
She worked as a Community Manager at Parisian company, Reservoir Prod.
Tiziri Digne describes herself on social media as a fitness girl, who is interested among other things in dance, fashion and travel. According to Gala, Tiziri has expressed her desire to work in the press. She interned at France Télévisions group.
She and her man became husband and wife on December 27, 2014, according to her Facebook, they met in 2009 at age 16, and got engaged in 2012.
The young brunette said about being a wag:
"I know that there will always be girls, I do not stress to much. We are together since we were 16 years-old"
Indeed, the couple has grown together and has been able to build a solid relationship.
She is a fervent supporter of her young hubby, she attends most games. She is very active on social networks, Tiziri often covers matches from the stands and post many photos to support her favorite player.
You can find her on Instagram here.