Tom & Galynn Patricia Brady
Tom & Galynn Patricia Brady are the proud parents of NFL star, Tom Brady. His parents might be the proudest NFL parents out there with their son being in the league for the past 17 seasons.
With Brady being a consecrated NFL player and described by many as one of the greatest quarterbacks in NFL history, is only natural to inquest about his parents.
The Bradys welcomed Thomas Edward Patrick Brady Jr. on August 3, 1977. Some of his highlights include being selected to 12 Pro Bowls, Brady has earned three Super Bowl MVP, he has led his team to more division titles (14) than any other quarterback in NFL history and has won more playoff games than any other quarterback,
Prior to all of his NFL glory, Tom played college football for the University of Michigan and was drafted by the Patriots in 2000; he has been in more playoff games than any player at any position.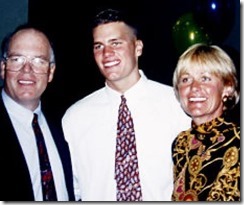 Other Children
In addition to the Patriots' QB, Tom & Galynn Patricia Brady are also the parents to Tom's three older sisters, Nancy, Julie, and Maureen. The three of them were all collegiate athletes.
The couple's firstborn, daughter Maureen, played softball. She went on to attend Fresno State –where she became an All-American and lead the country in wins as a junior.
Furthermore, their second child Julie, played soccer at St. Mary's College, she is married to Kevin Youkilis. The couple's third daughter, Nancy earned a scholarship to play softball at the University of California.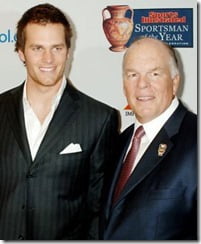 Dad
Tom Brady Sr. is of Irish descent. He was born on May 6, 1944, in San Francisco, California. Tom Brady Sr. lost his mother, Margaret Brady in 2005. She was 94.
Through the years we've learned Tom, credits much of his competitiveness to his father, –a former insurance consultant.
The father-son duo enjoyed many sporting activities including playing golf and baseball.
Tom has described his father as his hero, saying
"He was just a great example for me; and he was always someone who supported me in everything I did, to come home at night and bring me out, hit me ground and fly . I loved baseball growing up.
Tom Brady and his father appear golfing in a commercial.
Tom Brady Sr. and his wife Patricia Galynn Brady continue to live in the same San Mateo, Calif. home where they raised their children, for over 40-years. They tied the knot on April 19, 1969.
Mom
Galynn Patricia Brady is of Norwegian, Polish, and Swedish descent. She and her husband have always been supportive of their son.
The wife and mother of four got involved in the extracurricular activities of her only son-while growing up; Tom, who is nowadays father of three amazing kiddos, recalled childhood memories saying:
"And to have a chance to go to 49er games on the weekend with him (father) and my mom and throw the ball in the parking lot before the games; those are memories that I'll have forever."
Moreover, Galynn –a housewife appeared on a commercial with her son making pancakes in the 2014 commercial.