Carolyn Grossi
Carolyn Grossi is the lovely wife of longtime sports radio/TV personality, Tony Grossi.
Carolyn's husband is currently an on-air host and Cleveland Browns reporter/analyst for ESPN Cleveland. The 62-year-old recently questioned Baker Mayfield about the 2-5 Browns' offensive shortcomings in Sunday's loss to the Patriots. But an exasperated Mayfield then stormed away not before telling Grossi "That's the dumbest question you could ask. What? Jesus, Tony."
Grossi—a sports reporter, has covered the Browns for approximately two decades. Tony attended Cleveland South High and later studied journalism at Ohio University. He worked at The Cleveland Plain Dealer and is currently listed as Browns and NFL analyst at ESPNCleveland and ESPN 850 WKNR.
In 2012, he infamously tweeted that he vewed former Browns Randy Lerner as "pathetic" and "the world's most irrelevant billionaire". Because of this, he was immediately removed from the Browns beat and reassigned to other duties in the sports department.
Tony Grossi has earned writing awards on the national, state, and local levels and has been named Ohio Sportswriter of the Year. Since 1994 he has served on the prestigious Board of Selectors for the Pro Football Hall of Fame.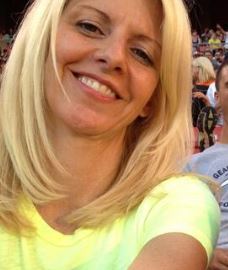 He's been happily married to the lovely Carolyn Grossi born Carolyn Costello. The lovely blonde is an Solon entrepreneur and public relations specialist. Carolyn, a former television reporter and veteran public relations specialists, has launched three successful businesses since 1999, including Little Flower Products LLC, which develops fun financial and educational products for children.
Carolyn Grossi is the creator Princess Money Manger for girls -which teaches girls to learn about budgeting, economics and managing money. She also created a version for boys called, The Superstar Money Manager. In addition she authored two children's books: "A Princess Loves to Save" and "A Superstar Loves to Save."
Tony and Carolyn Grossi are the proud parents of two children, Anthony and Maria.
Find Carolyn Grossi on Twitter here