Meet Vivian Rosado
Vivian Rosado is the mother of MLB player Johnny Monell. She must be one proud mama, her Mets catcher son has an exciting day ahead of him. As you all baseball fans now, tomorrow kicks off Game 1 of the World Series!
Monell was born on March 27, 1986. He hails from the Bronx, so let's just say he is a proud New Yorker and even prouder Mets member.
The 29-year-old catcher had his nose in the sport all his life. His father played ball for almost 2-decades but never on a professional level. His father, also named Johnny, played in the Mets organization, twice getting as high as Triple-A Tidewater, always stopping there. He also played in Mexico for seven years and five more in the independent Atlantic League.
On the other hand, his father probably saw his dream come true in his son, who was drafted out of high school by the San Francisco Giants. Monell chose to attend Seminole State College, instead.
In 2006, he was drafted a second time by the New York Mets in the 49th round, but he passed on the chance. The following year he was drafted in the 30th round, by the Giants. He finally signed.This year he entered, his ninth season in professional baseball.
Johnny spent last season split between the Baltimore and Dodgers' organizations, Monell signed with the Mets as a free agent in the offseason.
At a first glance, it appears Johnny is not dating anyone at the moment. No special lady romantically linked to him were found. No girlfriend and even less a wife. But there is one special woman in his life. His mom, Vivian Rosado.
The Mets player posted a photo of his lovely mother and captioned the image
Thanks mom for everything. Your the best!!! I am who I am today because of you and the rest of my family.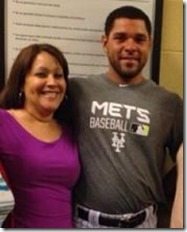 Pin
Vivian Monell Rosado separated from Johnny Monell Sr. when their son was just a 7-year-old kid. His father remarried to Rita Monell and together have a daughter, Lacey Veronica Monell.
Johnny Monell Jr. grew up in the Pelham Park section of The Bronx with his mother, Vivian Rosado. He also stayed close to his father, spending the summers with him.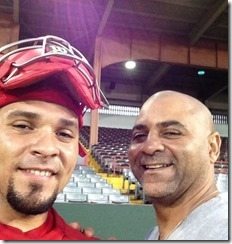 Pin
According to the NY Times, baseball was a constant not only with Johnny's father, but with his mother's family, too. In fact, Vivian Rosado tell, back in the day, she used to ride her bicycle to Yankee Stadium just to see Bucky Dent walk in, "He was so handsome. I had a crush on him." Vivian Rosado's entire family are long time Yankee fans.
Now a days, Monell's father runs the 220 Second to None baseball academy in Margate, N.J. While his mom roots for him at every game. Vivian Rosado is also the mother of Justin Monell and Luna Sky.
Vivian Rosado currently resides in Florida City, according to her Facebook page.