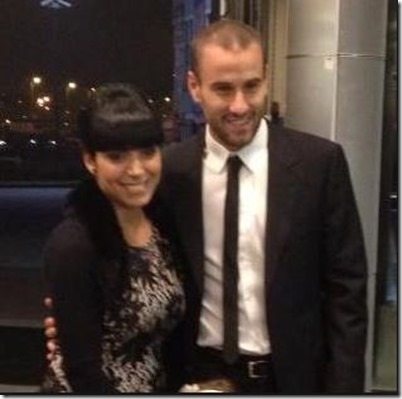 Meet lovely Argentinian Wendy Palacio, the woman in the life of 32-year-old Argentine footballer Rodrigo Palacio. Her hubby currently plays for Internazionale in Serie A.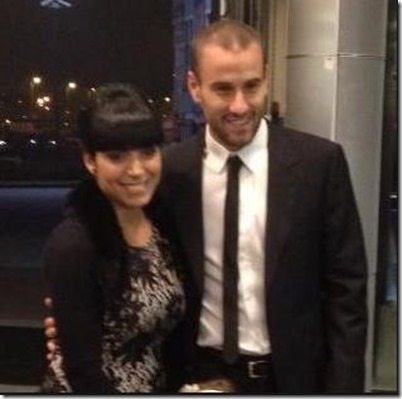 Growing up, many thought her husband would have to live under the shadow of his father –who was another historic player of Olimpo de Bahia Blanca during the 1980s –but he proved them he had the talent running through his veins.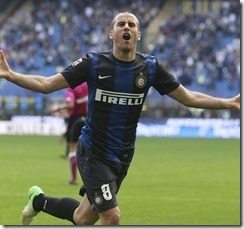 In May 2012, Palacio signed a contract awarding him $3.7 million a year for three years with Inter Milan. He just signed another contract in March to extend the contract two years for an undisclosed amount.
The couple live in the quiet pine forest in Arenzano, 15 minutes drive from Pegli, with his wife Wendy and daughter, born two years ago.  You don't see him going out often: very few restaurants visits but he loves, in order, pizza and pasta, many football matches with the PlayStation, and spending long time on Skype to chat with relatives in Argentina.
Wanda who is also called Wendy, has been his long time love. They met as young kids and became inseparable once Rodrigo had to repeat a grade. The striker reveals of his relationship
"That's when we began hanging out and never looked for anyone else"
He has expressed to Argentine media his desire to get married on interviews in the past but is not known if the couple ever went thought with the official ceremony.
Wendy gave birth to daughter Juana at the South Hospital in Bahía Blanca. Her hubby originally from La Falda, a district of Bahia Blanca, likes to spend his holidays on the beaches of Monte Hermoso, south of Buenos Aires. He also enjoys visiting the home of  Boca Juniors, the club that made him great.  Palacio was one that single handedly saved Genoa from relegation thanks to his goals.
Her hubby and father of her child is also notorious for his 70 centimeter long rat tail that was located off center of the back-middle of his head and is usually in a braid. His ponytail got him the nickname "la Trenza" but finally cut it off after playing for Genoa and actually had it put in the Museum of the History of Genoa. He has grown it back since then and was on full display during the World Cup.
Without a doubt Wendy must be super excited for her hubby playing on Sunday, for the World Cup final against Germany!