Klay Thompson
Klay Thompson, the 26-year-old Shooting guard for the Golden State Warriors is also known as one half of the The Splash Brothers, along with teammate Curry; want to know more about him?
Klay Thompson was born February 8, 1990. He comes from both athletic parents. Klay is one of three sons of former NBA player Mychal Thompson –who was born in the Bahamas and his mother, former volleyball player Julie Leslie, is of European descent. Thompson was actually born in Los Angeles, but moved to Lake Oswego, Oregon at age two where he was raised until he attended college.
His brothers: Mychel Thompson and Trayce Thompson also excelled in sports. His younger brother Trayce was drafted into the MLB by the Chicago White Sox and his older brother Mychel also played in the NBA.
Klay attend Washington State after an excellent high school record. In three years as a cougar, he averaged 21.6 points in his junior season and was named First-Team All-Pac 10 in both his sophomore and junior seasons.
He was the 11th overall selection by the Golden State Warriors in the 2011 NBA Draft.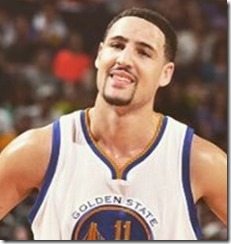 Thompson was one of the NBA's breakout stars in 2014-15. Earlier this season, Thompson set an NBA record with 37 points in one quarter breaking former San Antonio Spurs' George Gervin's previous record of 33.
In October 2014, Thompson signed a four-year, $70 million "max" contract extension with the Warriors.
In 2015, he was selected to his first career NBA All-Star game. He set an NBA record for most points scored in a single quarter when he netted 37 points in the third quarter of a game against the Sacramento Kings in January 2015.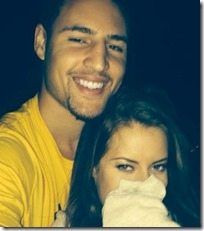 He was romantically linked to social media personality/advertiser and model Hannah Stocking. The couple began dating in November 2014 but in March 2015, rumors of break up between the NBA star and the hottie,surfaced. Neither has posted any pictures of them together in the past months which makes it pretty clear they are done.
The question remains, who is Klay Thompson's new girlfriend? It is not yet clear but apparently the 6 ft 7 in player could be single at the moment. It might be a period of more focus in his career? What do you think?
Find Klay Thompson on Instagram here.