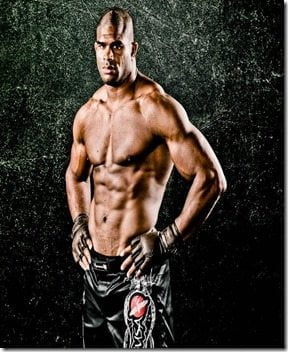 Pin
33-year-old professional Dutch mixed martial artist and current Strikeforce heavyweight champion, Alistair Overeem has been doing some healthy changes in his life and although we would like to know who is his current love interest, he seems to be more focus on his upcoming fight against Frank Mir this weekend.
The fighter has been spotted wearing a much more slimmed down self but no worries, is what he was looking for. His recent weight loss was intentional and the natural by-product of putting more of a focus on his conditioning while he prepared for Mir in Thailand.
The Demolition Man who is the only fighter to hold world titles in both MMA and K-1 kickboxing at the same time, told MMAjunkie in a recent interview.
"I wanted improved cardio, so obviously you want to lose some weight. That actually goes automatic. A lot more cardio and you automatically lose a lot of weight. We just wanted [my cardio] to be better."
Born on May 17, 1980 in Hounslow, England to a Jamaican father and Dutch mother, Overeem like many, discovered very young his passion for kickboxing and the rest is history.
His career highlights include Strikeforce Heavyweight Champion, DREAM Heavyweight Champion, K-1 Grand Prix 2010 Heavyweight Champion, 3rdplace Pride Middleweight Grand Prix, Fighter's Only "International Fighter of the Year" 2010, Nominated for Fighter's Only "International Fighter of the Year" 2011.
Now, we've talked about his professional highlights, but there is nothing like the highlights of private life. In 2011 Overeem was romantically linked to 22-year-old Swedish Zelina Bexander, the couple reportedly got engaged in 2012 but things between them seem to have cooled off, they apparently broke things off last year. They have many pictures together and some articles even refer to Zelina as his wife.
A champ like Overeem is always surrounded by beautiful girls, here a picture of him and Miss Universe Olivia Culpo.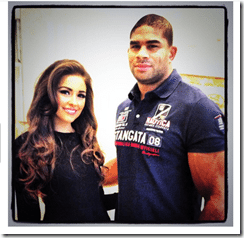 Pin
The Reem might not be in a relationship right now, but there is one lady steeling his sleep for sure, his little 7-year-old daughter Storm, such a cuite!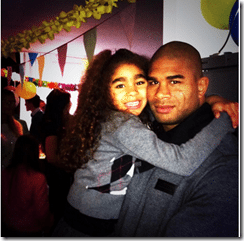 Pin
Other personal facts, include a couple of anger management issues but we think it comes with the job!
Think his new phisical condition will pay off on Saturday February 1st?
Keep an eye open for a special lady around!
Follow him on twitter here.