Meet Monique Bastos
Monique Bastos is the MMA fighter who kicked major when thieves attempted to rob her! The Brazilian chick was on her way to jiu-jitsu training when she was attacked by two men! Don't feel too bad for Monique Bastos though, images of her holding one of the thieves have gone viral since!
According to reports the thieves were after Monique's and her friends' phones but it was Bastos who stripped one of the men of his pride. Monique Bastos told MMAFighting.com. "I tried to hold my phone, and I realized they were not armed. When they tried to escape (on a motorcycle), I lifted the rear wheel of the bike and they fell on the ground. The guy who took my phone ran away, but I was able to get the other one." And she got him alright!
Monique Bastos got him into a rear choke and took him to the sidewalk, where she locked a triangle choke and waited for the police to arrive; by then, the guy who was unable to move, was in tears. The robber was identified as Wesley Sousa de Araujo.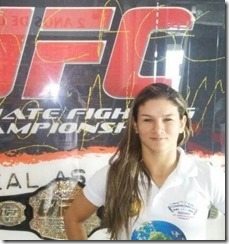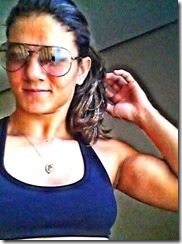 Hot 23-year-old Monique Bastos hapens to be a straw-weight fighter –who has six professional MMA fights on her record and a few jiu-jitsu matches and muay thai bouts.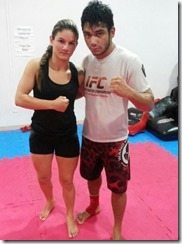 Mnique Bastos held her attacker in between her legs for about 20 minutes in a Brazilian jiu-jitsu choke hold move known as the 'lion killer.' Witnesses filmed the moment where the thief can be heard crying and screaming for help. At on point he is heard calling his daddy!
According to her Facebook profile she studied Physical Education at "FUNESO – Higher Education Foundation of Olinda" in Olinda, Brazil; and also "College Friar César Gavazzi."
Believe it or not, it is not the first time Monique Bastos has had to deal with this type of situation.
Good news is, she appears to be single at the moment!