Pin
27-year-old from High Ridge, Missouri, standing at only 5 ft 8 in and weighting 155 lb; he is the current Bellator Lightweight champion Michael Chandler Jr.
Chandler starter his MMA career in 2009 but the personal finance management services major from the University of Missouri actually is a former high school wrestler. He was Most Valuable Wrestler during his senior season and was selected to the All-St. Louis Team. While at Missouri where he also has a minor in real state he polished his skills collecting 100 career wins, qualifying four times at the NCAA.
His first victory in the MMA was via TKO over Kyle Swadley in 2009 but four years later he has kept undefeated with a total of 12 wins; 5 by TKO, 5 by submission and 2 by decision.
So with all this attention we wonder, does he have a girlfriend? Someone to keep him focus and inspired perhaps??
We know he is surrounded by beautiful, fitted ladies all the time but we wonder if he has a special one just for him?? What kind of girls does he life? What's his type?
We did came across a suspicious picture on his twitter account, could the pretty brunette smiling next to him be her?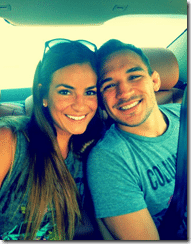 Pin
She sure is, her name is Brie Willett, and she is not just Chandler's girlfriend, they got engaged in March, 2014 engaged and will become chandler's wife on September 6, 2014.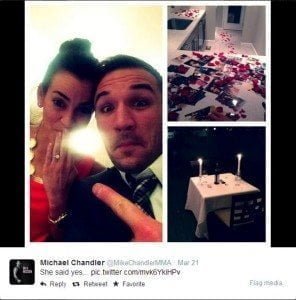 Pin
Brie was a finalist at the 2003 Miss Missouri Teen, where MLB Barry Zito's wife Amber Seyer was crowned. Ms. Willet born in Columbia, Missouri attended at Christian Fellowship school, she studied biology and psychology at Taylor University where she graduated in 2007, in 2012 got her master of science in physician Assistant studies from Southern Illinois University Carbondale.
Bree was a counselor at Kanakuk Kamps and worked at the University of Missouri,, since 2012 she is a PR resident- Critical Care Medicine t the University Hospital.
Chandler is the second of four children, Brie would have three siblings in law and would be the daughter in law of Michael Sr. and Betty Chandler. And she would be a lucky gal since he is a nice Christian man. He is all about helping the less fortunate on blessedthreads.com.
His awards include Bellator's Lightweight Championship, Bellator's Season 4 Lightweight Tournament Winner, Sherdog's 2011 Breakthrough Fighter of the Year and Yahoo! Sports: 2011 Fight of the Year vs. Eddie Alvarez.